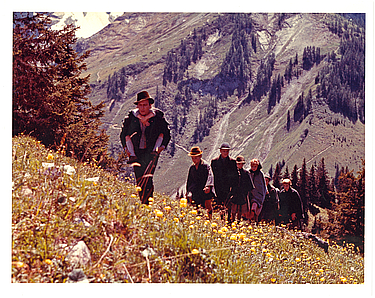 The City of Music Discovers THE SOUND OF MUSIC
THE SOUND OF MUSICBert Fink, editor of this newsletter, visited Salzburg, Austria last fall. Once there, he couldn't get THE SOUND OF MUSIC out of his head. Upon his return, he wrote a report for me and the families of the authors - Rodgers, Hammerstein, Lindsay and Crouse. We urged him to share it with you and hope you enjoy reading it as much as we did.
- Ted Chapin
Salzburg, Austria: The ""City of Music,"" birthplace of Mozart and von Karajan, home to the renowned Salzburg Festival, a place of culture, music, and history, surrounded by awe-inspiring mountains and breathtaking natural scenery. Over six million visitors a year descend upon Salzburg. Many of them are German-speaking, but of the numbers who are not, 70% cite one major draw above all others: THE SOUND OF MUSIC.
Set in Salzburg - and with much of the movie version filmed there - THE SOUND OF MUSIC has become synonymous with Austria for many people. After years of wrestling with the pros and cons of this fact, a new generation of Austrian academics and government officials have decided that it is, as the song says, ""Something good."" (It is especially good for local tourism.) At the same time, this link has evoked profound implications for modern Austria, forcing that nation to consider how it is viewed in the outside world.
In October of last year, I was invited to Salzburg as a representative of THE SOUND OF MUSIC authors to participate in the opening ceremonies for a landmark study, sponsored by the Salzburger Landesinstitut fr Volkskunde (the Institute for Folklore Studies of the Province of Salzburg). The Sound of Salzburg: The Trapp Family and THE SOUND OF MUSIC Between Myth and Marketing will culminate later this year in a symposium, and the publication of an accompanying text.
The study will examine all aspects of a unique phenomenon: the true life story of the von Trapp family, who fled Salzburg following the Nazi Anschluss of 1938 rather than serve Adolf Hitler; the perpetuation of that story in immediate post-war Austria and Germany (rosily told in a popular 1956 docu-drama called Die Trapp Familie which neatly glosses over the Anschluss and concludes, rather pointedly, with the von Trapps' first unsuccessful attempt to gain asylum in America); and finally, the exportation of their story from an insular German-language saga to a Broadway musical and subsequent Hollywood mega-film, which gave it not only an international platform but the staying power of myth.
In tandem with the rise of THE SOUND OF MUSIC was Salzburg's role in its success, and the reciprocal effects the film would have on the city. Back in 1964, however, the transformation of Salzburg into a shrine for SOUND OF MUSIC pilgrims could not have been predicted. At the time locals noticed - if they noticed at all - that yet another movie was being shot against their already well-filmed edifices and photogenic terrain.
If this particular film caught anyone's attention that summer, it was probably due to the actions of the self-dubbed ""crazy Americans"" who ran the show: director Robert Wise, producer Saul Chaplin, or choreographers Marc Breaux and Dee Dee Wood, who were observed singing along - loudly and repeatedly - to tape recordings of various musical numbers that they lugged about with them to gauge camera shots and exact timings as they walked the streets of Salzburg's Altstadt (Old City) and nearby Mirabell Gardens.
In all, THE SOUND OF MUSIC spent eleven weeks shooting in and around Salzburg. The following summer, just months after the film's release, tourism to the region jumped by 20%. Visitors wanted to walk where Julie Andrews walked, they wanted to sing where the children sang. Overnight, Maria surpassed Mozart on the tourists' ""to do"" lists, and a thriving cottage industry was born.
Local tour operators were among the first to tap into this inevitability. Among them was a fledgling company called Panorama Tours, the founder of which had served as transportation director on the film and therefore knew every camera-friendly angle of his hometown. Today, over 70,000 visitors a year climb aboard busses in central Salzburg to take ""SOUND OF MUSIC tours."" Of course, I was one of them.
For the tour, the most popular in their roster, Panorama sends out at least two busses every day in the off-season, sometimes more than double that during the summer. My tour lasted for more than four hours, and covered a fair bit of territory - not only in the city, but to the surrounding countryside where some of the breathtaking aerial opening shots were filmed. Was the tour corny? Yes. Was it good spirited, and silly? Definitely. But it was also strangely moving: I defy any cynic not to melt when serenaded by a busload of 60 strangers - including the driver and the guide - all singing, ""The hills are alive with THE SOUND OF MUSIC..."" as an Alpine vista comes into view. On my bus were a host of Americans, a family from Pakistan, a Norwegian couple, a group from Southeast Asia (Japanese-language tours are conducted weekly), and a gaggle of Australians, several of whom had already booked tickets for the upcoming Sydney stage revival (see p. 2). My seatmate was an exuberant young Australian woman; touring her way through middle Europe, she had arranged a 24-hour detour to Salzburg, simply because of THE SOUND OF MUSIC. ""I loved this film when I was a little girl,"" she told me, adding almost fervently, ""and when I have children, I hope they will like it as much, because I plan to show it to them a lot!""
Later that same night, in a tavern in the shadow of the Hohensalzburg - the imperious, 1000-year old fortress that looms over the old city - I found myself surrounded by another group of tourists, this time white- and blue-haired couples speaking the Dutch-tinged, South African language of Afrikaans. We were all about to experience something called THE SOUND OF MUSIC LIVE DINNER SHOW. I was naturally apprehensive.
The program itself proved to be a crowd pleaser, and with little wonder: despite a smattering of tunes from native composers Strauss and Lehar, plus some authentic folk songs thrown in for good measure, the bulk of the evening was devoted to what this audience came to Salzburg to hear: THE SOUND OF MUSIC. When it was time for a singalong, the Afrikaans chit-chat disappeared, replaced by a roomful of perfectly-enunciated, English-sung choruses of ""Edelweiss.""
That moment encapsulated my Salzburg experience: it made a connection between edelweiss, the Alpine flower that Austrians revere as a national symbol, and ""Edelweiss,"" a song written forty years ago for the second act of a Broadway show. Today, that song has become as powerful an icon to people outside Austria as is the flower itself to the people within; a paradox, certainly, but to hear that song in this place was to experience a validation of its sincerity that I found deeply touching. It also helped me better understand the phenomenon I had been noting throughout my stay: visitors strolling past me on ancient Salzburg streets, singing aloud from THE SOUND OF MUSIC.
For more information on Salzburg and the country of Austria, visit www.anto.com, the website of the Austrian National Tourist Organization or, for more localized resources, visit www.salzburginfo.at, or www.panoramatours.at. Salzburg-related links can also be found at www.thesoundofmusic.com.
"
You must log in before you can post comments. You can login
here
.