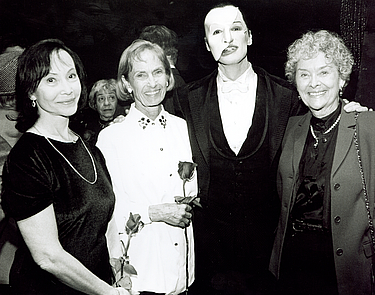 "still ""younger Than Springtime,"" Original Cast Marks 50th Anniversary Of South Pacific"
"
They came from as far away as Australia and London, and from all over the United States, drawn to New York to mark an extraordinary milestone... Today they are husbands and wives, parents and grandparents, some still working, others retired; among them actors, real estate brokers, teachers and therapists...But fifty years ago they were Broadway performers, part of the original company of SOUTH PACIFIC.

They had come to New York for a reunion, and during their stay, R&H hosted a series of events for these remarkable men and women. Here is an overview of three unforgettable days in April...

Tuesday April 6
For several years, original cast member Roz Lowe Mass and cast replacement Bill Thunhurst had worked tirelessly to organize a reunion of performers who had appeared in SOUTH PACIFIC during its Broadway run of 1949-54. Tonight these veterans would see each other for the first time in many years. They would relive the theatrical triumph of their lives, and remember the war that inspired it. It was a reunion that felt like a cross between SAVING PRIVATE RYAN and FOLLIES.

The FOLLIES moment unfolded before our eyes at the Warwick Hotel in Manhattan on Tuesday night, as these former show kids gathered at a cocktail reception hosted by the hotel. The history in the room fairly crackled as the roll call was taken: ""Oh, is she here?!"" ""Oh my God, how are you?"" Moments sparked in every corner: Betta St. John, the original Liat on Broadway and in London, posing with Chin Yu, her Broadway and London understudy, and Irma Sandr, her Broadway replacement. BarBara Luna, the original Ngana, still active in television and film and the youngest veteran in the room, talking eagerly with Tommy Gleason who - at age 89 - clocked in as the oldest. Dick Eastham, Ezio Pinza's understudy, seeking Martha Wright, Mary Martin's replacement. Ensigns and Seabees, finding each other across a crowded room.

Wednesday April 7
Fifty years ago today SOUTH PACIFIC opened on Broadway, prompting Mayor Rudolph W. Giuliani to declare ""SOUTH PACIFIC Day"" in New York City. (The milestone also generated a proclamation of ""SOUTH PACIFIC Day"" from Mayor Jim Dailey in Nellie Forbush's hometown of Little Rock, Ark.)

At noon, the veterans piled into a chartered bus for a trip up to the Museum of the City of New York where a special SOUTH PACIFIC display had been installed within the Museum's popular and long-running exhibit, ""Broadway!"" (Entitled ""Younger Than Springtime,"" it is scheduled to remain on view for at least one year). All too soon, it was time for the bus to bring everyone back to the Warwick. For background music, Grayline Bus Tours had thoughtfully provided a tape of the original cast album. By the time ""There is Nothin' Like a Dame"" came over the speakers, the men began to sing along, first tentatively, then boisterously. Tenors, basses, baritones - punctuated by cries of ""Hut two three four!"" from a spirited ladies' chorus.

Next, it was on to Broadway and the Majestic Theatre, where SOUTH PACIFIC had opened exactly 50 years before.

4:30PM. Matinee curtain call at THE PHANTOM OF THE OPERA, the Majestic's current, long-running hit. With applause still resounding, the reigning Phantom, Hugh Panaro, quieted the audience as he explained that ""a great American musical opened here 50 years ago today."" When he revealed the title, the audience broke into applause, and when he invited the SOUTH PACIFIC veterans to take ""one more bow,"" the audience gasped.

As cheers and shouts of ""Bravo!"" filled the theatre, the SOUTH PACIFIC company emerged from the wings, welcomed onto the stage by PHANTOM cast members, who presented each with a long-stem rose. They took a bow, then another, as the audience leapt to their feet with a prolonged standing ovation. Time seemed to freeze: was it 1949, or 1999? For many on either side of the footlights, it was hard to be sure. ""As I stood on the stage of the Majestic Theatre,"" wrote cast veteran Merle Reskin a few weeks later, ""I felt 50 years fade away...We were all young again and involved in the musical of the century.""

R&H President Ted Chapin read a letter sent by PHANTOM director Hal Prince. It too noted a significant milestone: ""I was in the audience on the opening night of SOUTH PACIFIC,"" Prince's letter began. ""[I was] a guest of the Richard Rodgers family. Steve Sondheim was there as well, a guest of the Oscar Hammersteins. It was on that night that Mary Rodgers introduced us for the first time.""

After another bow, and another tidal wave of cheers from the audience, the opera curtains at PHANTOM closed in on the scene. Knowing they had just witnessed history, the audience seemed to depart reluctantly, as the voice of Mary Martin singing ""I'm In Love with a Wonderful Guy"" rang through the theatre. Backstage, a magical swirl of past and present spun together as the PACIFIC class of '49 was engulfed by the PHANTOM class of '99. Hugs, stories, the sense of one generation reaching across 50 years to another. That day, two of the Majestic Theatre's most famous tenants came together in a way one could never have imagined, and in a way those who were there will never forget.


Thursday April 8
The place was Symphony Space on Manhattan's Upper West Side. The event was a SOUTH PACIFIC retrospective entitled SOME ENCHANTED EVENING. It promised ""happy talk"" with members of the original cast, rare TV performance footage of original stars Mary Martin and Ezio Pinza, and musical numbers sung by Liz Callaway, David Campbell and George Hearn. The last ticket had been sold hours ago, the hall was SRO.

For 90 minutes, Symphony Space Artistic Director Isaiah Sheffer, joined by co-host and guest commentator Ted Chapin, lead a remarkable (and yes, enchanted) evening that was, by turns, a lecture, a talk show and an impromptu revival meeting. At its heart were memories shared by five members of the original cast, with the occasional corroboration from their colleagues in the front row. They remembered Martin and Pinza, Josh Logan, Rodgers and Hammerstein. They recalled the New Haven and Boston tryouts, and the Broadway opening. They reflected on themselves in an extraordinary time and place in history. More than once, boisterous veteran Don Fellows declared, ""I'm learning things tonight I never knew!""

Sheffer asked Betta St. John to describe what it was like to be a part of SOUTH PACIFIC. Her reply was characteristically disarming and humble. ""I've realized these few days we've had together, how unaware I was at the time of just how truly magnificent it was. I think I couldn't appreciate it, that I accepted it too easily. I was never able to just stand back and comprehend the tremendous effect it was having on people.""

Half a century later, St. John and the rest of the SOUTH PACIFIC company could have little doubt how great an impact SOUTH PACIFIC had - and continues to have - on audiences worldwide. As the evening drew to a close, the entire company gathered on stage once more. Only minutes before the performance began, Sheffer had whipped up a version of ""There is Nothin' Like a Dame,"" to be serenaded to the veterans by the guest artists and himself. But the old pros were not going to stand idly by: When George Hearn began a solo bit, cast member Steve Roland (standing beside him) broke into the same verse; both delighted and surprised, the two men stood arm in arm to finish the phrase in unison. As Liz Callaway bravely waded into the deep bass line, ""There is absolutely nothing like the frame...of a dame..."" she was eclipsed by Dick Eastham. The originator of that part sang his original line and hit every note.

It was time for the evening's farewell, and the conclusion to three remarkable days. George Hearn sang ""Some Enchanted Evening"" as everyone onstage, and then everyone in the audience, joined in:

""Once you have found her, never let her go. Once you have found her...never...let her...go...""

""Younger Than Springtime"" continues at The Museum of the City of New York, now through April 2000; call 212-534-1672 for information... The newly remastered SOUTH PACIFIC original cast album, with bonus tracks, is available from Sony Classical/Columbia/Legacy.
"
You must log in before you can post comments. You can login
here
.