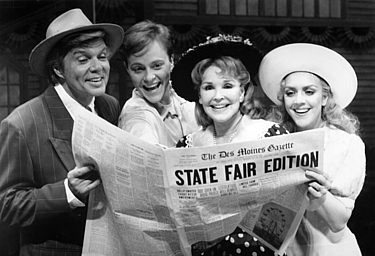 State Fair Travels From Screen To Stage
"
The book for the stage version of STATE FAIR was written by Louis Mattioli and our own Tom Briggs, Director of the R&H Theatre Library, who also had the idea to adapt STATE FAIR to the stage in the first place. STATE FAIR will eventually be available for performance through the R&H Theatre Library; in the meantime, here Briggs explains how the newest Rodgers & Hammerstein musical came to be.
Phil Stong's novel State Fair was published in 1932 and a non-musical motion picture version was released the following year starring Will Rogers, Janet Gaynor and Lew Ayres. Twelve years later, fresh on the heels of their success with OKLAHOMA!, Rodgers and Hammerstein were persuaded by Hollywood mogul Darryl F. Zanuck, head of 20th Century Fox studios, to adapt STATE FAIR as a movie musical.
Their version, released in August of 1945, starred Charles Winninger, Fay Bainter, Jeanne Crain, Dick Haymes, Dana Andrews and Vivian Blaine, winning R&H the Academy Award for their song, ""It Might As Well Be Spring."" A 1962 remake overseen by Rodgers (Hammerstein had died two years earlier) updated the story and transplanted it from its original Iowa setting to Texas; Rodgers augmented the score with several songs he wrote on his own. So it was with the combined resources of one novel and three film versions that my late collaborator, Louis Mattioli and I began our work in bringing STATE FAIR to the stage.
We were facing two major challenges, the first of which was the story. While the movies were a brief evocation of the fair itself, the story, characters and relationships would clearly require deeper exploration and development for the stage. The second challenge was the score. R&H had written only six songs for the original picture, so it was clear the theatrical score would need to include other songs. But where to find them?
Whatever songs we needed would have to blend stylistically with those from the movie, illuminate the various characters and situations and, above all (as R&H taught us), propel the story forward. They could also not be indelibly associated with other R&H musicals. (No ""Climb Ev'ry Mountain"" or ""Some Enchanted Evening."")
Unlike many writers, R&H did not leave behind a plethora of undiscovered songs, or ""trunk material."" Seldom was a song replaced, and if so, it often found a home in a subsequent musical. (For instance, ""Getting To Know You"" from THE KING AND I began life as the melody of ""Suddenly Lovely,"" written for SOUTH PACIFIC.) Also, R&H were theatre writers and rarely wrote outside the context of the musicals they created.
We began our musical search with the 1962 remake of STATE FAIR. There was a terrific comic number Rodgers wrote for it that seemed to fit perfectly, so ""More Than Just A Friend"" became the seventh song in the score. I was familiar with a lovely song that had been cut out-of-town from OKLAHOMA! when that show was still called AWAY WE GO! It was just right for the parents of our young protagonists and so ""Boys And Girls Like You And Me"" became the eighth song in our STATE FAIR. We also discovered one of the earliest song written for OKLAHOMA! which had never even made it into rehearsal - ""When I Go Out Walking With My Baby.""
Because we were setting the show in the postwar 40's, we wanted the score to reflect the Big Band flavor of that era. We also had in Emily, a band singer, a character who could afford to surprise us with some arrangements that would jump a bit. Swing music is not exactly what you think of when the names Rodgers and Hammerstein pop up, but we wanted to try. Two songs written for 1953's ME AND JULIET fit the bill - ""You Never Had It So Good"" (which had been cut prior to Broadway) and ""That's The Way It Happens.""
We rounded out the score with two songs from PIPE DREAM - ""The Man I Used To Be"" and ""The Next Time It Happens"" - and one from ALLEGRO - ""So Far."" Fourteen songs in all - now that's a theatrical score!
It has taken fifty years for STATE FAIR to arrive onstage, and we hope it was worth the wait. At any rate, STATE FAIR can now take its rightful place as the eleventh stage musical borne out of the seventeen-year partnership of Rodgers and Hammerstein."
You must log in before you can post comments. You can login
here
.