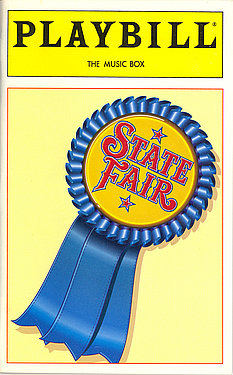 State Fair Comes To Times Square
It took fifty years, an eight-month, 22-city tour, and last-minute heroics by the theatre's most legendary producer, but Rodgers & Hammerstein's newest musical finally made it to Broadway this spring.
At the Music Box Theatre on March 27 the curtain went up on STATE FAIR. "The overture starts," wrote Clive Barnes in the New York Post, "and almost immediately you feel that unmistakable surge of Richard Rodgers...yes, this is the real thing to be sure."
Despite rave reviews following its premiere in Des Moines last August (see HAPPY TALK, Vol. III, No. 2), and a coast-to-coast tour, STATE FAIR almost didn't make it to Broadway. An unusually healthy spring season meant a shortage of theatres and, while the show kept collecting blue ribbons in every city, it seemed to be circling New York, waiting to land.
The Music Box Theatre, built by Irving Berlin and Sam H. Harris and still co-owned by the Berlin estate with The Shubert Organization, suddenly became available and proved to be the perfect home for STATE FAIR's vintage slice of intimate Americana. The Theatre Guild, under the careful tutelage of Robert Franz and Philip Langner, had guided STATE FAIR's journey across the country. Now, a very powerful partner came on board to steer the show into town: David Merrick, who made STATE FAIR his 89th Broadway show in an awesome career that also included GYPSY, OLIVER!, HELLO, DOLLY! and 42nd STREET.
The cotton candy, stilt walkers and Midway lights of STATE FAIR played as well in New York as they had in Peoria and Hershey. "Sweet enough to win a blue ribbon,"wrote Jacques Le Sourd in Gannett Newspapers, "this charming show should be greeted like the first bloom of spring." The New Yorker reported "this lively, colorful version is a pleasure," while Harry Forbes in Manhattan Spirit urged his neighbors to "leave your big city cynicism at home, and come to the fair." Robert Osborne of the Hollywood Reporter wrote, ""With a buoyant air and an abundance of hummable R&H songs, STATE FAIR fairly bounces into the Music Box as a toe-tappable, knee-slappable package that carries a wealth of charm," and Don Lark of WPIX-TV pronounced STATE FAIR "a real winner!"
With kudos all around, special praise was reserved for those two guys who wrote the score: "We're back in the wonderful days when songs had melodies and solid lyrics," wrote Robert Feldberg in the Bergen Record. "A potent reminder that musicals are really about music," wrote Michael Kuchwara in the Associated Press, "STATE FAIR soars on its glorious songs." (For news on the original Broadway cast album, see "Musical Notes," p. 2). And David Patrick Stearns in USA Today said, "This may be what the golden age of Broadway was really about."
STATE FAIR is currently playing at the Music Box Theatre, New York. For tickets and information call Tele-Charge at 212-239-6200; outside metro New York, 800-432-7250; for groups, 212-398-8383.
You must log in before you can post comments. You can login
here
.