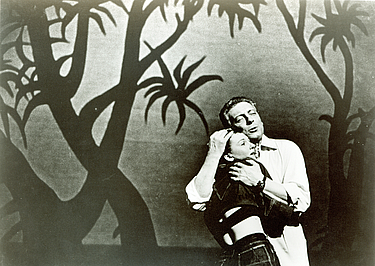 South Pacific: A Topical Musical Marks Half A Century
"
It won the Pulitzer Prize, the New York Drama Critics Circle Award, and nine Tony Awards. The biggest sensation of post-World War II Broadway, and second only to OKLAHOMA! as the era's longest-running musical, its matchless score and powerful themes have assured it a classic status all its own. April 7, 1999, marks the 50th anniversary of the Broadway premiere for SOUTH PACIFIC, and here at the milestone, R&H President Ted Chapin takes a look back:
SOUTH PACIFIC turns 50 this spring. Swept up in the post-World War II emotions of a country getting back on its feet, SOUTH PACIFIC also found its authors at a potentially precarious time in their collaboration. After the enormous success of OKLAHOMA! and CAROUSEL, Rodgers and Hammerstein came a cropper with their third show, their first original not based on any underlying source: ALLEGRO. Whether it was too experimental and bold, or not experimental and bold enough, this much is clear: it was a failure. So when the two men sat down to write their next show it simply had to be a hit. If it failed, the team might retreat into the realm of the modestly influential. Of course it didn't fail, and it holds a particular spot in the chronology of the Rodgers & Hammerstein canon: it is the third of the ""big five"" shows and was more celebrated in its day than any of the others.
Rodgers & Hammerstein were right in ""sync"" with America circa 1949. War was over, and it had touched everybody. James A. Michener's TALES OF THE SOUTH PACIFIC, which was the source for this musical, was a collection of stories about people caught up in the trappings of the War, in a locale that was, first and foremost, far away from home. These were characters at various stages of crisis. Nellie Forbush was a long, long way from Little Rock and all that its insular world represented. Emile de Becque was running away from home, and his shady past. Joe Cable was a clean-cut American GI who thought his liberal East Coast upbringing made him open to the possibilities of people of all races. Bloody Mary was a native Islander who was learning fast what the American military way of life offered her mainly a way out. Liat was an innocent caught up in a world moving faster than she could fathom. Clearly these were people with whom audiences of 1949 could identify.
And this time Rodgers & Hammerstein were collaborating with Joshua Logan, a visceral American director and writer who wasn't afraid of much. He was in many ways the ideal partner he was attracted to emotional confrontation and pushed Rodgers & Hammerstein to write as directly and honestly as they possibly could. He apparently asked for two more versions of one particular song until he was happy with the final outcome: ""Younger Than Springtime.""
He wasn't always right; confident of a showstopping number, Logan spent a large amount of rehearsal time figuring out how Mary Martin could wash her hair and sing ""I'm Gonna Wash that Man Right Outa My Hair"" at the same time. When its first performance was greeted with stony silence, Logan panicked. He had simply overlooked the fact that audiences couldn't take in both the song and the novelty of the staging at the same time. It was Rodgers or Hammerstein, we're told, who pointed out that the two things should happen separately first the song, then the shower. (It would have been amazing to be a fly on the wall when Logan, Rodgers and Hammerstein discussed the creation of SOUTH PACIFIC! It is a shame the three never collaborated again.)
I referred to SOUTH PACIFIC as ""topical"" in the headline of this piece. And topical it was. Its ""now that the War is over we must make sense of our lives"" undercurrent struck a responsive chord. Audiences today may find those particular emotions a bit distant, but the most topical reference in the show has not aged one bit. It was controversial in its time, with many pundits pleading for its elimination: Lt. Cable's song, ""You've Got To Be Carefully Taught."" In it, Cable agrees with de Becque that hate and fear are not traits born into each of us, that in order to acquire them we have to be taught ""carefully."" This past November, The Nation magazine, contemplating the death of Matthew Shepard, the gay young man who was brutally beaten and left to die on a fencepost, quoted the song in an editorial: ""Gay bashers aren't born that way. But neither major party has yet had the courage to challenge the rant of the religious obscurants on school curriculums and embrace the wisdom of the song from SOUTH PACIFIC: ""You've got to be taught to hate and fear. You've got to be carefully taught.'""
The genius of SOUTH PACIFIC is this: it turns out to be a musical which was both deeply rooted in its time and feels timeless today. If it was riding on a wave of emotional post-War confidence, perhaps it was also subtly anticipating the civil rights battles of the ensuing decades. (What a remarkable coincidence that Nellie is from Little Rock site of a landmark confrontation in the civil rights movement). Whether prejudice is against the Tonkinese characters of SOUTH PACIFIC or the gay youth of the 1990's, Oscar Hammerstein II and Richard Rodgers knew that prejudice was a trait not easily overcome. Once again, what they created for one character in one show transcends and takes on an immortal life of its own. If only we could say their point of view was outdated.
The 1949 Original Broadway Cast recording of SOUTH PACIFIC, starring Mary Martin and Ezio Pinza, has just been reissued from Sony with new packaging and bonus tracks...SOUTH PACIFIC is available for performance through The R&H Theatre Library; call 212-564-4000, fax 212-268-1245, or e-mail [email protected] for more information...Selections from SOUTH PACIFIC are also available for rental from The R&H Concert Library; call 212-268-9300, fax 212-268-1245, or e-mail [email protected]
"
You must log in before you can post comments. You can login
here
.