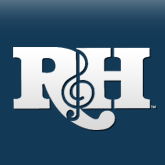 Songbooks That "Say It With Music"
"It's wonderful," declared Williamson Music President Maxyne Berman Lang recently. "Our songwriters are prolific, and our output of songbooks is commensurate with that. We couldn't be more thrilled, for the songwriters we represent and for the musicians who want to discover and play their music."
Here are a few of our newest publications, for piano, voice and guitar:
Rodgers & Hammerstein: A special edition of the STATE FAIR score contains material heard in the 1996 Broadway production and on the DRG original cast album, and a new souvenir folio edition of THE KING AND I commemorates the current hit Broadway revival with 16 pages of color photographs.
Irving Berlin: The Irving Berlin Children's Songbook features "easy piano"arrangements of such standards as "Alexander's Ragtime Band," and "White Christmas"...Irving Berlin's Lower East Side Songbook, with an introduction by Charles Hamm, covers Berlin's "early period" - from 1909 to 1919...Unsung Irving Berlin, a new folio inspired by the Varse Sarabande 2 - CD album, contains previously unpublished or at least unknown Irving Berlin songs, and is "full of wonderful rarities" (USA Today) from throughout Berlin's career, including the haunting ballad "Nothing More To Say," which has been heralded as a worthy successor to "Always" and "What'll I Do?"
Sheldon Harnick: The wordsmith who put eloquent philosophy into verse and then made it fit the character who was singing it - whether a shtetl dairyman, the founder of the Rothschilds dynasty, or the "Little Flower" Mayor of New York - is now the subject of his first songbook anthology. The Sheldon Harnick Songbook, new from Warner Bros. Publication this spring, features some of Harnick's best - known numbers from FIDDLER ON THE ROOF, FIORELLO!, SHE LOVES ME and THE ROTHSCHILDS, plus numbers cut from those famous scores (all written with Jerry Bock.) The book also includes gems from A WONDERFUL LIFE (music by Joe Raposo), A CHRISTMAS CAROL (music by Michel Legrand), the theme from the film THE HEARTBREAK KID (written with Cy Coleman), "The Boston Beguine" (one of Harnick's earliest - and funniest - solo efforts), and "Away From You," a deeply romantic ballad from REX, Harnick's only musical with Richard Rodgers.
Ricky Ian Gordon: With the triumph of last summer's premiere of his opera, THE TIBETAN BOOK OF THE DEAD at Houston Grand Opera and Philadelphia's American Music Theatre Festival, Ricky Ian Gordon continues to gain national prominence. Two recent songbooks reflect the scope and promise of his work: A Horse With Wings, with 21 titles included, is the first anthology of his songs...Genius Child is a 10 - song cycle based on the poetry of Langston Hughes.
Dory Previn: The Dory Previn Songbook is the first anthology of this extraordinary lyricist, featuring such haunting and evocative songs as "Scared to Be Alone," "Beware of Young Girls" and "Be Careful, Baby, Be Careful." Artists who have discovered and recorded Dory's songs include Blossom Dearie, Judy Garland, Leontyne Price, Frank Sinatra, Tony Bennett and Rosemary Clooney; the songs in this collection explain why.
Elvis Presley: Two new Presley songbooks from Hal Leonard focus on rock 'n roll and romance. Elvis Presley: His Love Songs features 21 titles, including "Can't Help Falling in Love," "It's Now or Never,"and of course "Love Me Tender"...Elvis Presley: The King of Rock and Roll also features 21 songs, including "All Shook Up," "Hound Dog"" and "Return to Sender."
Also new from Hal Leonard: a deluxe, two - volume boxed set, Elvis Presley Anthology, offering piano/vocal arrangements for more than 200 songs, along with a biography, discography and 24 pages of Presley photographs.
The Sheldon Harnick Songbook, a Warner Bros. publication, can be ordered through Note Service Music at 1 - 800 - 628 - 1528; all other songbooks, published by Hal Leonard, can be ordered through 1 - 800 - 637 - 2852.
For more information on the Hal Leonard catalogue, visit their website at www.halleonard.com
You must log in before you can post comments. You can login
here
.