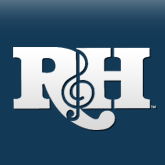 Some Enchanted Evening, Guaranteed.
Weve heard it said that todays audiences are over-stimulated and have short attention spans. Were here to reassure you that the musicals of Rodgers & Hammerstein can satiate even the most distracted theatre patron; an R&H musical always guarantees a memorable and moving experience. Two time-honored R&H classics were recently showcased at Light Opera Works in Evanston, Illinois. This professional theatre took on SOUTH PACIFIC and THE SOUND OF MUSIC, staying true to the script and the score. SOUTH PACIFIC, at a playing time of over two and a half hours, wowed audiences and the theatres staff with a 31-piece orchestra that followed every original note of Robert Russell Bennetts glorious orchestration. The artistic director and I were both totally won over by the piece. Its really engaging when the show is presented in the way its written, says Light Opera Works general manager, Bridget McDonough. We never had so many letters from audience members as we did with SOUTH PACIFIC.
McDonough understands that many smaller theatres (Light Opera Works theatre seats 1,000) might not have the resources for a full orchestra of 31, but she still stresses that the musicals should be presented as originally crafted. SOUTH PACFIC and THE SOUND OF MUSIC are masterpieces of the genrethey dont need to be improved. Its great to do a show as written and realize how good the masters are, she says.
When Bali Hai calls, we hope youll answer just as Rodgers & Hammerstein intendedwith strings, reeds, brass and more. The R&H signature shows have won audiences over for more than 60 years, and you can make sure your next production does the same. e
You must log in before you can post comments. You can login
here
.