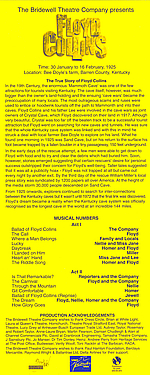 Singing The Story Of Floyd Collins
"
Floyd Collins was a real-life farmer in the Kentucky hills and an avid cave explorer who, in the winter of 1925, entered a cave that he hoped to turn into a tourist-driven goldmine, and instead became trapped. Within days, his plight had triggered a gaudy media circus - America's first sensational, true-life soap opera played out over the airwaves.
The story of Floyd Collins caught the attention of composer/lyricist Adam Guettel and book writer Tina Landau, whose original musical, Floyd Collins, was commissioned by The American Music Theater Festival in Philadelphia, and given its world premiere there in 1994. The work was subsequently redeveloped at Playwrights Horizons in New York City, where it was presented during the 1995-96 season, and prompted John Simon of New York Magazine to write, ""This is the original and daring musical of our day."" At season's end it received the Lucille Lortel Award for Best Off-Broadway Musical.
The R&H Theatre Library is proud to welcome Floyd Collins to our catalogue and looks forward to sharing its amazing story with our customers and their audiences. As an ideal introduction to its compelling score, we recommend the original cast recording issued by Nonesuch Records this past spring.
Award-winning playwright John Guare provided commentary for the album, excerpted here with his kind permission:
The 1995-1996 season had been a terrific one for musicals. Rent opened, its earned success forever intertwined with the legend of its young author dying after the dress rehearsal. Bring in 'da Noise/Bring in 'da Funk took dance to new places on Broadway with the apotheosis of its young star, Savion Glover. Even The King and I seemed renovated as well as revived. In the wake of all these, I went one Sunday afternoon in the spring of 1996 to Playwrights Horizons on West 42nd Street to see a new musical, Floyd Collins, with music and lyrics by Adam Guettel and book and direction by Tina Landau.
I assumed they had based their musical on the film Billy Wilder made in 1953 on the true story of Floyd Collins, a man trapped in a cave in 1925, and the media blitz that exploded around his failed rescue. It had to be about the reporter. Right? You don't do a musical about the man trapped in a cave who never gets out. Wrong. Guettel and Landau took this true-life story and made it into something so original, so alive, so free that I felt, walking home that Sunday, I had somehow seen the future.
What had made me feel that way? Listen to the first scene which is a one-act play in itself: young Floyd descends deeper and deeper into a Kentucky Cave, searching for the out that will give him all the material goodies he needs to live out his guaranteed part in the American dream. Listen to the joyous duets he sings with his own echoes as he descends lower and lower and more triumphantly into the bowels of the earth. Guettel's music is filled with the American bravura of optimism, the democracy of get up and go, the taste of America there for each and everyone of us, to revel in, to snatch up in the big break waiting just around the corner. It's the optimism that created the very musical itself. ""Oh, what a beautiful morning!"" And then he gets stuck, trapped by a cave-in. Where do you go from that?
Floyd Collins is a work unto itself that trusts its dreams, trusts its music, trusts its audiences, trusts you, to follow it deeper and deeper into its dark territory there below the earth. As Stephen Sondheim musicalized the unexplored territory of modern neuroses to let us see ourselves, Guettel and Landau have dramatized the paradox of what it's like to live in the most beautiful country in the world and at the same time be on the edge of an abyss that separates you from ever getting there.
I don't know what the future's going to be, but I'd place a bet that years from now, the writers of those musicals of the future will look back and say it wasn't Rent, it wasn't Bring in 'da Noise, that changed it for them back in the '90s, it was that show on 42nd Street called Floyd Collins.
Floyd Collins is currently available for licensing from The R&H Theatre Library. For a perusal script, or a catalogue of all our musicals available for performance, please call (212) 564-4000, or fax (212) 268-1245, or write to The R&H Theatre Library at 229 West 28 Street, 11th floor, New York, New York, 10001."
You must log in before you can post comments. You can login
here
.