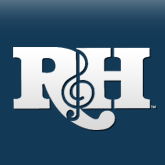 Say It With Words: The Complete Lyrics Of Irving Berlin Is Published This Fall
"
Nearly a decade in the making, THE COMPLETE LYRICS OF Irving Berlin is a remarkable tome, comprised of more than 1200 lyrics by the most prolific songwriter of the 20th century. Published by Alfred A. Knopf in October, THE COMPLETE LYRICS... was co-edited by esteemed music theater historian Robert Kimball and Irving Berlin's daughter, Linda Emmet. This article is excerpted from Kimball's Introduction to the book:
Anyone who writes the history of twentieth-century America must give a place of honor toIrving Berlin (1888-1989), a musical bard whose work expressed his times as eloquently and unerringly as the poetry of Walt Whitman and the songs of Stephen Foster gave voice to aspirations of nineteenth-century America. Not only because Berlin is one of our greatest songwriters, but also because he is one of our most important social chroniclers. If all traces of our nation from the first half of the last century were to disappear except for Berlin's songs, our descendants would still have an extraordinarily rich and varied account of our customs and values. These songs offer us a treasure trove of insights into the ways America has lived and changed in times of war and peace, in tumult and euphoria and in prosperity and depression. Admittedly, his world of music and dancing, love and weather, heartache and optimism, and fads and fancies, reflects an earlier time when relationships had more solidity and durability than they seem to have in our own era. Yet from the early dialect songs and opera burlesques to the most beautiful ballads and the most poignant expressions of love and country, Berlin more than confirmed what Jerome Kern, a great composer in his own right, said of him, ""Irving Berlin has no place in American music: he is American music.""
...Over the years (Berlin and I were telephone friends for nearly twenty of them), people often asked what he was like. The restless energy I had encountered when I met him in 1962 at a performance of his musical Mr. President at Washington's National Theater was one of the first things that came to mind. He was down-to-earth and easy to talk to, smart, funny, shrewd, curious, enthusiastic, volatile. His interest in others was genuine; he was a big fan of people he liked and had an excellent memory, but only rarely chose to reminisce. His language was blunt, colorful, and occasionally peppered with profanity. He got upset when he thought people were trying to take advantage of him or were challenging his right to make artistic and business decisions about his own songs. Yet when artists performed his songs well or individuals wrote books or articles that he enjoyed, he was more than appreciative; his enthusiasm was heartwarming and deeply moving. All of us who were ever thanked by

Ideas, brainstorms -- or angles as he like to call them -- poured out of him even in the final years of his life. His fellow composer and good friend Harold Arlen said that Berlin sent things airborne as if they were balloons and then usually popped them very quickly. When he heard singer Joan Morris's overdub of the countermelody to the refrain of ""Pack Up Your Sins and Go to the Devil,"" he became excited for a couple of days about putting together an album of his double songs -- and then something else drew his attention.

Robert Gottlieb has been my editor and friend for over twenty years. When we began work on what became The Complete Lyrics of Cole Porter, first published in 1983, he said there should be a series of the complete works of the great lyricists. When I mentioned this to Mr. Berlin and asked his permission to compile his lyrics for publication, he said, perhaps surprisingly, ""All right, but not while I'm alive. When I'm gone, work with my wife and daughters."" With his characteristic curiosity, the ninety-something Berlin fired many questions at me when the Cole Porter book was published. How would a publisher undertake such a book, he wanted to know; how would it be compiled and edited and produced.

Hilda Schneider and I often spoke of her boss's approval of a posthumous collection of his lyrics, and after his death she began work on it. (Hilda worked for Mr. Berlin for nearly fifty years, starting as a production secretary for THIS IS THE ARMY.) So too did Linda Emmet, Mr. Berlin's middle daughter, who lives in Paris but commutes to New York for monthly family meetings. We began the project in 1991 with Hilda gathering and typing all of the approximately eight hundred published lyrics. Before Hilda's illness became terminal (she died of cancer in 1993), she started organizing and typing lyrics from the massive unpublished song files she had watched over for decades in her office. Soon after Berlin's death, his daughters, with their typical generosity and sense of responsibility, decided to donate his song, production, and business files to the Music Division of the Library of Congress. Their gift was announced at a 1992 Library ceremony.Early in the morning of his one hundredth birthday, a group of friends and well-wishers stood outside Berlin's Beekman Place home in Manhattan and serenaded him quietly with ""Happy Birthday"" and his own ""Always."" He had been accorded the kind of tribute that Italian music lovers had given Giuseppe Verdi, and he deserved no less for the lovely todays and tomorrows his work has brought to all of us.

THE COMPLETE LYRICS OF Irving Berlin will be available in bookstores nationwide by mid-October...For further information visit www.aaknopf.com. Excerpted from ""Introduction to The Complete Lyrics of Irving Berlin."" Copyright 2000 by Robert Kimball. Used by Permission. All Rights Reserved.

"
You must log in before you can post comments. You can login
here
.