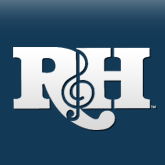 SAY IT WITH MUSIC: New on CD
WHITE CHRISTMAS: In October, Ghostlight Records will release a cast album of the stage adaptation of Irving Berlins WHITE CHRISTMAS...This CD features a superlative score, including Happy Holiday, Sisters, Blue Skies, I Love a Piano, How Deep is the Ocean?, Count Your Blessings, Let Yourself Go and, um, did we leave anything out? (www.ghostlightrecords.com)
SOUTH PACIFIC: A live recording from Carnegie Hall...Reba McEntire, Brian Stokes Mitchell, Alec Baldwin...Paul Gemignani conducting the Orchestra of St. Lukes...Thrilling new takes on Some Enchanted Evening, A Wonderful Guy and Younger Than Springtime...And the verdict? Smashingly good, declared Steve Suskin on Playbill.com. (Decca Broadway)
ITS ONLY LIFE: John Bucchinos powerful and uplifting new musical revue, now represented by R&H Theatricals, has been recorded by PS Classics with a stellar quintet of performersBrooks Ashmanskas, Andra Burns, Gavin Creel, Jessica Molaskey and Billy Porter, with Bucchino himself on piano... Sweet Dreams, Taking the Wheel, It Feels Like Home, Grateful and the title song are among the Bucchino gems that fans will recognize and newcomers will happily discover.
DREAM TRUE: In May, PS Classics released the world premiere recording of Ricky Ian Gordon and Tina Landaus musical based on George du Mauriers 1891 novel, PETER IBBETSON. First seen at the Vineyard Theater in 1998, DREAM TRUE was subsequently presented in concert at Cooper Arts in 2004; this recording, orchestrated by Jonathan Tunick, is drawn from that performance.
YOURS, ANNE: Late last year, JAY Records released, for the first time on CD, the 1985 Original Off-Broadway cast recording of this quietly powerful musical based on The Diary of Anne Frank and licensed through R&H Theatricals...Here, the original cast, led by Trini Alvarado as Anne, perform the score written by Williamson Musics Michael Cohen and Enid Futterman.
THE KING AND I/SOUTH PACIFIC: Sony/BMG has just released the first CD editions of two landmark 1960s R&H revivals from the Music Theater of Lincoln Center, produced by Richard RodgersTHE KING AND I (1964) starring Ris Stevens and Darren McGavin; and SOUTH PACIFIC (1967) starring Florence Henderson and Giorgio Tozzi.
THE SOUND OF MUSIC/Salzburg: In Salzburg, Austria, the local post office decided to add something good to their release of SOUND OF MUSIC commemorative stamps (see p. 3) by recording songs from the score with an orchestra made up of local Salzburg student musicians and postal workers; the resulting CD features over a dozen selections, as well as a lavish booklet (in English and Japanese), and yes, those stamps. (sterreicher Post; To purchaseeven from outside Austriavisit www.philatelie.at.)
You must log in before you can post comments. You can login
here
.