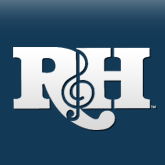 Say It With Music
"
New, or never before released on CD!
SOUTH PACIFIC: Reba McEntire, Brian Stokes Mitchell and Alec Baldwin lead the one-night-only concert of Rodgers & Hammerstein's South Sea classic; performed at Carnegie Hall on June 9, 2005, with Paul Gemignani conducting the Orchestra of St. Lukes, SOUTH PACIFIC was an unforgettable event for those lucky enough to be there... And now, luckily for everyone, it has been captured for broadcast (GREAT PERFORMANCES on PBS), DVD, and in this sumptuous recording, produced by Jay David Saks for Decca Broadway...Jason Danieley (as Lt. Cable) and Lillias White (Bloody Mary) round out the star-wattage that guaranteed ""some enchanted evening.""
THE LIKES OF US: Recorded live at the 2005 Sydmonton Festival, this is the first recording of the very first musical written by Andrew Lloyd Webber and Tim Rice, but never produced...Based on the life of Victorian London's Dr. Barnardo, the score is tuneful Lloyd Webber, piquantly clever Rice, and a foreshadowing of things to come and therein lies the fun. ""When Tim suggested that we might record"" THE LIKES OF US, confessed Lloyd Webber in the album notes, ""I was cautious ...I knew that I had used melodies from it elsewhere, [but] how many I couldn't remember."" (Decca Broadway)
THE SOUND OF MUSIC-Vienna Volksoper: As previously reported in these pages, the Austrian premiere of THE SOUND OF MUSIC in February 2005 (see Vol. 12, No. 3) was historic in its own right. The fact that this production by the Vienna Volksoper was so thrillingly good, only added to the occasion. Performed entirely in German, with operatic soloists and choir complemented by a 50 piece orchestra under the baton of maestro Erich Kunzel, it rang with resonance and meaning. It was all beautifully captured in the live cast album released in Austria late last year, and now, thanks to DRG Records, this recording will be made available Stateside. ""Edelweiss"" never sounded more heartfelt or authentic.
B. J. WARD SINGS MARSHALL BARER: The witty and wise lyricist of ONCE UPON A MATTRESS, Marshall Barer, is celebrated in this new album from B. J. Ward, released on Michael Feinstein's Feinery label for Concord Records...Travelling from cleverly risque to joyfully droll (and let's not forget the theme to MIGHTY MOUSE!), the album is a tribute to Barer's unique lyrical voice. Songstress Ward is joined on the album for two special duets one with producer Feinstein, and the other with good friend Adam Guettel.
ANNIE GET YOUR GUN: Bayview Records has put together, for the first time in one set, the original London, Australia, and Paris cast recordings of Irving Berlin's sharp-shooting hit...Dolores Gray starred in the London production; Evie Hayes was the Australian Annie who toured that continent and New Zealand in the show for six years; and Lily Fayol was Paris' own cowgirl...On disc, and lo, these many years later, a vivacious 23-year-old Gray still shines through; Hayes is equally delicious; and Fayol sings as only she can ""On n'prend pas un homme avec un fusil"" (aka, ""You Can't Get a Man with a Gun').

Now playing on the jukebox: Barbara Cook sings ""A Wonderful Guy,"" Bucchino's ""Sweet Dreams"" and a sensational duet of ""Blue Skies"" with Audra McDonald on
BARBARA COOK AT THE MET (DRG Records)...Marin Mazzie and Jason Danieley cover ""I Got Lost in His Arms,"" and a rousing Berlin contrapuntal medley of ""Simple Melody,"" ""An Old Fashioned Wedding,"" and ""You're Just in Love"" on OPPOSITE YOU (PS Classics)...Brian Stokes Mitchell sings Bucchino's ""Grateful"" and Guettel's ""How Glory Goes"" on his new self-titled album, coming in June from the newly-born Playbill Records... Debbie Gravitte recreates her Tony winning showstopper, ""Mister Monotony"" trios (with herself!) on ""Sing For Your Supper"" and makes Stephen Schwartzs thrilling Act I closer from WICKED the title track of her newest album, DEFYING GRAVITY GAY Records) or should that be, DEFYING GRA-VI-TTE?

"
You must log in before you can post comments. You can login
here
.