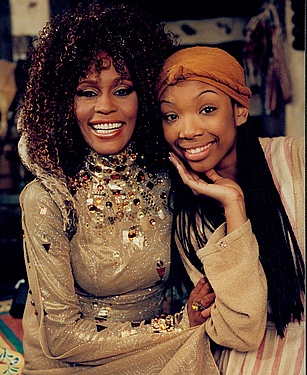 Ring Out The Bells, Sing Out The News: Rodgers & Hammerstein's Cinderella Returns To Television
"
n March 31, 1957, 107 million people tuned in when CBS-TV presented a new Rodgers and Hammerstein musical written especially for television, starring a young Broadway sensation named Julie Andrews. Countless more grew up on a second version starring a radiant Lesley Ann Warren, shown annually from 1965 to 1972, and still popular on home video.
Now Rodgers & Hammerstein's CINDERELLA has been reborne for television again, in a spectacular new version that should sing for several generations to come.
Scheduled for broadcast on ABC-TV's ""The Wonderful World of Disney"" on Sunday night November 2, this CINDERELLA has been conceived in the tradition of family event television, with a budget and an all-star cast to match. Its Fairy Godmother, both in front and behind the cameras, is Whitney Houston, who made this dream come true through her early, and unwavering, commitment.
It was Houston, as star and co-executive producer, who chose singing sensation and MOESHA star Brandy to play the title role. Their stellar co-stars include Bernadette Peters as The Wicked Step-mother, Whoopi Goldberg as The Queen, Victor Garber as The King, Paolo Montalban as The Prince, Jason Alexander as his Steward, and Veanne Cox and Natalie Desselle as the Wicked Step-sisters. With the look and sound of a full-blown Broadway musical, CINDERELLA boasts vintage theatre talent both on and off screen. Directing is Robert Iscove, whose many stage credits include R&H shows as well as Sandy Duncan's acclaimed Broadway revival of PETER PAN. Rob Marshall (KISS OF THE SPIDER WOMAN, DAMN YANKEES, VICTOR/VICTORIA) is the choreographer, David Krane (SHOW BOAT) is the dance arranger, and Michael Starobin, David Cullen and Danny Troob head the list of Broadway veteran orchestrators, all under the watchful eye and ear of musical director Paul Bogaev (SUNSET BOULEVARD).
Helping to merge Broadway legit with Hollywood pop are co-producer Chris Montan, whose musical magic has touched such Oscar-winning, screen-to-stage Disney titles as BEAUTY AND THE BEAST and THE LION KING, and veteran music producer Arif Mardin (whose credits include both the RENT and GYPSY cast albums).
It is not surprising that this Hollywood project has such a Broadway pedigree, considering its genesis. For over five years the dreamchild of producers Craig Zadan and Neil Meron of Storyline Productions, CINDERELLA is a natural for a team steeped in the Broadway milieu, whose credits range from the landmark television version of GYPSY starring Bette Midler to upcoming big-screen versions of Sondheim's INTO THE WOODS and SWEENEY TODD.
In 1992, Zadan and Meron approached R&H with the idea of remaking CINDERELLA with Whitney Houston, conceived and cast with a '90s sensibility but faithful to the spirit of the original. Houston and her co-executive producer Debra Martin Chase were with CINDERELLA from the start because, as the superstar told an audience of television journalists during a July press conference, ""it sends a great message to children that dreams do come true, and that nothing is impossible."" Houston added, ""I try to teach that to my little girl, and I hope that all children receive this message.""
A new teleplay was written by Robert L. Freedman, inspired by the Hammerstein source even as it deftly updated the story's values and tone. In structure and style, Freedman's script is closer to the '57 original than was the '65 remake, and his version quickly met with approval here at R&H.
Open to new dialogue and casting ideas, R&H was also asked to be open about the score. Consistent with the project's overall commitment to honor the original while accomodating the talents of this sensational new cast, orchestrations and dance arrangements were adapted from the original's ""legit,"" Broadway sound (which had themselves been created by veteran Rodgers orchestrator Robert Russell Bennett). ""It was a give-and-take process,"" recalls R&H President Ted Chapin. ""But Chris Montan was extremely grateful at how flexible we actually were in allowing his team the freedom they needed."" Still, within that freedom, the work's lineage was always acknowledged. ""I know the flavor of a Rodgers and Hammerstein song,"" Whitney Houston told the Los Angeles Times. ""I wouldn't sing it pop or R&B or gospel. It's very simple, very classic. These songs were written 40 years ago and they've lasted for a reason.""
But the new CINDERELLA team also wanted to add songs to the score, and that posed a different sort of challenge. While the new teleplay offered - at times even required - moments for song that the original did not, integrity demanded that any interpolations be consistent with the whole. The result brings together the original score - including such standards as ""In My Own Little Corner,"" ""Ten Minutes Ago,"" and ""Do I Love You Because You're Beautiful?"" - with several surprising additions. (See story p. 5).
A co-production of Walt Disney Telefilms, Storyline Entertainment and Houston Productions, CINDERELLA was filmed during the summer of 1997, primarily at Sony Studios in Culver City, California. On that fabled lot, between remnants of Harrison Ford's AIR FORCE ONE and the impending havoc of GODZILLA, a veritable fairy tale kingdom for CINDERELLA bloomed on the same grounds that once had been home to M-G-M studios in the golden age of the movie musical.
On the same soundstage where once grew Munchkinland, in fact, now stood CINDERELLA's Royal Palace. (Sharp-eyed viewers will note that, in a tribute to OZ, scatterings of yellow brick are embedded in the Palace's courtyard.) Several soundstages away was the Step-mother's cottage, a shrine to hilariously gaudy bad taste. With costumes by Ellen Mirojnick (FACE/OFF, TWISTER) and sets by Randy Ser (DARKMAN), CINDERELLA is a visual wonder, rich in character and detail.
In July, mid-way through filming, Mary Rodgers, James Hammerstein and Ted Chapin lead an R&H contingent onto the set, where they met the cast, observed some of the filming, saw early assembled footage, and gave lots of interviews. ""It's been thrilling,"" Rodgers told Playbill On Line: ""These are the most incredible sets you've ever seen. And the cast is brilliant! Brandy is a sweet, wonderful young woman with an incredibly husky pop voice that's also glorious. And I love the fact that millions of children are going to hear her sing 'I can be whatever I want to be.' What better message could we send than that?""
Echoing those sentiments, Jamie Hammerstein responded to a journalist who asked what his father would have thought of the ""color-blind"" casting. ""That's easy,"" Jamie answered. ""He would have said, 'What took you so long?'""
Rodgers & Hammerstein's CINDERELLA will air on ""The Wonderful World of Disney"" on ABC-TV on Sunday night, November 2; check local listings...Prior to that, a special ""behind-the-scenes"" sneak preview will air at the conclusion of HONEY, WE SHRUNK OURSELVES on October 12...A soundtrack album and home video edition of CINDERELLA are planned for future release, as is a commemorative songbook folio from Williamson Music."
You must log in before you can post comments. You can login
here
.