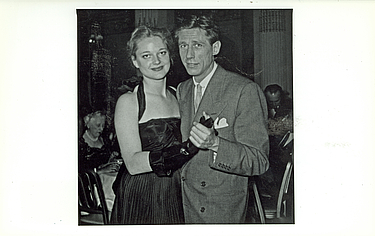 Remembering William Hammerstein
"
William Hammerstein died in his home in Washington, CT., on March 9 of this year. He was 82 years old. The eldest son of Oscar Hammerstein II, William Hammerstein was a successful director and producer, a man of the theatre who dedicated his life to the artform and, in particular, to the constant rediscovery of his father's works. For many years he represented the Hammerstein family at the R&H Organization and here, R&H President Ted Chapin offers a tribute:
Bill Hammerstein was an honorable man. And we don't live in necessarily honorable times. He cared. He cared about family - his, ours, mine, the Hammersteins, and the family of the theater. He also cared about the Rodgers family. He always wanted to make sure everything was OK and that lines of communication were open.
My introduction to him was my job interview. We went to the vast Oak Room of the Plaza Hotel, which provided a sort of neighborhood men's club atmosphere for the serious business of Rodgers and Hammerstein, being only a block away from the old office at Madison Avenue and 58th Street. Once we had lowered ourselves into the deep leather armchairs, he asked: ""Tell me about Ted Chapin."" I answered him - in the third person. He smiled. My background was interesting to him but he cautioned: ""We're not producers, you know."" I wasn't quite sure why he was saying that at the time, but I came to realize that it wasn't as much of a warning as it was a statement of truth. I was being interviewed as a potential head of the office, and he knew that the task was to protect, encourage, and ultimately to license copyrights to others. Of course I wasn't being asked to run the office right away - the idea was for me to learn the ropes for a year or so and then take over if we all agreed it was the right thing to do.
Toward the end of my first year, I felt there was still too much to learn. I wasn't ready. Bill and I had lunch. ""Well, do you want this job?"" ""I'm not sure,"" I said. He wasn't pleased - he didn't want to push me, but I don't think he wanted to have to go on a job search again. I did decide to take on the challenge. My predecessor didn't really want to leave. He questioned whether I had enough experience. So one day after the transition, Bill came into the office and handed me a cartoon he had ripped out of The New Yorker. The drawing was of an old man sitting alone at one of many desks in an assembly hall of some sort. An aide was standing over him, and the caption was: ""Sir, I'm afraid I must tell you that you lost the election."" It was Bill's way of throwing his gentlemanly support behind me.
He could be tough. When I would recommend taking positions that could be seen as controversial, he would always ask whether I had thought it through all the way. Recently I sent him a draft of a particularly forceful letter that I felt had to be sent; he read my draft and said, ""It just doesn't reflect the style of the way we do business."" He was right; I rephrased the letter, stressing the positives as much as I could.
In 1992, when we all trouped over for the previews of Carousel at the Royal National Theatre in London, Bill was as thrilled as we all were by that amazing production. But he didn't like one line shift that director Nicholas Hytner had made. ""Billy Bigelow wouldn't refer to Mr. Bascombe as a fat bastard in the first scene,"" he said, ""it's too crude."" Nick had taken the reference from later in the text, very much on purpose, and spoke passionately about why he wanted to use it earlier in the show. Bill still didn't like it, but he recognized a theater artist's vision, and allowed the line to remain as Nick wanted it.Bill carried with him a sense of history. Sometimes, he wasn't even aware of how extraordinary his own place in that history was. He and I were once on a plane flying to the West Coast to check out some major production, and we got to talking about Show Boat and Jerome Kern. He spoke of being taken backstage as a kid during the original New York production in 1927, watching Helen Morgan's goldfish in her dressing room (he especially remembered seeing them swim peculiarly close together.) The following year, in London, he was introduced to Paul Robeson, and he later recalled the awe he felt when the large, imposing hand of Robeson's reached down to shake his small boy's hand. Bill explained how Kern had been an ""uncle"" to him, but how, after returning from wartime service in the Navy, the relationship changed since Bill was no longer the kid. Bill suddenly stopped telling the story, and pointed to the watch around his wrist. ""This is Jerry Kern's watch,"" he said. ""Eva gave it to Dad after Jerry died and Dad gave it to me."" It was simply and factually stated, with little sense of historical significance. Bill and his wife Jane-Howard gave me that watch last year on the occasion of my fiftieth birthday.
Bill wore his Hammerstein lineage with enormous grace. He admired his father's work with a combination of a fan's knowledge and a son's pride. His early professional life did not involve his father's work much. Then he began to produce tributes to him during his time as a television producer, and directed various Hammerstein shows at City Center when he ran the City Center Light Opera Company - for which he received a special Tony Award. Later on, when he was handed the mantle of representing his father's work, he became an eloquent spokesman and an extraordinarily astute critic - he knew what worked and what didn't. He had favorites among the shows, but he was extremely discreet. He rarely confessed which ones held a special place for him. When he complained that the military aspects to productions of South Pacific weren't being portrayed accurately, he accepted my challenge to write a forward for the performing script to insure that future producers wouldn't make the same mistakes over and over.
After Bill's stroke in 1993, he didn't really like leaving his house. So, I would go and visit him, bringing with me his favorite curried tuna sandwiches. On one visit he said he had been flipping around the channels one night and found, much to his surprise, a documentary program on Show Boat. He didn't remember our having given permission for the program, so he watched it. ""Suddenly there I was, giving an interview that I hadn't remembered giving,"" he said. ""Well,"" I asked, ""how were you?"" He smiled his characteristic smile, full of both wisdom and mischievousness, and said, simply, ""I was very good.""
Along with everything else, he was a great teacher. Everyone he came into contact with here at the Rodgers & Hammerstein Organization learned a great deal from him. He was a friend and a leader, and we will all miss him a lot.
"
You must log in before you can post comments. You can login
here
.