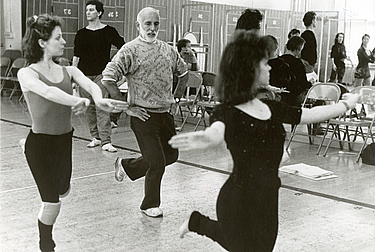 REMEMBERING THE BRILLIANCE OF JEROME ROBBINS by Ted Chapin
"
The musical theater lost one of its few choreographic geniuses this summer when Jerome Robbins died. Among the tributes following his death, my favorite was by Clive Barnes: ""He was an extremely demanding man, not always popular with his dancers, although always respected. He was a perfectionist who sometimes, very quietly, reached perfection."" Robbins' contribution to Rodgers & Hammerstein's THE KING AND I, while shorter in scope than his other major musicals, was no less brilliant. He brought a unique theatricality to whatever style of choreography he chose, and THE KING AND I was no exception.
In addition to the well-known ""Small House of Uncle Thomas"" ballet, his simple staging for ""Getting To Know You"" represents the kind of genius for which he was famous. We take it for granted today how could it be staged any other way? but the details are extraordinary: having the children face upstage while Mrs. Anna, in her large dress, looks down at them (and out at us), the way she has a unique handshake for each and every child, the fan dance followed by the children's imitation in which they hold hands to make a dress... These are all moments of elegance, precision and emotional perfection. And they create a unique style, rooted in simplicity. Remember, Robbins was the man who placed two stools on a soundstage and put Ethel Merman on one and Mary Martin on the other and just had them sing. He had confidence in his own abilities, and that often led him to realize less really can be more.
I met Robbins on a few occasions. Something about him made a newcomer cautious. (His reputation? That impeccable, sculpted look? Those piercing eyes?) My favorite memory was at a meeting of the Musical Theater Committee of Lincoln Center Theater. The conversation got around to musicals from the 1930's which might be interesting to revive. Robbins started talking about dancing in the chorus of Broadway shows in the 1930's and how he would wait in the wings watching the great performers at work, taking in whatever he could. Titles were thrown on the table GIRL CRAZY, BABES IN ARMS, etc. all of which boasted scores with at least a couple of hit songs.
""And then OKLAHOMA! opened,"" Robbins said, ""and for the first time every song was a hit."" He went on to describe the preview he saw. ""The opening number began, in a fairly straight-forward fashion, and then right away there was this blue note Oh what a beautiful mor-nin'' and I thought: where did that note come from? It didn't sound like what we were used to hearing. It made us sit up and take notice."" For my generation, that note didn't sound ""blue"" it was simply part of the song. But Robbins' perspective on the song, the show, and its history gave a new insight to OKLAHOMA!
My other experience with Robbins was over THE KING AND I. The Australian production that formed the basis for the 1996 Broadway revival had altered the staging of some of the dances, but the end result wasn't up to par. I knew that Robbins could have made fixes in an afternoon, if he was so inclined. I was told repeatedly that he wouldn't be interested, but I met with him anyway. He looked at the photographs without evidencing any reaction. He liked the opening scene's set best, but clearly was not interested. He was happy to pass the responsibility for recreating his work to one of his associates, Susan Kikuchi, who is the daughter of Yuriko, an original cast member who has mounted many a production herself. He did ask about credit, something he had not received consistently over the years. ""I know Rodgers and Hammerstein own the dances, but I did create them and would like that recognized."" Done.
The end of the story was the preview he attended when this KING AND I arrived on Broadway. I don't know what transpired to get him to the theater, nor did we ever find out what he thought. But the following day, one of the producers who had forgotten that Robbins was to be in the house said, ""You should have been there last night I have never seen the dances so good."" When Robbins entered the theater, he was given a spontaneous standing ovation.
I regret that we were never able to document Robbins talking about THE KING AND I; our video with Agnes DeMille talking about CAROUSEL has proven extremely valuable. But despite my discussions with Robbins' tireless and dedicated lawyer Floria Lasky, neither of us could get him interested. Even if he was reluctant to look back, what he left behind in the musical theater is now ours to enjoy. His legacy speaks and dances for itself.
"
You must log in before you can post comments. You can login
here
.