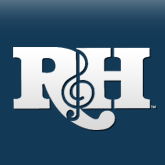 Remembering Agnes de Mille
In October, Agnes de Mille died in her home in New York City at the age of 88. She had choreographed the original productions of OKLAHOMA! [1943] and CAROUSEL [1945], directed and choreographed ALLEGRO [1947], and recreated her OKLAHOMA! dances for the film version [1955]. For the past two years she had been working with this office on the creation of instructional videos for the choreography of OKLAHOMA! and CAROUSEL; her partner in this project was Theodore S. Chapin, President and Executive Director of The Rodgers & Hammerstein Organization. Here, he reflects on working with Agnes de Mille.
In the summer of 1990, I went to see The Houston Grand Opera production of CAROUSEL, for which Gemze de Lappe had been hired to re-create the original Agnes de Mille choreography. While I had seen the de Mille dances before, I had never seen them so extraordinarily well performed. They were a revelation. I realized their uniqueness: every step, every move was totally character-driven. Sitting in that theater, I decided that somehow I had to get Agnes de Mille to document her dances for CAROUSEL and OKLAHOMA! for future generations. She was now in her 80's, and had survived a series of medical calamities, so I knew I mustn't dawdle. I also knew I had to break through nearly half a century of difficult relations between Ms. de Mille and this office.
Agnes de Mille made no secret of the fact that she felt her contributions to OKLAHOMA! and CAROUSEL had never been recognized (or compensated) sufficiently by Rodgers & Hammerstein. Choreographers didn't own their work when she did these shows; her sense of anger over this injustice prompted her to help form the Society of Stage Directors and Choreographers. Still, these two shows contained some of her best and most representative work, and it needed to be notated in some tangible form if it was to live on as an integral part of these groundbreaking shows. So I proposed a deal to my bosses named Rodgers (Dorothy, Mary) and Hammerstein (William, James) that we begin paying de Mille an on-going royalty, with the understanding that she would, in exchange, help us document the dances in the form of an instructional video. I was given an enthusiastic green light, and wrote a careful letter.
Oscar looks too neighborly, too understanding, too philosophic for our gypsy and disreputable trade. He is a tall, broad, heavy and gentle-faced man with a soft voice, a Yankee twang when excited, and a chuckle that is one of the most auspicious sounds our theater ever housed. He has, for all his size, the quietness and discipline of an athlete. He smokes little, drinks almost nothing at all, and practices daily exercise and massage. He walks quietly; he waits quietly, he watches with attention genial and silent and can enter and leave a rehearsal without being observed or interrupting work in progress; but he will have learned a great deal...
Dick is considerate and quiet too, but always noticed. He takes a chair by the director, or by the piano, or he sits chatting in the auditorium with a member of the cast, or he dictates his entire morning mail. But he misses nothing, not an inflection, not a turn of the wrist or a grace note. And none of us ever misses the fact that he is there watching.
Two days later the phone rang. "This is Agnes de Mille. I was surprised to get your letter."
"I hope it was a pleasant surprise."
"I'm not sure yet."
I explained the notion I had in mind thus far, and we made a date for tea. It was a day I shall never forget. She was ready for me, but she wasn't sure whether she should trust my visit entirely. Did I have the authority to discuss this idea, she wanted to know. I assured her I came with everyone's full support.
I said that I thought we had an obligation to preserve her choreography, to teach the high schools - for example - how her dances were conceived and how they should be performed. She groused, "They probably don't do them very well." She then said the first thing that made me realize just how helpful she could be: "You know, when a high school does OKLAHOMA!, they should get the fullback from the football team to play Dream Jud in the Ballet - he needs to be strong enough to pick the Dream Laurey up and hold her over his head when he carries her off at the end. It's so much more effective if he can be that strong. George Church [the original Dream Jud] was an ox," she added.
She knew that she was being presented with an opportunity, however late the date, to say whatever she felt important to say, and show whatever she thought important to show, concerning these two major works. She was the only original collaborator left and could now say whatever she wanted. She even agreed to appear on camera. We parted that afternoon as new - if cautious - partners and, as far as I was concerned, friends.
We decided to start with CAROUSEL, since Gemze de Lappe was about to remount the dances for a production in Nashville, providing us a chance to videotape the choreography. After our producer, JoAnn Young, edited these tapes, we screened them for Ms. de Mille; then, a few days later, we turned the camera on her. Alone and with Gemze, she discussed her work, watched as some steps were demonstrated, and spoke her mind about things that didn't please her. At one point, while watching the end of "June Is Bustin' Out..." she exclaimed, "What's that step? Did I do that?" She recognized that certain steps were still geared to the original dancers, and she was smart enough to know that other dancers in the role would require adjustments. "Let's fix it," she said. And so they did. On camera. Contrary to the rigidity of some archivists, de Mille proved that nothing in a musical is ever absolutely set in stone - a collaborative work of art needs some flexibility.
In September she watched a tape of the finished product. In what turned out to be our last conversation, she called to tell me that she had viewed it, and pronounced it "splendid".
Now, she said, it was "on to OKLAHOMA!"
So our job is only half finished. Fortunately, her feelings about OKLAHOMA! have been well documented over the years, including scores of interviews she gave for television, as well as in articles and books written by her and about her.
We will have to dig into the archives a bit more, perhaps using some rare black and white footage of the original National Tour from the 50's, but I know we will be able to make a video that shares with future generations her work on that musical, too. Still, she won't be around to tell us what to do, and I shall miss her for that.
My relationship with Agnes de Mille was all too short-lived. It was also at the end of her life. Still, I had a chance to see her indomitable spirit, to witness that infamous straight-forward point of view. She minced no words. She suffered fools not at all. But she had a wicked sense of humor. I also saw the loneliness and impatience of a dynamic woman unable to tend for herself. After a dinner this summer she said: "I'd love to do this again. You know it gets somewhat lonely..." My wife and I had a dinner date with her for November 1st. She died on October 6th.
Agnes de Mille: The Dances of CAROUSEL is now available as part of the rental materials provided by the R&H Theatre Library for productions of CAROUSEL. The 75-minute video, hosted by Mary Rodgers, is recommended for viewing by the entire production team, cast and crew. For further information call 212/564-4000. - from And Promenade Home by Agnes de Mille (Little, Brown & Company, 1956)"
You must log in before you can post comments. You can login
here
.