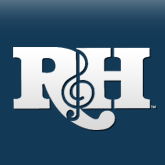 R&h On-line<
Now under construction is a new website devoted to the writers, musicals and compositions represented by The Rodgers & Hammerstein Organization, Williamson Music and The Irving Berlin Music Company. Accessible through two addresses starting in late October (either www.rnh.com or www.williamsonmusic.com) our website is intended to be an informative, entertaining and up-to-date resource for both the casual browser and serious customer alike.
In-depth sections are planned for The R&H Theatre Library, The R&H Concert Library, and Williamson Music. A detailed gallery will feature, show by show, every musical in The R&H Theatre Library catalogue, with production details, cast and set requirements, orchestrations, a list of musical numbers (with selected excerpts on RealAudio), a discography, and more. A special interactive database will assist prospective customers in selecting the perfect show for their organization and their audience.
Concert Library customers will be able to access our entire catalogue on-line, and music lovers of all stripes will be able to glean essential data on the thousands of songs represented in the Williamson Music catalogues. Detailed biographies of all our major writers will be available, along with extensive background articles and historical information on select titles. A news corner will feature the current issue of Happy Talk, an archive of every past issue (cross-referenced and indexed), and a special venue for breaking news, updated regularly.
With any luck, this website will never be finished. It is designed by T3 Media, Inc., whose other superlative websites in the theatre industry include the official sites for MISS SAIGON, LES MISRABLES, Lord Andrew Lloyd-Webber's Really Useful Group, Stagebill Magazine, and the Tony Awards.
After a late autumn launch - presumably filled with as many perils and pitfalls as an out-of-town tryout - the R&H website will settle in for what we hope is a very long run. In the meantime, please feel free to visit rnh.com, leave us your e-mail address, and we will notify you when the site is up and running.
You must log in before you can post comments. You can login
here
.