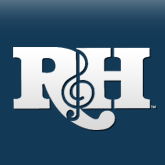 PUSHING THE ENVELOPE: BBC RADIO CHATS WITH MICHAEL JOHN LaCHIUSA
We here at R&H are big admirers of classical music journalist and radio correspondent Edward Seckerson, whose BBC-3 radio program, STAGE AND SCREEN, has been a beacon of brilliance to music theatre lovers around the world for the past six-plus years. As we were going to press, it was rumored that the BBC was going to cancel this programthe only in-depth review and examination of the musical theatre on the whole of the BBC Radio network. We certainly hope this rumor proves unfounded.

One of Seckersons programs, first broadcast last September, was an interview with R&H Theatricals Michael John LaChiusa (THE WILD PARTY, MARIE CHRISTINE and now, BERNARDA ALBA), above. A brief excerpt follows:

Edward Seckerson: Youve won a couple of awards, including the Kleban Foundation Award and the Stephen Sondheim Award as well, all in recognition of you pushing the envelope. You love playing with structural ideas as well, in your shows... you talked about the shape of the songs, but the shows themselves?

Michael John LaChiusa: Well, a song is a close-up... in cinematic terms we have close-ups... and the enjoyment is trying to find a different way to do a close-up. A song really is that, and it really brings us to the character.

ES: It seems to me, that of all the musical theatre composers writing today, your shows are the most integrated in terms of all the elements, and its partly because you write words and music. Did any one element come first--did you start with being a wordsmith before you were a composer, or was it more or less simultaneous?
MJL
: Thats a good question. My mother always had a lot of music in the house, and loved her shows, and loved songs. So I was always singing at a very early age, and writing; she taught me how to write very, very young. I was also a percussionist, first and foremost. I actually began drums before I began taking piano lessons, and to me thats sort of fundamental when I go into a piece to begin writing, because when youre looking at a character in a situation, for me, I always go for what that heartbeat of that scene is, whats the rhythm of the scene. So rhythm plays a very important role in a lot of my scores.
You must log in before you can post comments. You can login
here
.