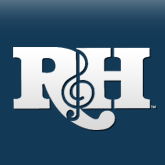 Professional Theatres can now declare, "I Love You, You're Perfect!"
"
The R&H Theatre Library is proud to announce the release of professional performance rights to the smash off-Broadway musical I LOVE YOU, YOU'RE PERFECT, NOW CHANGE by Joe DiPietro and Jimmy Roberts (restrictions apply in some areas). It is extremely uncommon for the rights to an unqualified hit to become available during its initial New York run and we're grateful to the creators and producers of I LOVE YOU for allowing us to begin honoring the hundreds of requests we have received for this wildly popular show.
Through a series of sketches and songs, this celebration of the mating game takes on the truths and myths behind that contemporary conundrum known as ""the relationship."" Act I chronicles the journey from dating and waiting through love and marriage, with Act II devoted to such agonies and triumphs as in-laws, newborns, and geriatric pick-up techniques at a funeral parlor. This hilarious revue pays tribute to those who have loved and lost; to those who have fallen flat on their faces at the portal of romance, yet somehow manage to pick themselves up and come back for more. In others words, it is about all of us. Because the characters and situations are so wide-ranging, everyone can find something and someone to relate to on the stage. It is that rare theatrical experience that allows for an audience's immediate connection with the material, thus explaining the show's enormous appeal.
I LOVE YOU, YOU'RE PERFECT, NOW CHANGE began life as a series of sketches by Joe DiPietro called LOVE LEMMINGS (see Happy Talk, Vol. 6, No. 3). After opening at the Village Gate in 1991, this wry and knowing riff on contemporary relationships soon developed a cult following. A friend suggested expanding the piece with music, and introduced Joe to composer Jimmy Roberts. When Joel Bishoff became attached as the director, he sought out the opinion of his mentor, James Hammerstein, for whom he had often served as assistant director. Jamie was so encouraged by the material's potential that he signed on as a producer. The revue metamorphosed into I LOVE YOU, YOU'RE PERFECT, NOW CHANGE with Jamie nurturing it through its 1995 premiere at the American Stage Company. He joined forces with producers Bernie Kukoff and Jonathan Pollard and the triumvirate ushered the show through a subsequent production at the Long Wharf Theatre and into New York, where it opened August 1, 1996.
When the Newark Star-Ledger declared it, ""SEINFELD set to pop music!"" the stage was set for what was destined to become the ultimate date show-in more ways than even its creators might have imagined. It became common for couples to nudge one another giddily throughout performances as they recognized themselves, friends and family in the revue's sharply drawn characters and situations. And to see a suitor's arm creep around his sweetheart's shoulder during one of the more tender songs became a frequent sight as well. But no one was prepared for the events at a performance in July of '97 when an eager young swain leapt onto the stage (with the producers' blessing), and proposed to his girl friend. He slipped a diamond ring on her finger and the audience gave the beaming couple a standing ovation. I LOVE YOU has hosted numerous such onstage engagements since, and so it seemed especially prophetic when Seinfeld himself recently took the matrimonial plunge.
There is a song in I LOVE YOU that chronicles a suburban family's car trip from hell. Fortunately, the revue itself has proven to travel much more happily. When the show made its West Coast premiere, the Los Angeles Times hailed it as ""One of the most clever, buoyant musical revues about sex, love and dating in yearsA savvy blend of full-bodied sketch comedy, witty lyrics and fresh music."" In its Chicago premiere, the Chicago Sun Times found it to be ""An engaging musical"" while the Toronto Sun called that city's premiere, ""So funny! So true!"" In Florida, where the musical won three Carbonell Awards including Best Musical, the Miami Herald declared it, ""Full of fun and delightfully wittysophisticated and sardonic yet ultimately affectionate."" The Houston Chronicle opined, ""I LOVE YOUreturns the musical revue to the glory days."" Testifying to the universality of the material, productions in Tel Aviv, London and Germany have been similarly embraced. A new production opened in Barcelona in early January and the next few months will see premieres in Johannesburg, Buenos Aires, Mexico City and Vienna.
When the off-Broadway production opened, critics extolled it as ""entirely winning"" (Gannet Newspapers) with ""catchy tunes and witty lyrics"" (Variety) and possessing ""enormous zest and charm"" (New York Daily News). Still, despite many such love letters from the press, it would have been easy in those dog days of summer for a small, low-profile show to get lost in the crowded off-Broadway arena. That is, if the audience hadn't truly embraced it. But embrace it they did! Now looking toward its 4th anniversary, I LOVE YOU, YOU'RE PERFECT, NOW CHANGE is surpassed only by the legendary JACQUES BREL as the longest running off-Broadway revue in history, recently sailing past its 1,460th performance. And still counting
"
You must log in before you can post comments. You can login
here
.