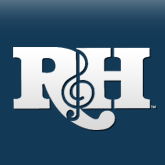 Political Song & Dance:
Vaunting twelve years of Republican rule, a new Democrat sweeps into Washington; his ambitious reforms are continually stalled by a recalcitrant Congress, his foreign policy is attacked at home and abroad, the budget deficit grows larger every year, and the First Lady is alternately praised and vilified for her unprecedented role in his fledgling administration. 1994? No - 1937, where FDR, the New Deal, Alf Landon and the WPA Federal Theatre were all grist for the brilliant musical comedy satire, I'D RATHER BE RIGHT with a book by Kaufman & (Moss) Hart, and a score by Rodgers & (Lorenz) Hart.
By arrangement with The R&H Theatre Library, Arena Stage brought the musical back to the nation's capitol for one night in March, where the parallels between FDR's New Deal and Bill Clinton's New Democrat were driven home by an illustrious all-star political cast. While Broadway veteran Edward Herrman anchored the piece as FDR (reprising the role he played in the memorable television mini-series ELEANOR AND FRANKLIN), and musical pros Lauren Mitchell and David Garrison played the requisite young lovers, cameo roles were played by Secretary of Health and Human Services Donna Shalala, Senator John Chafee (R-RI), Representative Barney Frank (D-Mass.), Representative Fred Grandy - formerly Gopher of LOVE BOAT fame (R-Iowa), Representative Kweisi Mfume (D-Maryland), Representative Nancy Pelosi (D-Ca.), Senator Alan K. Simpson (R-Wyoming) and other Capitol Hill honchos.
The verdict? "They weren't all actors but they certainly were hams," wrote Lloyd Rose in the Washington Post. "The spectacle of politicians playing politicians on a stage rather than in front of television cameras was delicious."
Also on hand were Moss Hart's widow, Kitty Carlisle Hart, playing FDR's mother; George Kaufman's daughter Anne Kaufman Schneider, who introduced the proceedings, and Lorenz Hart's sister-in-law Dorothy Hart, attending with her son, the lyricist's namesake. The performance, a benefit for Arena Stage's Living Stage Theatre Company, was directed by Laurence Maslon with musical direction and accompaniment by Rob Fisher.
"Putting on this satire with a bunch of present-day politicians," concluded Rose in her Washington Post review, "was a brilliant idea."
You must log in before you can post comments. You can login
here
.