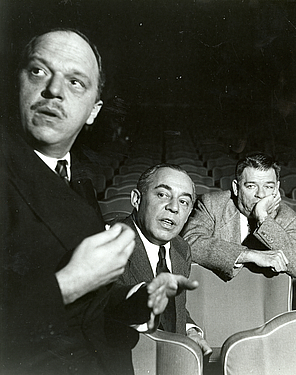 Out-of-town
"A Private Process Goes Public
MARY RODGERS: Theatre, and theatre only, turned [my father] on and cheered him up -- all aspects of it, not just the writing, He loved auditions (pretty girls), rehearsals, and out-of-town tryouts especially...New Haven, with its miserable Taft Hotel (lumpy beds, lousy room service) and Kaysey's (a greasy-spoon theatrical hangout across the street from the Shubert Theatre, where the food was so terrible I got sick once just from eating the pickles) was, to Daddy, a joyful excursion...Boston, with its serenely elegant Ritz Carlton (perfumed elevators!) and Locke-Ober's for gourmet dining, was a different kind of excursion: four-star bliss instead of ""a four-day bellyache.""
---------
Letter from Richard Rodgers to Dorothy Rodgers, during the Boston tryout of ON YOUR TOES
The Ritz-Carlton, Boston
March 20, 1936
Darling,
There are just a few minutes before I have to leave for dress rehearsal so I'm using them to show you that I still can, and want to, write to you.
It's been normally hectic, As I told you on the phone, the orchestra is past the worrying point and [musical director Gene] Salzer looks as though he'll be all right. The orchestrations are uniformly excellent. It was kind of cute yesterday when we played ""Small Hotel"" for Ray [Bolger], He started to cry and ran off the stage, It was pretty un-goy like, We've been working hard and the hours have been tough for everyone, with meals taken on the run: a hand to mouth life, you'd call it. I say ham to mouth and wait patiently for a laugh, We finished at five this morning after the costume and scenery rehearsal, The production as a whole is fine, with great style and comment, There are details which we all agree must be changed, but even that's routine, The feel of the show is a light one and what we must do now is get the boys to brighten up the actual lighting so that comedy and songs are never seen in dullness. As to material, we can tell nothing till an audience sees it...
---
MAXWELL ANDERSON:, Once when Kurt Weill was in Boston with the try-out of a musical he came downstairs to have breakfast with the producers, the lyric writer and the man who wrote the book for the show, He found them all sitting about the table over the black coffee discussing the problems of the play and the sleepless night they had spent, Each one described the sleeping pills or prescription which he had tried and which had failed and then turned to Kurt and asked wearily how he slept. ""Oh, fine,"" Kurt said, because he had slept well, and always did, Then he realized that they all hated him for that answer, and he added gloomily, ""But I had bad dreams.""
DESI ARNAZ [Recalls a notes-session after the first out-of-town opening for Rodgers & Hart's TOO MANY GIRLS (1939), directed by George Abbott]:
When [Mr. Abbott] finished with us, he turned to Larry Hart and said, ""Larry, we need at least two more choruses for 'I Like to Recognize the Tune.'"" The number had stopped the show cold that night, and even though the cast were prepared with two extra choruses, which they sang, the audience still wanted more...
Larry looked in his coat pocket and took out an envelope, put it on top of the rehearsal piano onstage, borrowed a pencil and started to write, That's how we left him as we went to a restaurant across the street from the theatre for the party which Rodgers and Hart and George Abbott were giving for the cast and friends who had come up from New York, In about a half-hour Larry came in, went to Mr. Abbott and Dick Rodgers and said, ""What do you think of this?"" as he handed them the envelope, He had written three more choruses as good as, if not better than, the ones he had written before.
RODGERS: I have a story, I see a stage, I know what my settings are going to be, I know in most cases who will be the performer, I am standing in the orchestra pit, The lights are beginning to dim, the curtain is going up, I must have a song here with the proper music, I sit down and write that music.
Letter from Josh Logan to Hammerstein on the night before the first public performance of
SOUTH PACIFIC (1949):
...For God's sake don't let's make too quick decisions tomorrow night, I don't want to know what anyone thinks except you and Dick and the audience as a whole, If there's any difference of opinion please let's give the thing under dispute another chance...
JAMES A. MICHENER:, On the morning after the tryout [of SOUTH PACIFIC] in New Haven some agitated New Englanders had accosted me at the train station and warned: ""Your play will fail if you keep in that song about racial prejudice ['You've Got to Be Carefully Taught.'] It's ugly, it's untimely and it's not what patrons want to hear when they go to a musical, Please beg Rodgers and Hammerstein to take it out."" I had reported their suggestion to Oscar and he laughed: ""That's what the play is about!""
AGNES de MILLE: The opening night [of CAROUSEL (1945)] in New Haven was a real surprise, This was, as [scenic designer] Jo Mielziner remarked, the best musical-comedy script he'd ever read and it had been beautifully directed, but almost none of it came off as we had expected, The staff repaired to a hotel room where sacrifice and a cold supper awaited, There followed the kind of conference that professionals seldom see: in two hours we made a plan, throwing out or drastically altering the better part of Act II, half my ballet, five complete scenes (and with one the services and hopes of an elderly actress who had come out of retirement for the first real chance of her life), a couple of good songs and several verses in the remaining ones...One of the assistants said as we left the room...""Now I see why these people have hits, I never witnessed anything so brisk and brave in my life.""
IRVING BERLIN: Out of the blue [during the Boston tryout of ANNIE GET YOUR GUN] I got a little shaky about ""Doin' What Comes Naturally""...I often get that way about a song that is going fine, but I thought -- maybe I could improve this one, I worked like a dog. Oscar Hammerstein said, ""It's wonderful as it stands, Why don't you leave it alone?"" And there's nothing so tough as to give a performer a new lyric so that she had to remember part of the old and part of the new, Anyway, I picked a matinee and gave it to Ethel, Then I went back to her dressing room and there was that lyric, as she was making up, in front of her, and by God, she did it absolutely letter-perfect, The thing was, it didn't go, , The audience reaction didn't compare. And we went back to the orginal, Once you change something, the audience tells you, even if they applaud, they tell you.
CELESTE HOLM [Recalls the Boston tryout for OKLAHOMA!]:, I could see Oscar standing in the back of the theatre with his back to the stage...He'd stand there during the performance and listen...Why?, The minute anybody in the audience at the Colonial coughed, Oscar would check the spot in his script which came thirty seconds before.
ELAINE STEINBECK: While we were on the road in Boston [with OKLAHOMA!, Theatre Guild producer] Terry Helburn said we need a wonderful ending, and it should be about the land, That Saturday, Dick and Oscar went home and wrote ""Oklahoma."" Sunday, Rouben [Mamoulian] put it in, and Monday night, the chorus rushed down to the footlights and sang, ""You're doin' fine, Oklahoma, Oklahoma, O-K-L-A-H-O-M-A, Oklahoma!"" right into the laps of the audience, And we realized we had something. Oh, boy, did we have something.
IRVING BERLIN [Recalls writing the show-stopping-- and show-saving -- ""You're Just in Love"" for CALL ME MADAM (1950)]:, The best song in the score I wrote in New Haven after we opened, It's nice after all these years to know that you can still reach up there and find it when you're in trouble.
ETHEL MERMAN [Responding to the authors' last-minute changes in the script for CALL ME MADAM]:, I looked them in the eye with a congealed manner and said, ""Boys, as of right now I am Miss Birdseye of 1950, I am frozen!
Letter from Hammerstein to his son William at the end of the Boston tryout for OKLAHOMA!
We gave the cast a good drilling, and the result was so successful that one night we suddenly took on the aura of a hit...All this is said in the hope that a handful of beer-stupefied critics may not decide that we have tried to write a musical comedy and failed, If they see that this is different, and higher in its intent, they should rave, I know this is a good show. I cannot believe it will not find a substantial public, There!, My neck is out.
Copyright (c) 1999 | The Rodgers & Hammerstein Organization | All Rights Reserved."
You must log in before you can post comments. You can login
here
.