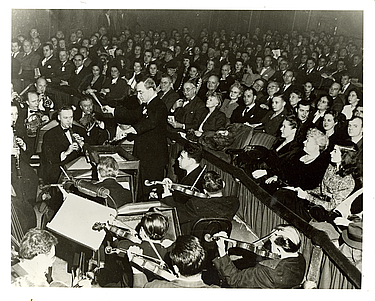 Orchestrations: Settling The Score
As anyone who has ever worked in the musical theatre can attest, there are few moments in the production process as exhilarating as hearing the orchestra for the first time. For the conductor and musicians, however, the experience can also be one of enormous frustration. It is an unhappy fact of life in the musical theatre that orchestrations, especially those for musicals from decades gone by, are often filled with mistakes - wrong notes, missing measures, inconsistent keys, incorrect dynamic and tempo markings, and on and on.
During a show's original Broadway collaboration, alterations and corrections to the score are most often made on the spot, the musicians themselves making the changes in their individual books of music. Some are editorial decisions made for specific performers, others are necessitated when the scenery moves faster or slower than planned, and most often many of these corrections never make it into the master scores from which subsequent orchestrations are printed. Nowadays, however, with many orchestrations being created on computer, alterations and corrections can be incorporated into the masters during the production process with new orchestral parts being printed out as needed. And that's exactly what the R&H Theatre Library has begun doing.
Having successfully restored the orchestrations for CINDERELLA in the early 1980's, about seven years ago we decided to confront the orchestrations for SOUTH PACIFIC and to correct the countless errors that had existed for nearly forty years.
Every orchestra book was gone through measure by measure and each mistake was identified.
A determination was then made as to whether a "mistake" was, in fact, a choice that had been made by the composer or orchestrator. Subsequently, each part was recopied by hand and an orchestra was assembled in a studio here in New York City to play through the score and to catch any further mistakes that had been missed. (Co-author and original director, Joshua Logan, attended the orchestral read-through and was able to point out some oddities in the score as well.) Following the read-through, additional corrections were made to the masters from which new books were printed.
Those who have presented SOUTH PACIFIC in recent years will confirm that the orchestrations are virtually free of mistakes. It was an arduous process that took about one year to complete - but that was before the advent of computerized orchestrations. We are now in the process of having orchestrations put on computer so that corrections can be made in a far more efficient and timely manner. In early April, an orchestra was assembled to play through the newly corrected orchestrations for ONCE UPON A MATTRESS and those mistake-free parts will be landing on music stands throughout the country later this year. The orchestrations for THE SOUND OF MUSIC are now in the process of revision, and others will follow.
But what of those who produce in smaller theatres and never get to experience the thrill of a live orchestra? Many dinner theatres, community organizations and schools do not have the facilities to utilize a full orchestra for their performances; in many instances, musicals are presented to the accompaniment of one or two pianos. Then there are the well-intentioned folks who select from the orchestration only the books for which they have players, only to discover that the accompaniment of a clarinet, tuba, viola and French horn doesn't really cut it. Then again, many producers in smaller venues have come to rely on synthesizers with wildly varying results depending on the equipment available, the person doing the programming, and the nature of the orchestration itself; a pop score clearly lends itself to synthesized sound in a manner that a traditional Broadway score does not.
R&H has for some time been trying to determine how best we might be of assistance in solving such dilemmas, searching for an alternative to offer our customers who cannot utilize a full orchestra while at the same time retaining the integrity of the original orchestrations. We are now on the threshold of being able to offer just such an alternative, which has been in development for several years. No, it's not a recording. No, it's not a synthesizer program. Yes, it is utterly unique and extraordinary and yes, it will still require live musicians to play the score. We will keep you abreast of this exciting new development in up-coming issues of Happy Talk. Meanwhile, stay tuned!
For further information please contact The R&H Theatre Library at 229 West 28th Street, 4th floor, New York, NY 10001 (212) 564-4000.
You must log in before you can post comments. You can login
here
.