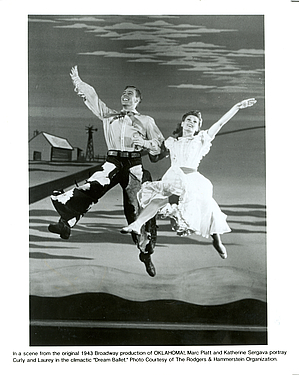 Opening Night
"Eyewitnesses Recall Five of this Century's Most Memorable PremieresI wasn't any more scared this time than before. I was just-plain-lousy-scared. With each new show, you croak. You fall apart. It's just torture. People who tell you they aren't worried are one of two things: either they're extremely insensitive or they're just not telling the truth. My recollection is, I've been scared all my life. The pressures, the possibility of failure are enormous.
December 27, 1927
SHOW BOAT
Ziegfeld Theatre, New York
Recalled by ""Goldie"" Stanton Clough, Secretary to Florenz Ziegfeld

The first night was a disaster for us. I mean, we thought it was, because nobody applauded. It was quiet...Mr. Ziegfeld and I sat on the steps leading up to the balcony, and he was actually crying...There was nothing I could say to console him, because I felt the same way. I loved the show. I just adored it so much. I can't begin to tell you, and I couldn't understand it. When we were out on the road, it wasn't like that. People seemed to like it very much. It was a hit.
But, in New York, it was unbelievable.
I think New Yorkers were so much more sophisticated than out-of-towners, and to them this was a shock. An absolute shock to see a thing like this as a musical done by Florenz Ziegfeld...They just didn't know how to accept it...[After ""Ol' Man River"" there was] no applause. Just quiet. Very, very quiet. At the end of each act, a little polite applause. But nothing like we were used to.
...But the next morning, my God, Mr. Ziegfeld came down. He saw the line. He said, ""There must be a fire someplace. I couldn' t believe it. I called him on the telephone. I said, ""You should see the line at the box office, because the reviews were raves.""
September 1, 1928
DIE DREIGROSCHENOPER
(The Threepenny Opera)
Schiffbaurdamm-Theater, Berlin
Recalled by Lotte Lenya
At no time in theatre history did a play draw near its opening in such an atmosphere of utter doom. The word around Berlin was that [producer Ernst-Josef] Aufricht, poor benighted amateur, was stuck with the turkey of all time. The disasters multiplied...
What was supposed to be the final dress rehearsal, the night before the opening, lasted until five in the morning. Everybody was completely distraught, shouting and swearing --- everybody except Kurt Weill...We heard that Aufricht was asking people out front if they knew where he could find a new play in a hurry. Respected Berlin theatre oracles slipped out to spread the word that Brecht and Weill proposed to insult the public with a ludicrous mishmash of opera, operetta, cabaret, straight theatre, outlandish American jazz, not one thing or the other; why didn't they withdraw the work before the opening?
...There have been many accounts written of that opening night of Dreigroschen; it has so truly entered the realm of the fabulous that I shall be brief. Up to the stable scene the audience seemed cold and apathetic, as though convinced in advance that it had come to a certain flop. Then after the kanonen [Cannon] song, an unbelievable roar went up, and from that point it was wonderfully, intoxicatingly clear that the public was with us...
[By the next day, all of]Berlin was swept by a Dreigroschenoper fever. In the streets no other tunes were whistled. A Dreigroschenoper bar opened, where no other music was played. Immediately the ""Brecht style"" and the ""Weill style"" were slavishly imitated by other dramatists and composers...
Perhaps the strangest note of all is that people who scornfully had passed up that opening night began to lie about it, and to claim to have been there, primed for a sure-fire sensation! Even now, anybody who passed through the Berlin of that period, and who comes backstage to see me at the Theatre de Lys in New York, twenty-eight years later, feels compelled to cry, ""Of course I was there that opening night!"" And though I remember that the Schiffbaurdamm had less than eight hundred seats, I nod. Why not, after all? Sometimes, remembering all that madness...I'm not even sure that I was there myself.
July 4, 1942
THIS IS THE ARMY
Broadway Theatre, New York
Recalled by Irving Berlin's daughter, Mary Ellin Barrett
This particular memory of my father is intensely private and yet not private at all. It is one that I, a dazzled fifteen-year-old, attending my first opening, and my mother, veteran of many such nights, but never one like this, shared with an audience of two thousand people packed into the Broadway Theatre. In spirit you might say it was shared with a whole nation, since it was the first Fourth of July after we entered the war. But that is what gave the night its potency: that it was so public and yet so personal. I have nothing that I can possibly compare it to.
I remember the crowds gathered outside the theater, people who had been hearing six months of bad news, who had sons, brothers, fathers, husbands in uniform, who needed something to cheer for and participate in even if they didn't stand the chance of a seat. Inside was another special wartime audience, the uniforms, gold stars and ribbons, the big brass, red-faced, gray-haired men and their well-coiffed wives; and the dressy civilians who had to be the regular first nighters, some of whom I knew because they were family friends, others whom I simply recognized; but also the crush of more plainly dressed citizens and servicemen making their way to the balconies.
The orchestra struck up the overture...The curtain went up on a stage filled with soldiers, bleachers filled with them, three hundred young men in khaki...The entertainment took off and built, the way a good show will, number by number...And then, there he is at last, sitting up sleepily, swinging his legs over the side of a cot and standing up, alone, stage center. A small, black-haired man in an old doughboy's uniform with a high-necked jacket and puttees. It is the first perfectly still moment since the evening began. As he looks down, then up and out at the audience, mouth open, ready to sing, the silence is broken by a roar, as sudden as thunder, and the pounding of applause. Everyone around us is rising, cheering now; and we are on our feet, too, applauding furiously . there is no question of family modesty. The demonstration continues for a full ten minutes as my father stands there looking down, looking up, opening his mouth, closing it again.
Finally, he is allowed to begin his song, the one I've grown up with, not as every soldier. s favorite lament in the First World War but as both my parents' everyday theme song: ""Oh, How I hate to get up in the morning, Oh! How I'd love to remain in bed"" ...When he finished, the cheering began all over again. I felt my mother's hand take mine and saw a suspicious glitter in her eyes. ""He was good,"" I said. My mother nodded, not trusting herself to speak.
...That night I saw something more than fame. I saw and felt love --- love for this man, my father, for what he had done, bringing into being THIS IS THE ARMY, for what he had given people his whole life, as a songwriter and as an American.
March 31, 1943
OKLAHOMA!
St. James Theatre, New York
Recalled by Agnes de Mille
The first night was by no means sold out. The Guild subscription had fallen very low. I had ten front-row balcony seats and I didn. t know whom to give them to. I think a couple remained empty. I stood at the back beside Rodgers and the staff. Oscar, who was calm, sat with his wife...
The curtain went up on a woman churning butter; a very fine baritone came on stage singing the closest thing to lieder our theater has produced. He sang exquisitely with his whole heart about what a morning in our Southwest is like. At the end, people gave an audible sigh and looked at one another . this had seldom happened before. It was music. They sat right back and opened their hearts. The show rolled...
At intermission, I bucked the tide of spectators and fought my way to the stage door. Marc [Platt, ""Dream Curly"" ]'s leg was in a terrible state. I got a bottle of brandy for him. Upstairs Kate Friedlich [""Armina""] was crying because she had torn two ligaments from her heel but she insisted on continuing. I got some brandy for her too. Luckily Marc. s doctor was on hand to cope.
The barn dance opened Act II. Marc Platt in an ecstasy of excitement rode the pain to triumph. Virile, young, red-headed and able, he looked like Apollo and moved like a stallion. The audience roared. ""Oh, Agnes,"" said Rodgers, ""I'm so proud of you. I hope this opens doors.""
""Dick, Dick,"" I said, melting into his arms, ""I love you. Thank you."" Then the rehearsal accompanist started beating us on the back and shrieking, ""Will you two stop courting and look what's happened to the theater?""
They were roaring. They were howling. People hadn't seen girls and boys dance like this in so long. Of course, they had been dancing like this, but not just where this audience could see them...
The morning press the next day was only fair. BRIGADOON, for instance, got better. I was back in the theater at noon rehearsing Marc's understudy. I left for the West without knowing what had happened.
April 7, 1949
SOUTH PACIFIC
Majestic Theatre, New York
Recalled by Hal Prince
On April 7, 1999, members of the original company of SOUTH PACIFIC reunited on the stage of the Majestic Theatre for a 50th Anniversary curtain call, at which the following letter was read from director/producer Hal Prince:
I was twenty years old and in the audience on the opening night of SOUTH PACIFIC ------- a guest of the Richard Rodgers family. Steve Sondheim was there as well, a guest of the Oscar Hammersteins.
It was on that night that Mary Rodgers introduced us for the first time. It's difficult describing how triumphant that opening night was, but I'll try:
SOUTH PACIFIC was and remains the most romantic musical I have ever seen. When the first notes of . Some Enchanted Evening. were heard --- for the first time ----- you could feel a palpable shiver of pleasure, a collective wistful sigh from the audience. When Ezio Pinza brought that song to its quiet (and oh so theatrical finale), the audience went wild.
The evening personified a collaboration of theater artists at the top of their form: Rodgers and Hammerstein; Joshua Logan, its director; the design team; Leland Hayward, its producer; and what a cast.
There was a moment in the play when Pinza and Mary Martin shared a brandy snifter that ranks up there with Laurette Taylor's entrance in THE GLASS MENAGERIE and Marlon Brando calling ""Stell-a-a-a!!!"" At the end of the evening, the ovation was tumultuous. There was a party on the roof of the St. Regis and I don't believe anyone in the glamorous world of Broadway was absent.
The next morning, I went to my job as office boy for George Abbott. He sat me down and informed me that I had witnessed an epic night in theater history. Then, carefully, he explained what made it that. For the first time, a musical had moved without interruption, had flowed as a film can. In his mind, this was Rodgers and Hammerstein. s most integrated score. And, it was as near perfect as any show can be.

Copyright (c) 1999 | The Rodgers & Hammerstein Organization | All Rights Reserved.
"
You must log in before you can post comments. You can login
here
.