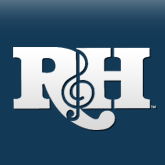 O-de layee odl lee-ee odl lay!
"
Pop star sensation Gwen Stefani's newest album, THE SWEET ESCAPE, features a single that began burning up the charts in late 2006. ""Wind It Up,"" and its companion video, is Stefani's homage to one of her favorite songs from one of her favorite movies -- ""The Lonely Goatherd"" from THE SOUND OF MUSIC. That R&H classic, covered by Stefani herself, is featured as a leitmotif in her single, and the beloved musical provides a major theme in the video. ""The movie really affected me,"" she told Billboard. ""It has just been a recurring theme of inspiration."" ""Wind It Up"" hit the Billboard Top 100 Chart at No. 25 in late November, and immediately shot up into the top 10. The video, meanwhile, pays tribute to the film with evocations of Maria and the children during the thunderstorm sequence, the transformation of drapes into playclothes, and more. ""It's bizarre how that movie has followed my life,"" Stefani told Entertainment Weekly. ""The first time I ever went on stage, at a high school talent show, the dress that I wore was the dress that Maria wears when she sings I Have Confidence.' The drop-waist tweed dress. I had that dress. I made it."" ""We're delighted with Gwen Stefani's tribute to The Lonely Goatherd,' says Williamson Music President Maxyne Lang. ""Two years ago, Gwen did Rich Girl,' her unique and wonderful version of If I Were a Rich Man' (by Jerry Bock and R&H Music's Sheldon Harnick), and we are delighted to be affiliated with this dynamic artist again."" From Bock & Harnick to Rodgers & Hammerstein, Gwen Stefani clearly appreciates the Great American Songbook. Or, as EW put it: ""These are a few of Gwen Stefani's favorite things: THE SOUND OF MUSIC, THE SOUND OF MUSIC and, oh yes, THE SOUND OF MUSIC.""
"
You must log in before you can post comments. You can login
here
.