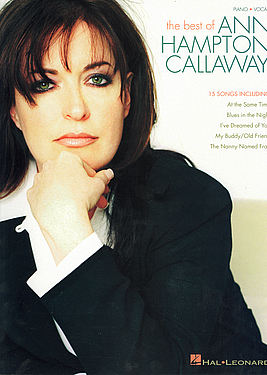 News from Williamson Music: WELCOMING ANN HAMPTON CALLAWAY, RENAISSANCE WOMAN
"
When it comes to her music, Ann Hampton Callaway doesnt mind that she defies categorization and shes got the role model to prove it Look at Duke Ellington, she told the Los Angeles Times recently. He was a real Renaissance Man and Ive always aspired to be a Renaissance Woman.
Callaway jazz musician, cabaret performer, Tony-nominated Broadway star, recording artist, concert headliner, TV themestress is also a gifted, sublime songwriter. Williamson Music is proud to welcome her, and to represent her classy, classic catalogue. As we continue to diversify and grow, says Williamson Music President Maxyne Berman Lang, Ann joins an exclusive inner circle of Williamson writers [including John Bucchino, Adam Guettel and Ricky Ian Gordon] who actively perform their own material. It helps shape who they are as artists. In Anns case, the generosity, warmth and inspiration we find in her songs are a reflection of Ann herself.
I am extremely happy to join Williamson Music, Callaway says. It is a sterling family of bright, caring people who intimately know music and understand how to run a business. In an age of utter chaos in the music industry its good to feel properly supported and represented by people with integrity and chutzpah. Callaway has performed standards of the classic American songbook for years, and so the Williamson Music pedigree means a great deal to her.
Its staggering to comprehend the outpouring of Richard Rodgers music and the profound differences in tone and personality that were brought out by the two giants he collaborated with, she observes. As for Irving Berlin, any man who could write How Deep Is the Ocean? has my lifelong reverence. Like Berlin, I primarily write both the music and lyrics of my songs and he has set a very high bar which I strive to reach.
Callaway has always drawn inspiration from the golden era of composers like Rodgers, Gershwin, Berlin and Porter. Ive always believed that Im an old soul, she told a Chicago newspaper ruefully, who was born at the wrong time.
Callaway was born and raised in Chicago. She and her younger sister Liz were brought up in a musically sophisticated household by their parents John, an Emmy winning CBS news and PBS correspondent, and Shirley, a vocal coach. I think I was very privileged to have had a very musical family, Callaway recalls. My mother was a superb pianist and vocalist And I grew up never thinking it was unusual to have a mother singing The Man I Love when I got home from school. Her father imbued both of his daughters with a love for the great jazz, showtune and pop standards from the first half of the 20th Century.
She absorbed it all. In a recent e-mail response to a Happy Talk query about major influences on her writing and career, Callaway responded with a dazzling riff: Richard Rodgers, George Gershwin, Annie Ross, Beethoven, Debussy Stevie Wonder, Miles Davis, The Beatles, Rachmaninoff, Al Jarreau, Harold Arlen, James Taylor, Carole King, Jerome Kern, Joni Mitchell, Cole Porter Mahler, Also, I read Bob Dylan free association novel TARANTUlA when I was 12, which inspired my lifelong fascination with and practice of improvisation. And since my youth, poets have lit up my imagination: Yeats, Dickinson, Rilke, Neruda, and more recently, the mystic poets Hafiz, Rumi and Kabir.
Callaway flirted with acting while in high school and college. She taught herself how to play the piano, and began to study composition. In the late 1970s, after graduating from the University of Illinois, she decided to come East, to make her fame and fortune in New York City, and sister Liz followed along. They were two girls from the mid-West, striving to make it in madcap New York; the older one was cool, worldly and sophisticated, the younger one a bubbly ingenue-in- waiting. Wonderful town, indeed.
Callaways first few days in New York were marked by serendipity. During a chance drop-by at a piano bar near her hotel, for instance, it turned out that she could play a tune the regular piano player didnt happen to know (Sometimes When We Touch, future historians take note), and that, in turn, lead to a long-term paying gig at the bar. Yes, the first few weeks were a breeze; it was the next decade or so that got tough. She spent a dozen years in the noisy world of the piano bars, the New York limes reported, where she all but swung from the chandelier to get attention.
There were some breaks along the way. In 1984, while Liz was starring on Broadway in the musical BABY, she came to one of Anns late night cabaret salons, and brought along her BABY co-star, Todd Graff, and his friend, an up-and-coming comedienne named Fran Drescher. Anns original material caught Dreschers attention, and she asked Ann to write a theme song for a TV series that she was trying to get off the ground. Ann did; the series went nowhere. A few years later, Drescher came back with a new idea, and Ann wrote another song. That went nowhere too. A little while after that, Drescher came back again. This time Ann almost said no, but decided to try once more. That show was called THE NANNY and its irresistible and now immortal hit theme song was written by Ann, and performed by Ann and Liz.
Such bouts of perseverance and optimism served Ann well. In 1987 she wrote a ballad called At the Same Time, which she describes as a plea to overcome our fears and join to build a world that loves and understands. She had a crazy idea to send the song to Barbra Streisand. She sent it She waited, she hoped. Nothing.
Until 10 years later. To be precise, 10 years to the day it was written, At the Same Time was recorded by Barbra Streisand for her CD, HIGHER GROUND. It also marked the start of a beautiful friendship that lead Streisand to perform another of Callaways songs, A Christmas Lullaby, for her CHRISTMAS MEMORIES album, and to request another lyric from Callaway several years later; Ive Dreamed of You, set to a melody by RoIf Lovland, was sung by Streisand to James Brolin at their wedding and appears on her album, A LOVE LIKE OURS.
The years of toiling in piano bars was capped off by the boost from Streisand and gave Callaway the lift she needed. Over time she earned kudos from the cabaret press, and built a loyal and ever-growing following of fans. She was starting to record albums, performing the great standards she had learned from her parents. But perhaps most significantly, she was starting to perform her own material: original, wry, romantic written in her voice, for her voice. She called these songs, as only she could, her Ann-dards. Soon, other artists were drawn to these Ann-dams, from Elaine Paige and Donna McKechnie to David Campbell and Harvey Fierstein. After more than a decade, Ann Hampton Callaway had become an overnight sensation.
In 1999, when a Broadway revue devoted to swing was being put together, the call went out for an Ann Hampton Callaway type. Then someone had the bright idea to ask Ann Hampton Callaway herself. Her Broadway debut in SWING earned Callaway a 2000 Tony Award nomination as Best Featured Actress in a Musical, and a Theatre World Award. In addition to performing in the musical, she wrote vocal arrangements for some songs, revised lyrics for a few others, and provided an original number, Two and Four, as well. It was an incredible experience, she says now. To make thousands each week rise to their feet at the end of the show was absolutely incredible.
As she joins the Williamson Music family, Callaway is as busy and versatile as ever. She performs at intimate nightclubs, accompanying herself on piano; and she performs in concert halls, backed by full orchestras. She has made numerous television appearances, and has a gleam in her eye about a 1V project that she would like to helm herself. On record, she has made guest vocal appearances on close to three dozen CDs, and her own roster of albums totals eight so farincluding AFTER OURS, BRING BACK ROMANCE, SIGNATURE and, with sister Liz, the devilishly popular SIBLING REVELRY.
And still, it is the writing that nurtures her; it is the writing that gives soul to her voice and, one might say: a voice to her soul. For Callaway, music is something profoundly spiritual.
I believe more than ever, that music is one of the great healers in life, she says, and that it brings people together more powerfully and directly than just about anything. I want to delight people and bring out the child in them. And I want to remind people that they are divine beings capable of greatness.

For more information, visit
www.annhamptoncallaway.com
"
You must log in before you can post comments. You can login
here
.