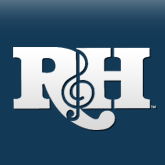 News from Williamson Music/R&H Music: JAZZ ARTISTS SETTING THE STANDARDS
In 1979, while taping a concert for a PBS special, jazz vocalist Sarah Vaughan panicked. In the midst of a smokey rendition of ""My Funny Valentine,"" she had spotted composer Richard Rodgers in the audience. As recounted in the liner notes for Verve Records' RODGERS & HART SONGBOOK, Vaughan approached Rodgers after the performance. ""I hope you weren't upset,"" she began. ""I've heard you don't like it when singers change your songs.""
""That's correct,"" replied Rodgers. ""I don't. But you're a great composer.""
By its very nature jazz is spontaneous, extemporaneous and liberated. It resists conformity and views the musical page as a blueprint to be noted vaguely, a map to be followed casually. But jazz artists rely on a musical foundation from which they can fly, and over the decades the music of Richard Rodgers, and the songs of Irving Berlin, have provided jazz artists with some of their greatest flights of music.
""Rodgers' style is intricate,"" notes Eric Goletz, A&R Development Coordinator at Williamson Music. ""While many of his melodies and harmonic schemes appear simple, they are often deceptively complex. And jazz artists respond to that deception.""
Vince Scuderi, Williamson's Copyright & Print Administrator, gives a technical explanation: ""Rodgers would take his melodies to unusual places, many times emphasizing the flavor of the 'sharp fourth' scale degree - a commonality with the jazz language. 'Bali Ha'i' and 'The March of the Siamese Children' sound exotic for a reason . . . So does 'Oh, What a Beautiful Mornin',' which leans on the flat seventh of the key, on the lyric 'mornin' - another jazz inflection. Rodgers takes you in an obvious direction, but then he surprises you.""
""And jazz musicians like surprises,"" adds Goletz. Renowned jazz musician and scholar Dr. Billy Taylor confirmed this to R&H President Ted Chapin when the two met at dinner recently and began discussing the most famous union of Rodgers & jazz: John Coltrane's ""My Favorite Things."" As Taylor noted, Coltrane responded to the composer's basic intent with an interpretation that was faithful yet wholly original. Furthermore, while the approach was non-vocal, the words were just as important as the music.
""Coltrane was responding to Hammerstein's words as much as to Rodgers' music,"" says Goletz. ""He was moved by the color of the song, which expresses joy countered by the possibility of danger or sadness. It's possible Coltrane read things into the song that neither of its writers had thought of!""
Coltrane first recorded ""My Favorite Things"" in 1960, when the only other performance of note was Mary Martin's warmly traditional original cast recording. Coltrane took the song to another dimension, revisiting it as his signature piece for the rest of his life. Numerous recordings of the song by Coltrane abound, including an early riff that takes the song on a 13-minute journey, and a legendary concert recorded live in Japan that extends on the song for nearly an hour!
Irving Berlin offers jazz artists a different opportunity. Unlike Rodgers, Berlin wrote words and music, and many of his most popular standards were not written for the theatre. He was, according to Scuderi, one of the originators of the standard popular song format that began with Stephen Foster and late 19th century music, and is still the basic form followed today.
""Berlin and Rodgers came from different backgrounds, and drew from different sources,"" says Scuderi. ""Berlin absorbed the music of Tin Pan Alley, and ragtime. Those influences shaped his music which, in turn, has influenced jazz artists in unique ways.""
Legendary tenor sax artist Sonny Rollins - ""a giant,"" says Scuderi - has played Berlin songs for much of his career, including ""They Say It's Wonderful"" and ""There's No Business Like Show Business."" The latter song, says Scuderi, ""is very unusual for a jazz artist, but Rollins made it work."" As for the former, Rollins recorded ""They Say Its Wonderful"" on his recent album, SONNY ROLLINS PLUS 3 (Milestone), eliciting a fan letter from Berlin's daughter, Mary Ellin Barrett.
Rollins, in turn, wrote Mrs. Barrett a fan letter of his own about her father, noting that he is partial to Berlin's lesser-known material. This letter lead to correspondence with the Williamson staff directly, which introduced Rollins to UNSUNG IRVING BERLIN, the new CD (Varse Sarabande) and songbook of Berlin esoterica.""Artists know that we're here to help,"" says Williamson Music President Maxyne Berman Lang, ""but just as often we try to suggest ideas of our own, striving for the perfect match of music to musician. In the case of Sonny Rollins, we'll see what we can do. With Fred Hersch, I'm happy to say, we already know that teamwork paid off.""
Grammy nominee Fred Hersch is one of the most highly regarded young jazz pianists of today, with several albums to his credit including PASSION FLOWER and DANCING IN THE DARK. When Hersch's newest album, FRED HERSCH PLAYS RODGERS & HAMMERSTEIN (Nonesuch) began taking shape early last year, he contacted Williamson for input and advice. As Hersch states in his introduction to the album, ""Rodgers & Hammerstein wrote the first popular music I had ever heard. Long before I played (or even knew about) jazz, their songs were part of my musical world.""
Hersch's line-up ranged from the energetic ""Surrey with the Fringe on Top"" and ""A Cock-eyed Optimist"" to the more languid ""No Other Love"" and ""This Nearly Was Mine."" One title unknown to him until Scuderi and Goletz suggested it was ""Loneliness of Evening,"" deleted early on from SOUTH PACIFIC, since, interpolated into certain versions of CINDERELLA, and now the third cut on Hersch's album.
""[The album] gracefully spans the divide between pop and jazz,"" wrote Mike Joyce in The Washington Post. ""It's not just the melodies that shine here, it's also Hersch's resourcefulness, sensitivity and imagination. He seems keenly aware of the composers' intentions and achievements.""
Echoing that assessment, Goletz points out that Hersch, like Coltrane, is an instrumentalist who studies the lyrics carefully even though he never sings a note. ""Fred believes strongly that you can't interpret the song musically if you don't follow it lyrically,"" says Goletz. ""In his classes taught at the New School [in New York City], one of the first things he'll tell his students is to learn the words, and understand them. Then they can begin to interpret the melodies.""
Hersch and others of his generation represent the new breed of jazz artist. Performers like John Coltrane, Sonny Rollins and Hank Mobley were among the modern pioneers. Yesterday's greats set the standards for today's greats to emulate: Coltrane's ""My Favorite Things"" made that song a jazz classic and Mobley's ""Remember"" by Irving Berlin helped to do the same.
As a music publisher, notes Lang, ""Williamson works with Broadway greats, and superstars in the opera, pop, and country arenas. But jazz artists are unique: they see music on the printed page as only the beginning. It's their point of departure. But when they respect the integrity of a song, they can take that song - and us - anywhere they want.""
"
You must log in before you can post comments. You can login
here
.