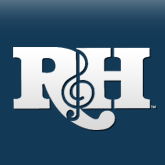 News from the R&H Theatre Library: WELCOMING TWO SPECIAL MUSICALS
"
John Latouche was a rising star in the world of 1950s Broadway, whose career was cut short by his premature death. Weaving portions of his personal journals with many of his songs from the well-known to the obscure Taking A Chance on Love is a vibrant musical portrait of a true American original. Latouche arrived in New York from a childhood of poverty in Richmond, VA, and soon became a charter member of an artistic demimonde which included, among others, Tennessee Williams, Aaron Copland, e. e. cummings, Gore Vidal, Carson McCullers, Ned Rorem, Paul and Jane Bowles, Dawn Powell, Virgil Thompson, Frank OHara, Marc Blitzstein, John Cage and George Balanchine. Latouche collaborated with such legendary composers of his time as Leonard Bernstein, Duke Ellington, Jerome Moross, Vernon Duke, and Douglas Moore, creating groundbreaking shows that included CANDIDE, BEGGARS HOLIDAY, THE GOLDEN APPLE, CABIN IN THE SKY and THE BALLAD OF BABY DOE.
Latouche garnered great critical acclaim for his adventurous and experimental work, his major breakthrough coming in 1939 with Paul Robesons radio performance of ""Ballad for Americans."" It became a national sensation with its vision of an America that draws strength from its ethnic and religious diversity long before the concept of ""multi-culturalism"" had been articulated. It was with expressions of this kind that Latouche later became a target of the House Un-American Activities Commity (HUAC). He was never affiliated with the Communist Party but his openly gay lifestyle must have incensed the conservative establishment.
He was at the height of his artistic powers, and happily ensconced in a long-term relationship with the poet, lyricist and librettist Kenward Elmslie (who wrote The Grass Harp, our other new acquisition featured in this issue of Happy Talk) when he died suddenly of a heart attack in 1956 at the age of 41.
Taking A Chance on Love was a highlight of the 1999-2000 off-Broadway season. The New York Times called Latouche ""a Sondheim precursor,"" praising his lyrics for their ""wonderful rhyme and metaphor."" The New York Observer hailed the revue as ""a marvelous showa skillfully woven musical profileto hear [Latouches] songs is to experience penultimate raptureone of the most sophisticated shows in a long, long time."" The Associated Press found Latouche to be ""a sublimely gifted songwriter"" while theatre.com called the show itself ""an absolute must for every musical theater fanan accomplished, extraordinarily clever revue."" The New York Post summer it up: ""A perfectly engaging show.""
A compact revue written for a cast of two women and two men with two pianists, Taking A Chance on Love presents an illuminating portrait of a fascinating artist and the era in which he lived.

The 1971 musical The Grass Harp has long been considered among enthusiasts to be one of the lost treasures of the musical theater. Kept alive largely thanks to its extraordinary cast recording (featuring an incandescent Barbara Cook and stunning orchestrations by Broadway stalwart >Jonathan Tunick), The Grass Harp is an intimate tale of fascinating characters adapted by Kenward Elmslie from Truman Capotes novella and carried on the Wings of a ravishing score by Claibe Richardson. The title refers to the wind rustling though fields of tall grass ""a harp of voices telling stories.""

This story tells of Dollyheart, a sweet-natured spinster who lives with her demanding sister Verena, their orphaned teenage nephew Collin, and her lifelong friend Catherine, a proud-spoken black woman who fancies herself an Indian Princess but whom Verena thinks of as a servant. Dollyheart has perfected her receipt for Gypsy Dropsy Cure elixir and Verena, a successful businesswoman, is determined to exploit the recipe for her own self-interests. When Dollyheart refuses to part with the recipe and familial tensions rise, she leaves Verena Collin and Catherine in tow and the triumvirate takes up residence in a tree house on the outskirts of Joy City. It isnt long before other outcasts and misfits join their extended family. These include the revivalist Babylove (a role created by Broadway veteran Karen Morrow) and the children who comprise her Miracle Show, and the dearly eccentric Judge Cool. Verena uses her influence with the local sheriff to get the lot of them thrown in jail, but she cannot dampen their collective spirit. The deep emotional currents of fragile, shifting relationships lead to an uplifting and compelling reconciliation for all concerned.

""The most engaging evening Ive had on Broadway in some time,"" enthused the Chicago Tribune. ""A lovely, warm and melodic show that weaves a web of musical enchantment."" The Hollywood Reporter declared that The Grass Harp ""Fills the theatre with winsome, piquant, gracious entertainment."" The New York Daily News critic called the musical ""One of the best shows Ive ever seen."" ""Great!"" exclaimed ABC-TV. ""The most delightful musical to open on Broadway this season. A genuinely happy show, a delight for everyone."" The Los Angeles Herald-Examiner hailed it as ""An absolutely gorgeous musical. The Grass Harp plays the sweetest music Ive heard in a long time."" Newhouse Newspapers found it to possess ""Lyrical quality and unquestionable charm,"" calling the musical ""Intelligent and sensitive."" NBC-TV praised the ""Enchanting scorea magical show.""

The Grass Harp is a heartfelt Broadway cult favorite and anyone who has experienced its emotional tug and exhilarating score can easily understand why.

"
You must log in before you can post comments. You can login
here
.