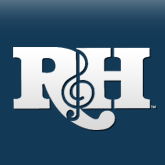 News from The R&H Theatre Library LET'S START AT THE VERY BEGINNING
Throughout last summer and fall, Broadway stars Maria Schaffel and Burke Moses lead a U.S. National Tour of THE SOUND OFMUSIC; R&H President Ted Chapin saw that tour during Hartford engagement in late October. The following week, Chapin took in one of the many regional stagings of THE SOUND OF MUSIC we license each year; this one, starring Amanda Watkins and Robert Cuccioli, was presented at the Paper Mill Playhouse in Millbum, New Jersey. Seeing Iwo back-to-back but different takes on the same classic material gave Chapin food for thought, and thoughts for this article:
Although some people assume that I spend my job running around seeing the many hundreds of stagings of our musicals each year, that isnt really the case. In fact, the two different but highly successful productions of THE SOUND OF MUSIC that I saw last fall marked the first time I had seen the show since an Australian production in March of 2000.
Both productions landed well with the audiences and, perhaps more interestingly, received positive reviews. The sheer craft of its construction is partly what makes it work so well, but the brilliance of the writing is pretty amazing. Some things struck me that had never occurred before. Where, I wondered, did the idea come from to create a song for the Mother Abbess to sing to Maria before sending her from the safe sanctuary of the Abbey to the von Trapp household for an uncertain future, and for that song to show the Mother Abbess reaching back into her own childhood to find a common ground the many optimistic and cheerful and favorite things they can both think about when circumstances are looking bad. The songs journey, from the Mother Abbess onstage to Julie Andrews and the kids in the movies classic rainstorm bedroom sequence, to cover versions ranging from John Coltrane to this winters Rod Stewart rendition...How amazing, I thought, for Rodgers and Hammerstein to write the classic My Favorite Things for such an unlikely yet dramatically astute place in the show.
There are certain key moments in THE SOUND OF MUSIC that often have trouble getting past the critics, though happily not the audience. Take, for example, the scene when the Captain discovers that Maria has made clothing for his children out of the curtains in her room. He is flabbergasted that she should do such a scandalous thing, but she chooses to take the moment to nail the Captain about the lack of attention he has paid to his children. No one has ever spoken to him that way. He is insulted, and tells her to pack her things and go back to the Abbey At that precise moment (good stage construction) he hears his children singing, something he has not allowed in his house since his wife died. Maria, we learn, has arranged it as the childrens welcome to Elsa, the Captains guest for the weekend.
The Captain, having a) forbidden any singing to take place, b) seen his children in clothes made from old curtains, and c) been insulted by the nanny, realizes what he has been missing, joins in the singing, and embraces his children. A pretty swift turnaround. Yet both productions handled this scene superbly, if slightly differently. In the touring production, Marla Schaffel really hammered at Burke Moses as the Captain, so much that he was left almost speechless. He all but muttered his line, You will pack your things and return to the Abbey as soon as you can. In the Paper Mill production, the director Jimmy Brennan, had his Maria, Amanda Watkins, deliver each description of the childrens need for their fathers attention differently, as if trying to find the corner in which to force her Captain (Robert Cuccioli.) In both instances, when the Captain sang with the children it became clear that the ground had been removed from under him, that he had been brought up short, and that it had been a harsh, blinding moment of realization. It also served to plant the seed of who this Maria actually might be. Clearly, this is no ordinary nanny. It is a wonderfully written scene, best when actors and director trust the work of Lindsay, Crouse, Rodgers and Hammerstein. Its all there.
I also took note of the relationship between Roif and Liesl. Liesls admonition to Maria early on that she doesnt need a governess linked with Rolf's becoming one of the characters who yields to the Nazis often leads directors to minimize their relationship. But the key found in their song Sixteen Going On Seventeen tells you one thing clearly: theyre both kids and teenagers. Sure Liesl thinks shes old enough tube her own person, but shes still awkward with a boy who fancies himself older and wiser because hes one year older. And in a moment that many forget, the original stage version has Rolf let the von Trapp family escape at the end. It makes you realize that Rolf is just as much of a kid as Liesl only he doesnt have the will, guts, or opportunity to resist the Nazis. I am seventeen going on eighteen. Ill take care of you, he sings. And so he does.
The Paper Mill production created a beautifully staged moment in the beginning when the nuns sing their Preludium in which we see them coming into the Abbey from their daily chores, pausing, putting down their buckets and scrub brushes, kneeling for the evening song. It gave a nice sense of humanity and place to Nonnberg Abbey, which made it a more hospitable world for the Mother Abbess to preside over, and a more difficult world for Maria to leave. The Mother Abbesses in both productions were less fierce and more maternal than others I have seen, with Jeanne Lehman in the touring production finding every ounce of yes humor in the role. Both she and Meg Bussert (at Paper Mill) mined the dramatic strength in instructing Maria to find your dream.
More observations: if you cut No Way To Stop It, you undermine Elsas withdrawal from the story. (And what a great line she has when she decides to leave: There is one thing you do better here than we do in Vienna your sunsets. Im going to miss them.)
Another: Nearly every production Ive seen introduces Maria in a hilltop meadow bathed in mid-day sunshine. At Paper Mill, however, we found Maria at dusk, with one subtle, twinkling star up in the sky. After all, she sings that a star has come out/To tell me its time to go in her verse. (How interesting when a director really looks at the text!)
I still dont know why people so often prefer inserting Something Good from the movie instead of using the intriguing and odd An Ordinary Couple which was the original song for Maria and the Captain when they decide to get married. Theyll never be an ordinary couple, thats clear, which is what makes the song so interesting. And even though so many productions use I Have Confidence, I have yet to see it really work on stage.
As these two illuminating productions demonstrated, good actors, designers, directors, musical directors and musicians can fInd limitless potential if the source material is good enough; in the case of THE SOUND OF MUSIC, and the work of Messrs. Lindsay & Crouse & Rodgers & Hammerstein, it is plenty good enough. it is the constant sense of rediscovery that makes my job continuously interesting. .

You must log in before you can post comments. You can login
here
.