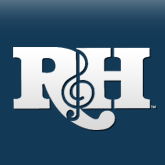 News from The R&H Concert Library: FOLLOWING THE SCORE
"
It can be a dilemma when the staff at The R&H Concert Library is asked to recommend a recording of an orchestral work they represent. On the one hand, they want to answer the customer's query; on the other hand, they don't want to dictate the particular style a recording conveys.
Still, with that disclaimer in mind, we recommend the following albums of works available for rental from our catalogue:
Opening Night: Rodgers & Hammerstein Overtures (Philips Classics, 1991.) John Mauceri conducts the Hollywood Bowl Orchestra in every Rodgers & Hammerstein overture (purists note: STATE FAIR - not a stage musical until 1995 - is represented with an orchestral suite by Sid Ramin, and THE SOUND OF MUSIC - which never had an overture - concludes this album with its Entr'Acte.) They are conducted, performed and recorded superbly and, for scores such as PIPE DREAM, ALLEGRO and ME AND JULIET, offer rare opportunities to perform some of Rodgers' richest, and least known, melodies.
The Hollywood Bowl on Broadway (Philips Classics, 1996): Again, bravo Maestro Mauceri and the HBO. This collection of orchestral suites from Broadway scores features several of our titles, including Rodgers' ""Slaughter on Tenth Avenue"" and Kern's ""SHOW BOAT: Scenario for Orchestra."" The album is dedicated to Morton Gould, and opens with an edited version of his CAROUSEL suite, which we began representing (along with his OKLAHOMA! suite) last fall.
Summon the Heroes (Sony, 1996): We proudly represent the concert works of John Williams, whose scores range from the mythical heroism of the movies to the real-life heroism on display at last year's Summer Olympics in Atlanta. His ""Summon the Heroes,"" the official anthem of the '96 games, is given its premiere recording, conducted by Williams, on a Sony album of the same name that also features ""Olympic Fanfare and Theme,"" written by Williams for the 1984 Olympic Games in Los Angeles. Gold medal winners both.
African Sanctus (Silva Classics, 1994): David Fanshawe's extraordinary composition is a crossover work that mixes media - voice, instrument and audio tape - as it blends styles, cultures and traditions in a composition inspired by the spirit of the African continent. This new recording, featuring the Bournemouth Symphony Orchestra, a Ghanaian master drummer and vocal soloist Wilhelmenia Fernandez, offers a vivid sense of a mystical, provocative work. (Our rental materials include, along with the standard musical requirements, special performance audio tapes in either DAT or 10"" open-reel format.)
In addition to the orchestral works already mentioned, The R&H Concert Library is frequently called upon to provide materials for vocal performances. Opera star Bryn Terfel's newest album, SOMETHING WONDERFUL (Deutsche Grammaphon, 1996), is reported on elsewhere in this issue (see story, p. 8), but we're proud to note that he is accompanied by many of our most popular concert arrangements, superbly sung and beautifully conducted. Likewise, our materials for the works of Andrew Lloyd Webber are shown off gloriously in the newest compilation album from Polydor, THE VERY BEST OF ANDREW LLOYD WEBBER: THE BROADWAY COLLECTION, including ""Memory,"" ""Love Changes Everything,"" ""The Phantom of the Opera,"" ""The Music of the Night,"" ""As If We Never Said Goodbye,"" and ""With One Look."" We eagerly await concert materials from Lord Andrew's newest Broadway musical, WHISTLE DOWN THE WIND.
For a complete catalogue of works available for rental through The R&H Concert Library, call 212-268-9300, or fax 212-268-1245."
You must log in before you can post comments. You can login
here
.