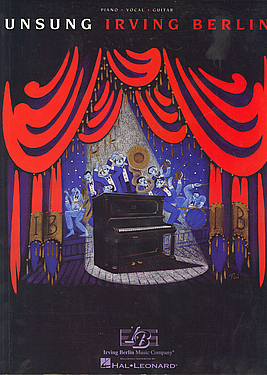 News from The Irving Berlin Music Company: PLAY A SIMPLE MELODY
"
When ""Alexander's Ragtime Band,"" Irving Berlin's first hit song, swept the nation in 1911, Victrolas were new-fangled contraptions. When Berlin died at age 101 in 1989, compact discs had already begun to replace the LP. But no matter the format, his songs have stayed in step with technology, and kept up with the times. Herewith a sampling of noteworthy new recordings of the master's work, in alphabetical order:
Always, Irving Berlin (Cabaret Records): Andrea Marcovicci has held audiences in thrall with her interpretations of Berlin's material, from the intimacy of New York's fabled Oak Room to the 2000-seat Town Hall. Her 1994 album, recorded live at the Oak Room, and based on her spring show of that year, embraces his songs from the teens to the '40s, highlighted by a debonair Astaire set (including ""Let Yourself Go,"" ""No Strings"" and ""Cheek to Cheek"") and a devastating torch section: ""Say It Isn't So,"" ""What'll I Do,"" ""Remember,"" and ""Suppertime.""
Annie Get Your Gun (JAY Records): As discussed in our Theatre Library story (see p. 9), JAY Records' new recording of ANNIE GET YOUR GUN - released during the 50th Anniversary year of 1996 - is the most complete recording to date of Berlin's most brilliant Broadway score. Starring Judy Kaye and Barry Bostwick, the 2-CD set contains all of the music written for the 1966 Lincoln Center revival of the show, including dances, reprises, etc. and is a fascinating resource (as well as a great listen).
Call Me Madam (DRG Records): The first recording from the Encores! concert series (see Vol. 2, No. 3), CALL ME MADAM (1995) re-introduces a champagne-vintage Berlin score through the talents of a star-powered cast headed by Tyne Daly as Madame Ambassador. Walter Charles is the Foreign Minister with whom she conducts foreign affairs while singing ""Marrying For Love"" and ""The Best Thing For You,"" Lewis Cleale and Melissa Errico are the young lovers, and Ken Page, Christopher Durang and MacIntyre Dixon make up a trio of Congressmen. Rob Fisher conducts The Coffee Club Orchestra.
Heatwave: Patti LuPone Sings Irving Berlin (Philips): At the Hollywood Bowl during the July 4th weekend in 1994, Patti LuPone performed two SRO all-Berlin concerts with John Mauceri and the Hollywood Bowl Orchestra, thus inspiring this album. While it gives her plenty of opportunity to tackle Berlin's two greatest ""diva"" roles, from CALL ME MADAM and ANNIE GET YOUR GUN, the album also offers LuPone's special take on ""Let Yourself Go,"" ""No Strings"" and the gentle ""Count Your Blessings Instead of Sheep."" The HBO has their moments to shine too, with several orchestral segments, including a rousing ""Patriotic Overture"" (available for rental, by the way, from The R&H Concert Library.)
Louisiana Purchase (DRG): As covered in the previous issue of Happy Talk, Berlin's sassy 1940 musical comedy was given its first New York revival last spring (at Carnegie Hall's Weill Recital Hall), and its first complete cast recording was released in November. (An accompanying songbook was just published by the Irving Berlin Music Company.) Stars Judy Blazer, Taina Elg, Debbie Gravitte, George S. Irving and Michael McGrath, under the baton of Rob Fisher, resurrect a score that is, to quote the Daily News, ""Berlin at his bounciest."" In a year-end round-up for TheatreWeek, Ken Mandelbaum said: ""I've enjoyed no musical theatre CD release of 1996 more than LOUISIANA PURCHASE.""
Unsung Irving Berlin (Varse Sarabande): During WALL TO WALL IRVING BERLIN, a 12-hour Berlin marathon at New York's Symphony Space in 1994, a highlight was the recital of Berlin songs that, for varied reasons, had never been published, heard in public or found any fame. Not surprisingly, there were several jewels and a few definite charmers among the lot, providing Bruce Kimmel with a repertoire for his Varse Sarabande ""Unsung"" series. The result, a two-CD set released in 1995, features Liz Callaway, Davis Gaines, Laurie Beechman, Emily Loesser, Harry Groener and others. From ""Nothing More To Say,"" a Berlin ballad of the classic heart-breaking mode, to the irresistible ""If You Haven't Got an Ear For Music,"" UNSUNG IRVING BERLIN guaranteed that these songs would be unsung no longer. (Also available: a single CD highlights album, and a songbook from the Irving Berlin Music Company.)"
You must log in before you can post comments. You can login
here
.