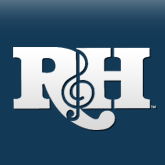 News from R&H Theatricals: Remembering Anne Frank
"
Had she lived, Anne Frank would have turned 75 this year. Instead, she lives on, in memory and honor, through an extraordinary volume, a humble little journal that has become one of the best known and most widely translated books in the world. It is ANNE FRANK : THE DIARY OF A YOUNG GIRL, and the story behind it- as well as the voice captured within its pages has inspired dozens of stage, film, dance and musical works. R&H Theatricals is proud to represent two of them: YOURS, ANNE, a musical and I AM ANNE FRANK, a song cycle based on the same musical score.
Like millions of others, composer Michael Cohen and librettist Enid Futterman were drawn to Anne Frank, and moved by her story. They wanted to share that story, anew, through words and music. It is our attempt, wrote Futterman, to give Anne Frank her due- to present her as the woman and the writer she was, and the survivor she is, the Jew who transcended her own suffering, even her own death.
Futterman continued, The famous line, In spite of everything, I still believe that people are really good at heart is often taken out of context and misunderstood. Anne Frank knew evil better than most of us; she had to fight to hold onto the remnants of belief, but she also knew something about the essential goodness of the soul, if not the character. Evil triumphed in the death camps, in the physical reality, of this world. But the spiritual war was won. For me, that is the real point of the diary; Anne died, but she won.
Anne Frank was born in Germany on June 12, 1929. Shortly after Hitlers rise to power, she and her sister, and both parents, fled to Amsterdam, but were soon endangered there too, as Holland fell to the Nazis. Unable to leave the country, the Frank family, along with four others, spent 25 months hidden in a tiny annex of rooms above her fathers office. After being betrayed to the Gestapo, Anne, her family, and the others living with them were arrested and deported in late 1944. In March of 1945, nine months after she was arrested and about a month before the end of the War in Europe, anne Frank died of typhus at the Bergen-Belsen concentration camp. She was 15 years old.
Miep Gies, one of Mr. Franks employees who sustained the occupants of the annex with food and supplies, had discovered Annes diary, left behind in the ransacked rooms. After the war, Gies passed it on to Otto Frank, Annes father, who was the only member of the immediate family to survive. Encouraged by early reaction to the diary, Mr. Frank decided to have it published in 1947.
Transcending all racial, national and linguistic barriers, ANNE FRANK: THE DIARY OF A YOUNG GIRL grew into an international classic, and a perennial best-seller. The Frank house in Amsterdam became a museum, visited by hundreds of thousands of people each year, in Annes name, organizations have arisen in Amsterdam, Basel, London and New York, dedicated to the plea for tolerance and cry against bigotry that her story inspires. The diary has been retold as Pulitzer Prize winning Broadway play; a Hollywood movie; several television mini-series; and even an animated film. In the world of music, the Anne Frank story has inspired two ballets, a one woman opera, three orchestral works, a jazz composition, and no less than four musicals two of which arrived Off-Broadway a decade apart from each other (YOURS, ANNE being the first, in 1985.)
A fleeting glimpse sparked a flash of inspiration. One day in 1973, Futterman happened to see her friend, the renowned actress and vocal artist Andrea Marcovicci, wearing her hair in a style that evoked the famous photo of Anne gracing the cover of the published diary. Shortly thereafter, Futterman and Cohen began to a musical based on the diary for Marcovicci.
To do so they had to overcome an inevitable prejudice - prejudice against musical theater. Cohen: Every time we approached people, saying we wanted to do a musical based on Anne Franks diary, people would be offended by the idea.
Otto Frank wasn'tt offended, but he was skeptical, and before they could proceed with their musical project, Cohen and Futterman had to convince him that their work would honor his daughters spirit. Though cautious, Frank allowed them to develop the piece they were at first calling DEAR KITTY (taken from Annes salutations in her diary). Marcovicci recorded a few of its songs in 1975, and Otto Frank liked what he heard. The project could go forward.
In 1980, several of its songs were heard publicly at a memorial service for Otto Frank at the 92nd Street Y in New York City; and five years later on October 10, 1985 YOURS, ANNE premiered Off-Broadway at Playhouse 91. With a cast of eight, and a story line that followed the diarys own narrative, it was presented by John Flaxman and directed by Arthur Masella, with Trini Alvarado in the title role.
YOURS, ANNE was not the first music theater work about the life of Anne Frank to be seen in the USA. nor would it be the last. But YOURS, ANN, which ran for six months, and spawned an original cast album on TER Records, remains the only musical based or diary to receive the official approval of Otto Frank and the Anne Frank-Fonds (the Basel foundation dealing with the cultural aspects of the Anne Frank legacy).
In a paper presented at New York University in October 2004, analyzing YOURS, ANNE among other works inspired by Anne Frank, Assistant Professor of Judaic Studies Judah M. Cohen remarked: YOURS, ANNE has proven to be extraordinarily durable. In the nearly 20 years since its opening, dozens of professional and amateur theater groups have staged the show throughout the United States, as well as in Canada, England, Belgium and Japan. Part of the reason for the works staying power likely has to do with its endorsement by the Anne Frank-Fonds: as with the [Broadway] play, YOURS, ANNE is currently the only authorized work in it's genre, and thus serves as the obvious choice for those wishing to produce a musical about Anne Frank.
As YOURS, ANNE continued its performance life, Andrea Marcoviccis early link to the piece was not overlooked and, in 1996, a song cycle, based on the musical, was created for her. I AM ANNE FRANK also known as A CANTATA FOR ANNE FRANK was premiered by Marcovicci at New Yorks Alice Tully Hall, where she was joined by vocalist Stephen Bogardus, and the American Symphony Orchestra. (A further distillation, I REMEMBER, a chamber piece scored for cello, flute, piano, harp and voice, debuted at the US Holocaust Museum in Washington DC that same year.)
As they worked from musical to song cycle to chamber piece, Michael Cohen and Enid Futterman continued to believe in the profundity of Anne Franks story. They also believed that their works could rejuvenate her story through the power of song; and there, perhaps, they found inspiration in the diary itself.
From the diary of Anne Frank, December 7, 1942: We didn'tt make much fuss about Chanukah; we just gave each other a few trifles, and then we had the candles. Because of the shortage of candles, we only had them alight for 10 minutes, but that is alright, long as you have the song.
Michael Cohen and Enid Futterman's Anne Frank compositions are published by Williamson Music, while YOURS, ANNE and I AM ANNE FRANK (A CANTATA FOR ANNE FRANK) are licensed through R&H Theatricals; visit our web site, www.rnh theatricals.com for more information... The CD recording of I AM ANNE FRANK, with Andrea Marcovicci and Stephen Bogardus, is available through the Anne Frank Center USA, with all proceeds going to the Center; visit www.annefrank.com for further information... For more on the Anne Frank House and Anne Frank Foundation, visit www.annefrank.org.
"
You must log in before you can post comments. You can login
here
.