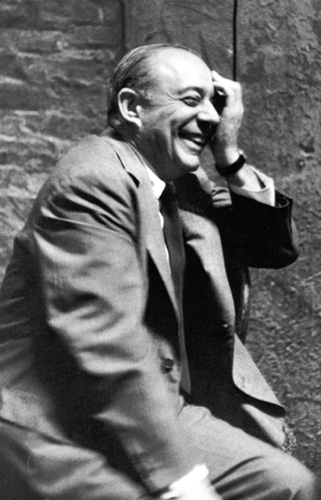 NEW YORK SYMPHONY SPACE PRESENTS 12-HOUR RODGERS MARATHON by Ted Chapin
"
Theres something unique about the Upper West Side of Manhattan Island in New York City. Not quite a city within a city, it does have a character all its own. Its citizens are a resilient group, strong in their beliefs, specific in their tastes, and bold in their actions. A select few founded Symphony Space in a derelict old theater cum skating rink 25 years ago, and it is those same people who came up with the preposterous idea of presenting a 12-hour event focused around one composer. These WALL TO WALLs have become yearly events and have ranged from Beethoven to Berlin. There are only three composers who have been the focus twice: Bach, Schubert, and now Richard Rodgers.
There is something else about the WALL TO WALL events that is near and dear to the hearts of Upper West Siders: they are free to the public. That makes the crowd loyal, passionate, demanding, and just a little pushy. They know exactly what they are standing in line for, and they dont want anyone to get in their way. As a result, they listen intently and voice their approval raucously when something pleases them particularly. Symphony Space sort of belongs to them. And what goes on within its walls is consistently inspired, informal, and brilliant. Credit for this long-running and uniquely New York institution must go to our good friends, Artistic Director Isaiah Sheffer and Executive Vice President Joanne Cossa.
In the midst of a vast renovation project (did I mention that Symphony Space recently sprouted an entire apartment building on top and around it, and the building only reopened a few days before the Rodgers marathon?), Sheffer, Cossa and their fearless producer, Maren Berthelsen, pulled off the impossible: they conjured an event that had New Yorkers waiting in the cold for hours, almost without complaint.
On the bright but chilly morning of March 23, 2002, dedicated New Yorkers lined up for the chance to catch some (or a lot) of twelve straight hours of performances of music by Richard Rodgers. Some stalwarts who made it in at 11AM refused to budge until it was over at 11PM, despite the periodic urgings from Sheffer Perhaps your flowers need watering? There was a line outside all day long, and everyone eventually did get in. But some just reached into their bags and took bites from their concealed roast beef sandwiches and sat back to enjoy their favorite melodies coming from jazz artists, Broadway stars, talented undergraduates, popular singers, and theatrical veterans. Two who stayed all day long were Richard Rodgers daughters, Mary Rodgers Guettel and Linda Rodgers Emory.
Performance was the main order of the day. And they ranged from skilled jazz interpreters like Fred Hersch, Melba Joyce, and Barbara Carroll to current Broadway stars like Molly Ringwald and Raul Esparza (CABARET), Judy Kaye (MAMMA MIA!), and Shuler Hensley (OKLAHOMA!), who came up in between their matinee and evening performances. Splendid pop singers like Maureen McGovern, K T Sullivan and Mary Cleere Haran put their unique spin on Rodgers songs.
There were also some unexpected performances. Seymour Rexite, a veteran of the Yiddish theater, sang The Surrey with the Fringe on Top and Youll Never Walk Alone in Yiddish. There was a 45-minute sequence from the Broadway Rodgers and Hammerstein revue A GRAND NIGHT FOR SINGING, with several members of the original cast. Sheldon Harnick spoke of his experience writing with Rodgers, and both Rodgers daughters responded to questions in their inimitably straightforward manner. (In response to the question, What was it like to grow up in the household of a famous composer?, Mary answered logically, Well, we didnt grow up anywhere else so we didnt really know the difference.) There was the world premiere of a long-lost newly-discovered musical by Rodgers & Hart, entitled BROADWAY MADCAPS OF 1924 the New York musical that they never actually got around to write. It was the brainchild of Isaiah Sheffer who created the libretto under the pseudonym Jerzy Turnpike.
In the evening, under the baton of Elliot Lawrence, a full orchestra took over the stage. A stellar line-up including Christiane Noll, Loni Ackerman, Jonathan Hadary, Debbie Gravitte, Melissa Errico, James Naughton and Richard White, waltzed, crooned, jammed, belted, and swung their way through the Rodgers & Hart, and Rodgers & Hammerstein songbooks. As the clock struck 11 oclock at night, a weary but still happy crowd had just enough left for a rousing finale of Oklahoma.
Richard Rodgers: Born on West 120th Street, he moved to West 86th Street, went to school at Columbia, and then had the audacity to move to the East Side. But we know his heart and soul never really left Broadway route that covered his journey from the Varsity Shows at Columbia to the bright lights of Times Square. There along that road, at a corner of Broadway and 95th Street, for twelve hours on a cold March day at a beloved local landmark called Symphony Space, the walls were alive with the sound of his music.
Highlights of WALL TO WALL RICHARD RODGERS were recorded by Fynsworth Alley for a Summer 2002 release.
"
You must log in before you can post comments. You can login
here
.