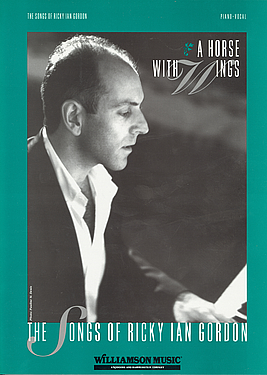 New Voices Among Classic Catalogues
While most well known for its representation of classic and standard catalogues, Williamson Music is also committed to supporting outstanding new songwriters. Late last summer, Williamson Music (ASCAP) signed an exclusive publishing deal with composer/lyricist Ricky Ian Gordon, and R&H Music (BMI) inked a similar deal with lyricist Lindy Robbins. "They are each gifted and have much to contribute," says Williamson President Maxyne Lang, "And we are so happy to be representing them". As fresh talents being fostered amidst the catalogues of some of the greatest songwriters, Gordon and Robbins reflect the overall diversity of Williamson Music.
"I could just as easily have been a rocket scientist," says Ricky Ian Gordon, making light of his career choice. Gordon had never attempted to write serious music until a few weeks before applying to the composition program at Carnegie-Mellon University, where he was already enrolled as a classical pianist. Nevertheless, his lifelong fascination with twentieth century opera and art songs had certainly left him with a greater predisposition for imagining chord sequences than calculating how to put men in space. And from the moment of his acceptance, Ricky began composing prolifically. "I discovered who I was as an artist very quickly. I realized that I had a profound need to compose, and that I had something to communicate: an unending world of anger and joy and despair and sorrow. And suddenly I had a vehicle."
Although his catalogue includes chamber works, film and video scores, and four full ballets, Gordon's greatest successes have been his highly expressive theatrical and vocal works. STATES OF INDEPENDENCE, a collaboration with writer/director Tina Landau, premiered at Philadelphia's American Music Theater Festival in May, 1993, prompting USA Today to applaud Gordon's "layers of melodic and rhythmic counterpoint, plus a sense of lyricism that borders on the ecstatic." His AUTUMN VALENTINE, a work based on the writings of Dorothy Parker, debuted at the Opera Omaha Fall Festival 1992. Several of the finest moments in Gordon's songbook, including "Horse With Wings," "Fewer Words," and "Will There Really Be A Morning" (the third based on Emily Dickinson), were featured in the cycle SWEET SONG, starring soprano Angelina Reaux at the Perry Street Theatre, New York City, in 1991.
This past autumn saw Gordon's first release on compact disc, when his "Water Music: A Requiem" appeared on Eternal Light (RCA/Catalyst), an album of choral works by Musica Sacra under the direction of Richard Westenberg. Composed during a period of personal anguish, "Water Music" balances ideas of death and dying with ones of baptism and rebirth. "Writing that requiem saved me," says Gordon. "I got to write something that pulled me out of the most difficult time."
On Valentines Day, RCA Victor releases "Strange Hurt," the debut album from soprano Harolyn Blackwell, featuring Gordon's song cycle "Genius Child," based on poems of Langston Hughes. The chemistry Gordon found in writing "Genius Child" soon prompted him to write a second cycle based on Hughes, entitled "Songs for a Dark Girl."
He is currently hard at work on a theatrical piece for singer Helen Schneider, based on the writings of Colette, scheduled to premiere next season at Berlin's Theater des Westens. He recently finished two new works for the New York Gay Men's Chorus, including one for the Pride Concert at Carnegie Hall. A commission from En Garde Arts has yielded a site-specific work for unaccompanied male voices commemorating the 25th anniversary of the Stonewall riots this spring.
"If you'd told me three years ago that I was going to make my living as a songwriter, I would have laughed at you," confesses lyricist Lindy Robbins. "I always thought that it would be a hobby."
Considering her years of onstage experience, it's easy to see why the prospect once eluded Robbins. Having made her singing debut at age three, she went on to appear in the West Coast premieres of RUNAWAYS and STRIDER, as well as playing lead roles in HAIR, BLAME IT ON THE MOVIES and numerous musical revues. But when she found herself in need of songs for a nightclub act, Robbins decided to try her hand at writing original material, and was pleasantly surprised to watch the new songs quickly become a highpoint in her show. Her innate gift for writing provided her with a new conduit for articulating her emotions, heightening the power of her performances. "When you see her perform," observes Maxyne Lang, "she's a fusion of life experience and craft." Recognizing these strengths, other singers began asking if they could do her songs.
Unlike some lyricists, who can't seem to keep a steady partner, Robbins doesn't want one; she likes to write with a number of different composers, to complement her various styles and perspectives. "Although I'm starting to write my own music, with very encouraging results, I'll never give up collaborating. It takes you to a new place. I just feel that it's so interesting to have two viewpoints, and mix creativity, stir it around." Three of her songs written with Gerald Sternbach are performed in the current edition of Ringling Brothers and Barnum & Bailey Circus by ringmaster Eric Michael Gillett (who plans to include more Robbins on his debut album), and "Fred Astaire," a number composed with Ann Hampton Callaway, was a standout in Callaway's cabaret show at Rainbow & Stars last fall.
For Robbins, writing is a deeply personal process, as songs like "Strangers Once Again" and "Gone As A Man Can Get" reflect. "The way I've learned is by listening to and studying the great lyricists. I'm very easy going about changes, but the most difficult thing is when a collaborator will say 'I need another verse,' and I'll say 'I don't have another verse, I've said everything.' It's not easy to go back - I have to see myself walking down that street and think 'what other corner can I turn?' Writing is very visual for me."
Robbins' determination to continue exploring her artistry is evident from the unique spectrum of projects in her future: she'll be writing for the circus again in 1994, and she's currently composing some special material for a cabaret act for Harvey Fierstein (author and star of TORCH SONG TRILOGY). She is also looking toward branching into writing country music, "because it's one of the few pop music forms right now where you can tell a story, and there's an honesty which comes from the heart." The honesty that marks Robbins' work is what makes her craft so special, and it's why she feels at home at R&H Music. "This is the kind of music I was raised on. I feel like there's a lot of belief here in what I do."
You must log in before you can post comments. You can login
here
.