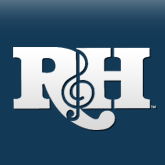 My Life With Albertine Is Now Online!
"
R&H Theatricals is proud to announce MY LIFE WITH ALBERTINE is now online. You can learn all about composer Ricky Ian Gordon's musical, chronicling the love affair between Marcel Proust and his obsession, Albertine. Departing from the typical ""boy meets girl"" plot, it explores the darkness of jealousy. Young Marcel, the hero, irrationally believes that Albertine is having affairs while older Marcel (played by a different actor), reflects on this seminal period in his young life, interacting with himself at 17. Simple lullabies and children's songs reflecting Marcel's childlike character before his affair are juxtaposed with operatic dirges, capturing the tragic effect of his self-inflicted destruction of happiness. This fascinating musical preserves both the essence and themes of Proust's work. On the website, you can hear audio clips, delve into the history of the show and read Gordon's insightful author's note. Apply for performance rights today at www.rnhtheatricals.com.
"
You must log in before you can post comments. You can login
here
.