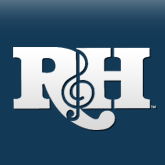 Musical Notes
"
HAPPY HOLIDAY: It has only been a few years, but stage productions of Irving Berlin's WHITE CHRISTMAS, based on the classic Paramount Pictures film, are already becoming as traditional to the holiday season as candy canes, egg nog and Christmas cheer...Directed by Walter Bobbie, choreographed by Randy Skinner, with a book by David Ives and Paul Blake, WHITE CHRISTMAS had its world premiere in San Francisco under the watchful eye of lead producer Kevin McCollum during the 2004 holiday season...It returned to the Bay Area last year, while other productions sprouted in Boston and Los Angeles. This Christmas it will play in St. Paul and Detroit, heralded by a brand-new cast recording (see p. 11). For more, visit www.whitechristmasthemusical.com.... Meanwhile, Christmas has come early to R&H Theatricals, which began licensing professional productions of the musical this summer (Christmas in July?What could be cooler?!)... Following engagements at the St. Louis Muny in mid-summer (where the stage version was born six years ago), other major productions this year include Fifth Avenue Musical Theater, Seattle; Actors Playhouse in Coral Gables, Florida; Carousel Dinner Theater, Akron; and California Musical Theater, Sacramento. The British premiere occurs this holiday season as well, with engagements in Plymouth and Southampton.
WONDERFUL NEWS: Another holiday movie classic, IT'S A WONDERFUL LIFE, comes down off the screen and onto the stage in an enchanting musical composed by the late Joe Raposo, with book and lyrics by R&H Music's Sheldon Harnick and licensed by R&H Theatricals...When staged in concert form as an Actors' Fund Benefit in New York last Christmas, A WONDERFUL LIFE was hailed by Time Magazine as one of the ""Top Ten Theater Events"" of the year...This season, Paper Mill Playhouse in Millburn, New Jersey, will mount a full production of the musical, directed by James Brennan, from November 8 to December 17...For more information visit www.papermill.org.
LIGHT ACROSS AMERICA: The US National Tour of THE LIGHT IN THE PIAZZA started in San Francisco in August, where Variety cheered, ""[This] is an exquisite touring edition that's sure to win converts at every stop""...NETworks presents the Lincoln Center Theater production of this Adam Guettel/Craig Lucas musical, directed by Bartlett Sher with a cast headed by Christine Andreas as Margaret Johnson; Elena Shaddow as her daughter, Clara; and David Burnham as Fabrizio...On Broadway, where it closed in July, PIAZZA enjoyed a 16-month run, collected six Tony Awards (including Best Original Score) and was broadcast on Live from Lincoln Center on PBS in June (""Cheers to PBS,"" exalted TV Guide, ""for preserving [PIAZZA] in all of its rapturous, romantic glory"") ...With a cast recording from Nonesuch Records, a songbook from Williamson Music, a script published by Theatre Communications Group (TCG) this fall and featured in both the R&H Theatricals and R&H Concert Library catalogues, PIAZZA will be shining its light for many years to come...For more on the tour, visit www.piazzaontour.com.
SALZBURG SINGS THE SOUND OF MUSIC: Over 300,000 visitors come to the charming city of Salzburg, Austria, every year, drawn by THE SOUND OF MUSIC and eager to see where the real Maria lived in the early 20th Century and where Julie Andrews & Co. filmed the movie on location in 1964...Today, THE SOUND OF MUSIC continues to bloom and grow in Salzburg; this summer saw return engagements of SINGALONG SOUND OF MUSIC and expansion of the ever-popular SOUND OF MUSIC tours (www.panoramatours.com)... Even Leopoldskron Palacethe beautiful lakeside villa where much of the exterior locales were filmed and which for years was off limits to the publicwill soon make itself available for private SOUND OF MUSIC tours and, eventually, as a destination for overnight visitors (for more, visit www.schloss-leopoldskron.com)... The Austrian Postal Service has also gotten caught up in the SOUND OF MUSIC spirit; in April, Austrian postage stamps were issued commemorating Rodgers & Hammerstein, Georg von Trapp and THE SOUND OF MUSIC...Currently, and in tandem with this Organization, the world-famous Salzburg Marionettes are developing a SOUND OF MUSIC marionette production to be unveiled in Salzburg next summer...Earlier this spring, State Governor Dr. Wilfried Haslauer announced that a SOUND OF MUSIC museum will open in 2008...To learn more about THE SOUND OF MUSIC and Salzburg, visit www.salzburg.sound-of-music.com.
AND I'LL SING ONCE MORE: This November, London's West End will come alive with THE SOUND OF MUSIC for the first time in 25 years when a new production opens at the legendary London Palladium...Andrew Lloyd Webber's presentation of one of his favorite musicals, produced by David Ian, the Really Useful Group and LiveNation, will be directed by Jeremy Sams and choreographed by Arlene Phillips, with sets and costumes by Robert Jones...As previously reported, the role of Maria is being cast through a BBC reality series called, inevitably, HOW DO YOU SOLVE A PROBLEM LIKE MARIA?, with the British public having the final say on who gets to play this coveted role...Starting in April, over 6,000 young women from across Great Britain participated in the star-search; by the time the series began airing in July, that roster was narrowed down to 10 lucky finalists...For more, visit www.soundofmusiclondon.com.
LONDON IS FOOTLOOSE: Dave Beckham may not have triumphed in the World Cup, but England is footloose nevertheless...The West End premiere of the hit movie-musical-turned-stage-phenomenon opened at the Ivor Novello (formerly the Strand) Theatre in April, where it continues to ""kick up a high-octane storm,"" according to the London Evening Standard... Summer 2006 saw FOOTLOOSE clock its 100th West End performance; happy crowds rocking out to a sensational cast lead by the legendary David Essex as the Preacher; a cameo by winners of the British national TV obsession, STRICTLY DANCE FEVER; and segments from the musical performed in a TV spectacular broadcast live from Trafalgar Square...With performances slated to run through November at least, a UK tour of FOOTLOOSE is being planned for early 2007...""If I had a Stetson,"" cheered the critic for The Guardian, ""I'd have hurled it in the air.""
BY BERLIN: Two rarely-seen but major works by Irving Berlin will be heard in concert this season...In November, the Chicago Humanities Festival will conclude with an evening comprised of songs from THIS IS THE ARMY, Irving Berlin's 1942 revue originally presented by the US Army and written for an all-soldier cast; the concert, presented and narrated by Robert Kimball (co-editor, THE COMPLETE LYRICS OF IRVING BERLIN), will pair the Berlin score with songs from Harold Rome's post-war revue, CALL ME MISTER...For more information, visit www.chfestival.org...Next February, as part of a season-long tribute to the revue format, New York's acclaimed concert series Encores! will present the first full-scale restoration of FACE THE MUSIC, the 1932 Irving Berlin-Moss Hart show about mounting a revue that introduced ""Lets Have Another Cup of Coffee"" and ""Soft Lights and Sweet Music""... Also next spring, Robert Kimball will direct, and Charles Osgood will host, SAY IT WITH MUSIC, an all Berlin program as part of the New York 92nd Street Y's Lyrics & Lyricists series.
YEOW!: The Oklahoma 2007 State Centennial kicks off this November with 10 days of commemorative events, including the world premiere of Tulsa Ballet's OKLAHOMA! SUITE, based on Agnes de Mille's original Broadway and Hollywood choreography, recreated by Gemze de Lappe...Later that month, look for the state song (aka our musical's title song) to be performed live on NBC during Macy's Thanksgiving Day Parade...R&H Theatricals is pleased to announce that, in conjunction with selecting OKLAHOMA! as our ""Spotlight Promotion"" for 2006-07 (see p. 10), we are working closely with the Oklahoma State Centennial Commission to celebrate the musical and the state together... For more information, visit www.oklahomacentennial.com or visit our Spotlight Promotion page at www.rnhtheatricals.com.
MR. RODGERS' NEIGHBORHOOD: In 1990, when the 46th Street Theater on Broadway was renamed the Richard Rodgers, it became the first Broadway theatre housing an exhibition dedicated to its namesake...Earlier this spring, in anticipation of its newest tenant, Disney's TARZAN, the Nederlander Organization gave the Rodgers a massive overhaul...The interior was repainted and recarpeted, with much of the original woodwork restored, while the exterior was given a pristine (yet classical) look, crowned by the restoration of the dazzling original marquee... Still retaining pride of place in the lobby is a portrait of Rodgers, commissioned by this Organization for his 2002 Centennial, and painted by his granddaughter, Kim Beaty...As part of the restoration, the original Rodgers exhibition was removed and a brand-new Richard Rodgers Gallery was installed in a foyer adjacent to the main lobby, celebrating the composer's life and work in 12 multi-dimensional display cases...It is free and open for viewing by ticket holders to productions at the Richard Rodgers Theater during regular theatre hours.
I COULD WRITE A BOOK: Coinciding with the November premiere of THE SOUND OF MUSIC at the London Palladium, Pavilion Books (UK) will release THE SOUND OF MUSIC COMPANION, a comprehensive and lavish account of the stage and film phenomenon, chronicling the story from the true-life von Trapp family saga through the Broadway musical, the Hollywood film, the modern SINGALONG craze, the current landmark Vienna production and right up to Andrew Lloyd Webber's West End revival; Laurence Maslon (BROADWAY: THE AMERICAN MUSICAL) is the author, and a US release for the book is also planned...She is the singing voice of three of the greatest ladies in movie musical historyMrs. Anna in THE KING AND I, Maria in WEST SIDE STORY and Eliza Doolittle in MY FAIR LADY; she also appeared on-screen in THE SOUND OF MUSIC as Sister Sophia (graduating to the role of the Mother Abbess in July's concert performance at the Hollywood Bowl) and now Marni Nixon is telling her own story in her own voiceI COULD HAVE SUNG ALL NIGHT (Billboard Books), written with Stephen Cole (the Marni Nixon of the Marni Nixon story) and featuring a foreword by Marilyn Horne...Two must-have Irving Berlin gift books continue to celebrate a remarkable legacyIRVING BERLIN'S SHOW BUSINESS (David Leopold; Abrams) and THE COMPLETE LYRICS OF IRVING BERLIN (co-edited by Linda Emmet and Robert Kimball; Applause)...Coming from Theatre Communications Group this fall: the libretto of THE LIGHT IN THE PIAZZA, with a book by Craig Lucas and featuring Adam Guettel's Tony Award winning lyrics.
OL' MAN RIVER: The National Mississippi River Museum & Aquarium, in Dubuque, Iowa, chronicles life along the mighty Mississippi River and honors the many who have celebrated it over the years in a ""National Rivers Hall of Fame""...In June, SHOW BOAT novelist Edna Ferber, composer Jerome Kern, lyricist/librettist Oscar Hammerstein II and actor Paul Robeson, whose rendition of ""Ol' Man River"" is legendary, were among the 2006 inductees... Bravo, brava to all; for further information visit www.rivermuseum.com.
"
You must log in before you can post comments. You can login
here
.