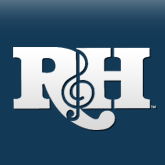 Musical Notes
"
TILL YOU FIND YOUR DREAM: In 1961, when he was 13, he saw the original London production of THE SOUND OF MUSIC at the Palace Theatre...Today, he owns that theatre, as well as a few others, and it will be at his landmark London Palladium that Andrew Lloyd Webber presents a new production of THE SOUND OF MUSIC later this year...Co-produced by his Really Useful Group, and David Ian for Live Nation and directed by Jeremy Sams, THE SOUND OF MUSIC will cast its leading role through a reality show talent search open to actresses amateur and professional from across Britain... Presented by BBC-1, the program (appropriately titled HOW DO YOU SOLVE A PROBLEM LIKE MARIA?) will air in eight installments from early summer until mid-September.
IN YOUR EASTER BONNET: A new Irving Berlin stage musical, based on a beloved silver screen classic, will come to life next spring...IRVING BERLIN'S EASTER PARADE, based on the 1948 Fred Astaire-Judy Garland tune-filled frolic, will be given its world premiere at the Chanhassen Dinner Theatres in Chanhassen, Minnesota, in February 2007...With a script adapted by Tom Briggs (STATE FAIR), and directed by Michael Brindisi, EASTER PARADE will feature such Berlin gems as ""It Only Happens When I Dance With You,"" ""Shaking the Blues Away,"" ""Steppin' Out With My Baby"" and of course, that irresistible title song.
ROLLIN' ALONG: SHOW BOAT, the Jerome Kern-Oscar Hammerstein II masterpiece, will mark its 80th Anniversary in 2007, but a mammoth event in London will get the party started this June...Impresario Raymond Gubbay, famed for presenting spectacular stagings of grand opera in even grander settings, will sail SHOW BOAT into the legendary Royal Albert Hall for 18 performances only, starting June 10...Directed by Francesca Zambello, with David Charles Abell leading the Royal Philharmonic Orchestra, SHOW BOAT is billed as ""the first fully staged musical ever to be performed in the round at the Royal Albert Half:..An artist's rendering of Peter J. Davison's set with a gargantuan Cotton Blossom multi-level show boat sitting in the middle of the Hall brings to mind the image of a ship in a bottle: it looks amazing, but how did they get it in there in the first place?... For more on SHOW BOAT, visit www.raymondgubbay.co.uk.
DELIGHT IN THE PIAZZA: Hailed by USA Today and the Wall Street Journal as the ""best musical of the year,"" and now in its second season on Broadway, the six-time Tony Award winning Lincoln Center Theater production of THE LIGHT IN THE PIAZZA is soon heading out on a major US National Tour Presented by NETworks, PIAZZA will visit over 50 cities during the 2006-07 season, starting in San Francisco in August... Among the cities that will see THE LIGHT are Seattle, Denver, Orlando, Miami, Raleigh, Hershey, Costa Mesa, Tempe and Sacramento First, however, PIAZZA will come to a television near you, when PBS broadcasts it Live from Lincoln Center on June 15; check local listings For more, see p. 9.
Taye Diggs, center, joined an episode of WILL AND GRACE earlier this season, when the zany gang descended upon a screening of SINGALONG SOUND OF MUSIC...Flanked by Sisters Rosario (Shelley Morrison) and Karen (Megan Mullaly), are lederhosened jack (Sean Hayes), Captain von Will (Eric McCormack) and Maria full of Grace (Debra Messing).

HAPPY TALK: Guettel's PIAZZA will eventually be followed at Lincoln Center Theater by Rodgers and Hammerstein's SOUTH PACIFIC...The first Broadway revival ever of this 9-time Tony Award winning, Pulitzer Prize garnering, 1949 landmark musical play, will be resurrected during the 2007-08 season by members of the PIAZZA creative team, including director Bartlett Sher...A front page story in the trade paper Variety broke the news in late January (""Lincoln Center Theater makes waves!"" cheered the headline), answering a question that Broadway fans and producers had been asking this office for decades...Stay tuned for further information about dates and, of course, casting.
SHE'S CALLED LITTLE BUTTERCUP: THE PRINCESS BRIDE, the wildly popular novel and film, is being made into a musical with a score
by Adam Guettel, and book by William Goldman S. Morgenstern's ""classic tale of true love and high adventure,"" known to millions through the ""good parts version abridged by"" Goldman, tells the story of Buttercup, the most beautiful girl in the world, and the handsome, mysterious Westley...A suite from Guettel's score for PRINCESS BRIDE will be given its world premiere by John Mauceri and the Hollywood Bowl Orchestra later this summer.
CELEBRATING BERLIN: A new exhibition, SHOW BUSINESS: IRVING BERLIN'S BROADWAY, inspired by the new David Leopold book (see p. 4), was launched at San Francisco's Performing Arts Library and Museum last fall, and is currently ensconced at the New York Public Library for the Performing Arts at Lincoln Center, where it will remain on view through May; next stop for the exhibit is the McNay Art Museum in San Antonio, where it will be on display from July to October...A related exhibit, themed to Berlin's Hollywood years, opens at the James A. Michener Art Museum in Bucks County, Pennsylvania in May, running until September, before travelling West.
FARMERS DANCE WITH THE RANCHERS' GALS: Oklahoma, the State, and OKLAHOMA!, the musical, are joining forces to celebrate the State's Centennial in 2007 (see p. 11)...Among the first of many joint commemorations to be announced is OKLAHOMA! SUITE, an anthology of Agnes de Mille's ground-breaking choreography for the original Broadway production...Presented by Tulsa Ballet by arrangement with this Organization, and to include the participation of longtime de Mille associate Gemze de Lappe, OKLAHOMA! SUITE will premiere in Oklahoma later this year...For more, visit www.tulsaballet.org.
THERE'S NO PEOPLE LIKE SHOW PEOPLE: We are pleased to announce that an already great team here at R&H has gotten even greater...In November we welcomed Bill Gaden as our new Senior Vice President and General Manager...In March, Charlie Scatamacchia was promoted to Vice President for R&H Theatricals; Jessica Wells was promoted to Manager for Amateur Licensing; and Michelle Yaroshko joined us as the new Manager for Professional Licensing...Bravo, brava to all!
"
You must log in before you can post comments. You can login
here
.