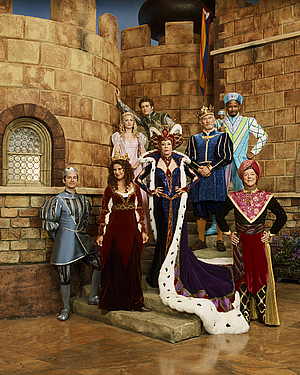 Musical Notes
"
SOME ENCHANTED EVENING: When Mary Rodgers saw Reba McEntire star on Broadway in ANNIE GET YOUR GUN a few years ago, she said, That woman should play Nellie Forbush some day!...Some day is now June 9, 2005, when Carnegie Hall will present a one-night-only concert version of SOUTH PACIFIC, starring McEntire as Nellie, Brian Stokes Mitchell as Emile de Becque, Lillias White as Bloody Mary and Jason Danieley as Lt. Joe Cable ...Directed by Walter Bobbie, and conducted by Paul Gemignani, with the script adapted by David Ives, SOUTH PACIFIC will feature the Orchestra of St. Lukes...For more news on casting, as well as information about the gala itself (to benefit Carnegie Hall), visit www.carnegiehall.org.
HOW DO YOU FIND A WORD THAT MEANS MARIA? Viennas famed Volksoper has long included a handful of American musicals in its repertory but not, until now, the most appropriate - THE SOUND OF MUSIC, based on the true-life story of Austrias own von Trapp family...This year, finally, the Volksoper will present the German-language premiere of THE SOUND OF MUSIC in Vienna, with performances starting in late February...Giving it an international flair, American maestro Erich Kunzel will conduct, and Portuguese soprano Sandra Pires will play Maria, with the French-Canadian duo of Renaud Doucet (direction and choreography) and Andr Barbe (sets and costumes) at the helm...For more information, visit www.volksoper.at...Meanwhile, an Italian-language tour of THE SOUND OF MUSIC, known locally as TUTTI INSIEME APPASSIONATAMENTE (ALL TOGETHER WITH PASSION), will begin performances in March, and is scheduled to play throughout Italy for most of the year, with visits to Rome, Milan, Torino, Florence, Naples and Bologna...Across the globe, the ongoing American production of THE SOUND OF MUSIC profiled in our previous issue has been touring China and Southeast Asia since May 2004; upcoming visits this spring include Japan, Korea, Malaysia, and Singapore, before returning to China in early summer.
ON YOUR TOES: As reported on p. 1, the Royal Winnipeg Ballet is currently touring Western Canada with A CINDERELLA STORY, their new full-length ballet based on themes by Richard Rodgers; visit www.rwb.org for venues...In early 2005, River North Chicago Dance Company concludes a two-year repertory run of its Rodgers ballet, THE SWEETEST SOUNDS...Two of New York City Ballets acclaimed recent works, set to the music of Richard Rodgers and Irving Berlin respectively, are returning to the repertory this winter...THOU SWELL, created for the Richard Rodgers Centennial in 2002, is Peter Martins tribute to the sophisticated glamour epitomized in the Rodgers & Hart songbook...DOUBLE FEATURE (2003) is Susan Stromans full-length ballet told in a silent-movie vernacular, with its first piece, THE BLUE NECKLACE, set to an all-Irving Berlin score...For more, visit www.nycballet.com.
THE LIGHT HITS BROADWAY: THE LIGHT IN THE PIAZZA, the new musical with a score by Adam Guettel and a book by Craig Lucas, and based on Elizabeth Spencers novella, is scheduled to begin performances at Lincoln Center Theaters Vivian Beaumont Theater on March 17, with a limited run scheduled through June 12...Previously staged in Seattle and Chicago (where it won three Jefferson Awards, including Best Musical), PIAZZA comes to Broadway under the direction of Bartlett Sher, with a cast that includes Victoria Clark, Kelli OHara, Sarah Uriarte Berry, Patti Cohenour and Mark Harelik...For more, visit www.lct.org.
RAIDER OF THE LOST ARK: Though he felt the original Broadway production of TWO BY TWO had been hijacked by its star, lyricist Martin Charnin never gave up hope that someday he might be able to relaunch the musical he wrote with composer Richard Rodgers and librettist Peter Stone 35 years ago; in recent years, Charnin and Stone worked on a revised version of the script, reintroducing a song - Forty Nights - that had been cut in New Haven prior to Broadway... This fall, though both his collaborators are gone, Charnin was able to give TWO BY TWO a fresh start at the Cumberland County Playhouse, in Crossville , Tennessee , where he directed the world premiere of this version...As the song says, You got a newer Noah on your hands...
ON THE BIG SCREEN: Audiences flocking to the movies this past holiday season heard the sound of our music in several feature flicks...White Christmas made its annual appearance, this time in both Tim Allens CHRISTMAS WITH THE KRANKS and Tom Hanks POLAR EXPRESS...Hello, Young Lovers and Artificial Flowers were crooned by Kevin Spacey as Bobby Darin in the bio pic, BEYOND THE SEA...Shall We Dance? dazzled as the title song and theme of the same-titled Richard Gere-Jennifer Lopez remake of the Japanese original... The Sound of Music was hummed by Rene Zellweger - aka Bridget Jones herself - in a filmic homage to the R&H movie classic at the start of BRIDGET JONES: THE EDGE OF REASON...and Blue Skies, Marie and Ill Be Seeing You helped reflect the bygone era captured in Martin Scorseses THE AVIATOR.
ON THE SMALL SCREEN: This will be the DVD release of the year...About as close to perfection as were likely to get!...So wrote Ken Mandelbaum on Broadway.com regarding the long-awaited (to put it mildly) DVD release of the original 1957 version of Rodgers & Hammersteins CINDERELLA starring Julie Andrews...This special edition from Image Entertainment also features a behind-the-scenes documentary, an extensive photo gallery, and another never-before-released gem: R&H themselves promoting CINDERELLA on The Ed Sullivan Show, exactly one week before broadcast; for more, visit www.image-entertainment.com ...Other new and noteworthy springtime DVD releases include Michael Kantors epic documentary, BROADWAY: THE AMERICAN MUSICAL (PBS), which traces the history of the musical over more than a century, captured in six one-hour installments and augmented by more than five hours of bonus material...and BROADWAY: THE GOLDEN AGE (RCA Victor), Rick McKays heartfelt tribute to the Golden Age, with over 100 stars giving first-hand accounts of what that legendary era was like.
I COULD WRITE A BOOK: Several of Ethan Morddens decade-by-decade, non-consecutive studies of the Broadway musical have taken their titles from songs in our catalogue, including his surveys of the 1920s (MAKE BELIEVE), and the 1940s (BEAUTIFUL MORNIN); his latest, on the musicals of the 1930s, continues that trend with SING FOR YOUR SUPPER, due from Palgrave Macmillan in March...THE RISE AND FALL OF THE BROADWAY MUSICAL (Northeastern University Press) by Mark N. Grant tips its hand with the cover (above) - a digitally-composed shot (we presume) of Joan Roberts as Laurey in OKLAHOMA!, cavorting with George ODowd (aka Boy George) in one of his more surreal outfits from 2003s TABOO... YOUVE GOT TO HAVE A DREAM: THE MESSAGE OF THE MUSICAL looks for liturgical lessons in the songs and plots of the great musicals; first released in Britain in 2004 by SCM Press, the Rev. Ian Bradleys book will be published by Westminster John Knox Press in America this spring...THE THEATERMANIA GUIDE TO MUSICAL THEATER RECORDINGS (Back Stage Books) promises to be an invaluable resource for serious collectors, containing reviews of more than 1,000 cast albums and soundtracks; edited by Michael Portantiere and scheduled for publication in January, the books contributing writers include Gerard Alessandrini, Richard Barrios, Ken Bloom, and Peter Filichia...Already proving to be must-have additions to the mavens collections are BROADWAY MUSICALS: THE 101 GREATEST SHOWS OF ALL TIME (Ken Bloom again, this time with Frank Vlastnik for black Dog & Leventhal)...A MUST SEE! BRILLIANT BROADWAY ARTWORK (Steven Suskin, Chronicle Books)...and BROADWAY: THE AMERICAN MUSICAL (Laurence Maslon, Bulfinch), the awesome companion volume to the awesome PBS documentary series...Ted Chapins chronicle of the making of FOLLIES, entitled EVERYTHING WAS POSSIBLE, recently received the ASCAP Deems Taylor Award, and is coming out in paperback from Applause Books in April...Alan Andersons chronicle of Irving Berlins World War II all-soldier show THIS IS THE ARMY, entitled THE SONGWRITER GOES TO WAR, was just released by Limelight Editions...Since her amazing career in show business included the role of Cinderellas snorting stepsister Portia in the original 1957 version of R&Hs CINDERELLA, this TV legend includes stories of that historic broadcast in her new autobiography, HOW I LOST 10 POUNDS IN 53 YEARS: A MEMOIR BY KAYE BALLARD, written with Jim Hesselman (Argent Books)...Scheduled for publication next fall, IRVING BERLINS SHOW BUSINESS (Harry N. Abrams) promises to be a lavish and eye-opening page turner that conveys Irving Berlins American century through an array of images, many never before seen, including photographs, costume sketches, set designs and more; David Leopold is the books author, its tenacious gatherer of ephemera, and curator for an upcoming travelling exhibit inspired by its content; stay tuned for more details.
"
You must log in before you can post comments. You can login
here
.