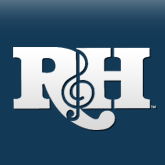 Musical Notes
"
BRISK, LIVELY, MERRY AND BRIGHT: ALLEGRO is that rare case -- a Rodgers and Hammerstein musical that failed to find its original audience -- and its demise perplexed them both; in his 1975 autobiography Rodgers wrote, ""From time to time, various ideas for revising ALLEGRO have been proposed, and though so far none has seemed feasible, I still keep hoping""...Early next year, by arrangment with Dena Hammerstein for James Hammerstein Productions, Inc., the acclaimed Signature Theatre of Arlington, Virginia, will present the world premiere of a ""revised, revitalized and re-imagined"" ALLEGRO, with a new book by Joe DiPietro, new orchestrations by Jonathan Tunick, and directed by Eric Schaeffer...For more, visit www.signature-theatre.org.
COME HOME: ALLEGRO was once described as ""the first really good experimental show"" by Stephen Sondheim, who was brought in as an assistant on the original production by his mentor, Oscar Hammerstein II...In later years, Sondheim would work closely with the Rodgers family, too -- collaborating with both Richard Rodgers and Mary Rodgers...Coming full circle, we are pleased to announce that, effective immediately, Williamson Music will serve as consultant to Stephen Sondheims music publishing interests...Stay tuned for further details.
BRING IN DA BOYZ: In May, the cutting-edge Theatre Royal, Stratford East in London gave a new spin -- literally -- to Rodgers and Harts THE BOYS FROM SYRACUSE...Based on an idea by ULTZ, who also serves as its director, and with its songs remixed and sampled by BBC Radios DJ Excalibah and rap artist MC Skolla, DA BOYZ fuses classic Rodgers and Hart with hip-hop, rap, garage, break dancing, bashment and R&B...For more information visit www.stratfordeast.com...Later this summer another Rodgers and Hart classic will visit London, when the acclaimed Leicester Haymarket production of ON YOUR TOES taps and pirouettes into Royal Festival Hall, hailed by The Guardian as ""sexy, sassy and satirical,"" and once again directed by Paul Kerryson, choreographed by (and starring) Adam Cooper...Select performances begin August 4; visit www.rfh.org.uk for the full schedule.
OL MAN RIVER: The original production won 7 Tony Awards, including Best Musical...It featured an invigorating score by country music legend Roger Miller, a Twain-toned book by William Hauptman, ran on Broadway for over 1,000 performances, and gave an unforgettable musical voice to Huckleberry Finn...The R&H Theatre Library is the proud licensor of BIG RIVER, and pleased to report that a unique version of this American saga will come to Broadway this summer...Deaf West Theatre of Los Angeles, by arrangement with the Mark Taper Forum, will present its award winning production of BIG RIVER at the Roundabout Theatres American Airlines Theater starting July 1...Directed by Jeff Calhoun, this BIG RIVER adheres to the Deaf West practice of weaving sign language into the staging, and featuring both hearing and non-hearing actors together...For more, visit www.deafwest.org.
THE OTHER GENERATION: FREAKY FRIDAY, Mary Rodgers modern fable about a mother-daughter switcheroo, was first published in 1972 and keeps appealing to new generations...Its popularity has been helped along, no doubt, by a 1977 motion picture version starring Barbara Harris and Jodie Foster (screenplay by Rodgers); a 1991 musical for Theaterworks/USA (music by Rodgers, book and lyrics by John Forster); and a 1995 ABC-TV remake, starring Shelley Long...And now coming from Walt Disney Pictures in August will be a new motion picture remake, starring Jamie Lee Curtis and Lindsay Lohan (THE PARENT TRAP).
LAND THAT I LOVE: As reported in our previous issue, Irving Berlins devotion to the USA and its Armed Forces was expressed in his 1942 all-soldier show, THIS IS THE ARMY, which not only raised tens of millions of dollars for Army Emergency Relief but also led to the creation of the United States Army Soldier Show, an annually-revised musical revue performed by soldiers for soldiers at US military installations worldwide...The 2003 U.S. Army Soldier Show features a special tribute to Berlin...For more information, visit www.armymwr.com.
MOONSTRUCK: New York City Centers Encores! series staged its first operetta earlier this spring, and critics and audiences alike swooned for THE NEW MOON, the swashbuckling 1928 songfest by Sigmund Romberg and Oscar Hammerstein II; directed by Gary Griffin, with Rob Fisher leading a 32-piece orchestra, a dreamy cast headed by baritone Rodney Gilfrey, soprano Christiane Noll and tenor Brandon Jovanovich dazzled their way through ""Lover, Come Back To Me,"" ""Softly, As in a Morning Sunrise,"" ""Stouthearted Men,"" and more...It was, according to the Daily News, ""the best show in town""...This was Hammerstein without Rodgers, of course, and in early May Encores! did a reciprocal turn, presenting Rodgers first post-Hammerstein musical, and his only solo Broadway score; NO STRINGS (1962) was directed and choreographed by Ann Reinking, with James Naughton and newcomer Maya Days as the star-crossed lovers...NO STRINGS concluded Encores! 10th Anniversary season, which also brought to a close the glorious reign of City Centers President, Judith Daykin; we wish Judith all the best in her deserved retirement, and we know there will never be another ""living playbill"" quite like her...Reprise!, the Los Angeles equivalent to Encores!, will present BABES IN ARMS for 16 performances starting in early September; visit www.reprise.org for details.
MR. RODGERS NEIGHBORHOOD: In June, Public School 166 on Manhattans Upper West Side was renamed for one of its most famous alumnus, Richard Rodgers...An energetic and proactive Parents Association led the campaign to rename the school and subsequently focused many of the schools springtime activities on the music of Richard Rodgers, including a fashion show, a school dance, a fund-raising auction and a student/parent singalong...The Richard Rodgers School also hosted the official premiere of GETTING TO KNOW...THE KING AND I (see story, p. 5), and will soon install a Rodgers exhibition.
LET THE ""MEMORY"" LIVE AGAIN: The CATS are being let out of the bag ...Though the R&H Theatre Library is now accepting licenses for professional productions beginning in 2004, the Really Useful Group has authorized several professional theatre companies to present the Andrew Lloyd Webber feline phenom to their audiences this year...The first independently designed and directed production of CATS occurred at the Marriott Theatre in Lincolnshire, Illinois...Other theaters herding CATS this year include North Shore Music Theater (Beverly, Mass.), California Musical Theatre (Sacramento, CA), Cumberland County Playhouse (Crossville, Tennessee) and Frost Fire Theater (Walhalla, Idaho).
ONE FOOT, OTHER FOOT: Starting this summer, visitors to Times Square will be able to rent special headsets and embark on the theatre districts first audio walking tour...WALKIN BROADWAY, presented by Town Square Productions and narrated by TV and radio personality Elliott Forrest, will feature stories about Broadway legend and lore, with comments from many of the figures involved; among those participating are our own Mary Rodgers, speaking about her father in front of his namesake theatre, and Linda Emmet, speaking about her father, Irving Berlin, in front of the theatre he helped to build -- the Music Box...Visit www.walkinbroadway.com for more information...Irving Berlin is also part of BIRTHPLACE OF DREAMS, a new cell-phone audio walking tour of New Yorks Lower East Side that covers many of the streets and sights that were part of the songwriters American childhood...Visit www.candidemedia.com for more information."
You must log in before you can post comments. You can login
here
.