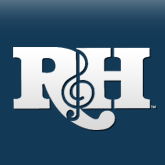 Musical Notes
"
DOIN' WHAT COMES NATUR'LLY: Country music superstar Reba McEntire made her Broadway debut in late January as Annie Oakley, leading the Tony-winning revival of Irving Berlin's Annie Get Your Gun into its third year on Broadway...It wasn't just her 40 million records sold, 10 movies and tons of awards, but years of working the national rodeo circuit that made McEntire a natural as Annie Oakley, a character she previously portrayed in the (non-musical) 1995 CBS mini-series, BUFFALO GIRLS...With Brent Barrett as her Frank Butler, Reba is also joined by Larry Storchas Sitting Bull, direct from the ongoing U.S. National tour...That tour, meanwhile, continues with Marilu Henner and Tom Wopat in the leading roles, with upcoming visits to Los Angeles, San Francisco and Atlanta...For more, visit www.anniegetyourgun.com.
THEY SAY IT'S WONDERFUL: It was, according to Rex Reed in the New York Observer, ""the most eagerly awaited video release of the new millennium"" ...As reported in our previous issue, the 1950 M-G-M movie version of Annie Get Your Gun starring Betty Hutton and Howard Keel had been out of circulation for over 25 years, putting it at the top of collectors' ""most wanted"" lists...However, that all changed in November, when Warner Home Video issued the first VHS and DVD editions of Annie Get Your Gun, followed by a special edition of the ANNIE soundtrack from Rhino Records...In October, the moviecs 50th anniversary milestone was celebrated in Hollywood with a special one-night-only screening, hosted by the Academy of Motion Picture Arts and Sciences, with co-star Keel joined by director George Sidney and screenwriter Sidney Sheldon...""After spending more than half its life in exile,"" wrote Tom Shales in the Washington Post, ANNIE GET YOUR GUN ""returns in all its melodic, energetic, Technicolor glory...[It] is one of the most entertaining movie musicals ever made.""
SOMETHING GOOD: The most successful movie musical ever made had been quiet for the past few years, especially since Fox Home Video took The Sound of Music off the market in the late '90s and NBC refrained from its seasonal broadcasts...Y2K, however, brought us SING-A-LONG SOUND OF MUSIC as a bona-fide, global phenomenon (see below); the publication of Charmian Carr's charming memoir, FOREVER LIESL, which soon became a national best-seller (Penguin paperback edition due out in April); a Christmastime airing of the movie on NBC (shown in its entirety and punctuated by frequent visits to a performance of SING-A-LONG SOUND OF MUSIC in Greenwich Village) that proved the film's resiliency as a ratings bonanza for the network; and a British TV documentary, aired on New Year's Eve, which tracked down all seven ""children"" from the film and led them on a cheerful, if tearful, reunion to Salzburg, where they shot the movie 36 years ago...Last fall, fans were treated to newly polished home video, DVD and soundtrack releases of The Sound of Music too...First seen on home video in 1979, and still #1 on Billboard's roster of longest-selling videos,The Sound of Music held its own on the US Top 5 video sales charts yet again, from Labor Day to early October, while the DVD (replete with an extra disc of bonus material) and the RCA soundtrack CDs (in both single and 2-CD ""Collector's Edition"" formats) scored high on the charts as well...Fans eager to conduct SING-A-LONG gatherings in the privacy of their own homes have that option on the DVD, by virtue of the English-language subtitles provided; linguistic types can even listen to the film dubbed in French while reading its subtitles in Spanish, providing multiple answers to the question, ""How do you find a word that means Maria?""
THE HILLS ARE ALIVE: The saga of SING-A-LONG SOUND OF MUSIC continues; begun in August 1999 as a few-week-frolic in London's West End, it has been playing there ever since, with current bookings at the Prince Charles Cinema taking it into late Spring '01...Even as a British touring version heads into its second year, engagements are popping up in Ireland, Australia, Sweden and Norway...In September, America welcomed its first SING-A-LONG SOUND OF MUSIC at the grand Ziegfeld Theatre in Manhattan...Hosted by 20th Century Fox, the gala premiere brought out the film's Gretl (Kym Karath), Rolf (Dan Truhitte) and Liesl (Charmian Carr), as well as cleverly costumed first-nighters dressed as everything from musical notes and snowflakes to Alpine Frauleins and lonely goatherds (who were not so lonely once they discovered the real goats grazing under the movie marquee)...After a sold-out, two-week run at the Ziegfeld, SING-A-LONG moved downtown to a cozier home in more apt environs: the Waverly Cinema in Greenwich Village...With 20,000 fans flocking to it by year's end, SING-A-LONG will continue its New York run indefinitely with a series of return engagements... Meanwhile, SING-A-LONG hits the road this spring, with bookings in Philadelphia, St. Louis, Toronto and San Francisco...Check www.singalonga.com for updates.
SOMETHING WONDERFUL: As noted elsewhere in this issue, 2001 marks the 50th anniversary of The King and I, which took its first regal bow at the St. James Theatre on Broadway, March 29, 1951...As part of its on going Broadway musical lecture series, New York's Metropolitan Museum of Art will host a special afternoon tribute to THE KING AND I on April 10... Hosted by June LeBell, and by arrangement with this Organization, the program will feature TV and film clips, original cast reminscences and live musical performances...For tickets and further information, call 212-570-3949...The best tribute to The King and I, of course, is its enduring popularity; domestically, the R&H Theatre Library licenses over 400 productions ofThe King and I annually in the U.S. and Canada alone, and this year is no exception ...Internationally, Austrian star Alfonse Haider recently completed a two-year tour in DER K=85NIG VON SIAM in Germany, Austria and Switzerland, while American-Israeli actor Mike Burstyn hopes to soon star in HA'MELEKH V'ANI in Tel Aviv...A match for any King, of course, is the Queen of British musical theatre, Elaine Paige, who leads the current, record-breaking run of THE KING AND I at the London Palladium, on course to pass its first anniversary in May (visit www.kingandi.co.uk for further information).
IT'S POSSIBLE: ""With [the new] national touring production of Cinderella,"" announced Variety, ""director Gabriel Barre and writer Tom Briggs prove it's possible to turn a charming TV musical into a magical stage production!""...An all-new stage adaptation of Rodgers & Hammerstein's Cinderella began its US National Tour in November, starring Eartha Kitt as the Fairy Godmother, Deborah Gibson as Cinderella, Paolo Montalban as the Prince (recreating his role from the '97 TV version), and Ridiculous Theatrical Company veteran Everett Quinton as the Wicked Stepmother...The gilded pumpkin coach will roll across North America well into 2001, with upcoming cities this spring to include Chicago, Toronto, Minneapolis, Atlanta, New Orleans and New York...This ""wholly new musical"" will not only ""dazzle the youngest audiences,"" promised Variety, but ""also satisfy the most jaded adults.""
EXPLORING BERLIN: The life and career of Irving Berlin will be explored in a spring concert series at the New-York Historical Society on four consecutive Mondays beginning April 2...Moderated by Berlin historian Robert Kimball, and directed by Scott Alan Evans, UNDENIABLY BERLIN will examine this uniquely American figure, a writer equally at home on Broadway, in Hollywood, and along Tin Pan Alley...The series is part of the American Musicals Project, a joint venture of the NYHS and the New York City Board of Education; chaired by Alan Levenstein, it seeks to use ""the power and emotional energy of American musical theatre masterworks...to teach city- and state-mandated requirements in seventh and eighth grade Social Studies and Language Arts [courses]""...For more information on UNDENIABLY BERLIN, call 212-873-3400, ext. 0. =20
I COULD WRITE A BOOK: Our writers are represented in several books and anthologies published this spring...READING LYRICS (Pantheon) is a compendium of more than one thousand lyrics published between 1900 and 1975, including works of Oscar Hammerstein II, Lorenz Hart, Irving Berlin and Dory Langdon Previn, edited by Robert Gottlieb and Robert Kimball...EASY TO REMEMBER: THE GREAT AMERICAN SONGWRITERS AND THEIR SONGS (David R. Godine Pub.) is William Zinsser's personal take on American popular song and musical theatre, analyzing the works of Rodgers, Hammerstein, Hart, Berlin, and others...Lee Davis' SCANDALS AND FOLLIES (Limelight Editions) recounts the history of 20th century Broadway revues, including Berlin's As Thousands Cheer and FACE THE MUSIC, and Rodgers & Hart's GARRICK GAIETIES...In his biography, DANCE WITH DEMONS: THE LIFE OF JEROME ROBBINS (Putnam), Greg Lawrence chronicles the legendary dance master's contributions to such musicals as Miss Liberty, Call Me Madam and The King and I... SHOW AND TELL (Overlook Press), a compilation of profiles written by John Lahr for The New Yorker, features an in-depth portrait of Irving Berlin...As both tormentors and tormentees, Rodgers, Hammerstein and Berlin are included in Barry Dougherty's century-long chronicle, NEW YORK FRIARS CLUB BOOK OF ROASTS (M. Evans)...Another Gotham book, NAMING NEW YORK (NYU Press), and due out later this spring, is a glossary of New York street names compiled by Sanna Feirstein that includes 44th Street between Broadway and Eighth Avenue, also known as ""Rodgers & Hammerstein Row""...Coming in October '01: the long-awaited COMPLETE LYRICS OF Irving Berlin (Knopf), co-edited by Kimball and Berlin's daughter Linda Emmet, and SOMEWHERE FOR ME, a biography of Richard Rodgers by Meryle Secrest (Knopf)...Now being written for an October '02 publication is White Christmas: BIOGRAPHY OF AN AMERICAN SONG (Scribners), in which author Jody Rosen explores the making and meaning of this Irving Berlin standard.
"
You must log in before you can post comments. You can login
here
.