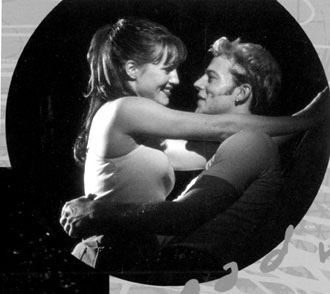 Musical Notes
"
WELCOME TO OUR PARTY: Michael John LaChiusa's haunting musical MARIE CHRISTINE made history as the final Broadway musical of the 20th Century, and then his second work for the same season, THE WILD PARTY, was hailed as ""the first musical triumph of the new century"" by the New York Daily News...The R&H Theatre Library is proud to announce its representation of these two powerful new musicals - MARIE CHRISTINE, which transplants the ancient tragedy of MEDEA to late 19th century New Orleans and Chicago (and is now available for professional production), and THE WILD PARTY, a jazz-soaked re-telling of Joseph Moncure March's epic poem... LaChiusa received 4 Tony nominations this spring, including Best Book and Best Score for MARIE CHRISTINE and Best Book (co-written with George C. Wolfe) and Best Score for THE WILD PARTY...Stay tuned for more information on these groundbreaking new musicals or visit www.rnh.com.
ALL THAT JAZZ: Effective immediately, Williamson Music is proud to administ er three new jazz-inspired catalogues - Second Floor Music (BMI), Twenty-Eighth Street Music (ASCAP), and Minor Second Music (SESAC), all of which were cultivated by famed jazz trumpeter/arranger/producer Don Sickler... Collectively, these catalogues represent over 150 great jazz artists, including Gene Ammons, Clifford Brown, Harold Land, Melba Liston, Hank Mobley, Kenny Dorham, James Williams, Roy Hargrove and Renee Rosnes...Stay tuned for more on these catalogues in a future issue.
AND I'LL SING ONCE MORE: After a four-year hiatus, fans of the most popular movie musical in history can once again purchase newly remastered versions of the home video and - for the very first time - watch and re-watch their favorite scenes on DVD as well, when Fox Home Entertainment releases the 35th Anniversary edition of THE SOUND OF MUSIC later this summer...Using brand new, high-definition transfers from the original 65-millimeter film, these editions have been created under the supervision of original director Robert Wise...The DVD will feature several hours of extra material and commentary, drawn from the 1995 30th anniversary laser disc and supplemented by several new interactive options...For more information visit www.fox.com...Coinciding with the DVD and Home Video reissues will be a digitally remastered, 35th anniversary edition of the Original Motion Picture Soundtrack of THE SOUND O F MUSIC from BMG in both CD and cassette formats; at the same time BMG will release a 2 CD (or cassette) ""Collector's Edition,"" containing the complete soundtrack plus previously unreleased alternative versions of selected song s and musical sequences, excerpts from a rare interview with composer Richard Rodgers, supplementary packaging, photos and more.
SEW - A NEEDLE PULLING THREAD: When SING-A-LONG-A SOUND OF MUSIC first hit London as a karaoke/movie/costume phenomenon last summer (see previous issue ), it was originally slated for a three week run; a year later, SING-A-LONG- A is still going strong at the Prince Charles Cinema, while a companion version tours the British Isles...As the crowds have grown and diversified, so h ave their ambitions in the home-sewn, dress-up department: while native Austrian garb still proliferates, recent winners of the popular intermission costume parade have included ""Ray: A Drop of Golden Sun,"" two ""Wild geese with Moon on their Wings,"" and a clutch of ""Whirling Dervishes""... With a spate of coverage in USA Today, New Yorker, Washington Post, Los Angeles Times, Philadelphia Inquirer, CNN, CBS and ABC, SING-A-LONG-A has been discovered by t he American media, with hopes clamoring high that it will make its way to these shores by the fall...For further info, visit www.singalonga.com... ""If you've always wanted to be part of a musical,"" reported Hilary Brown of ABC News, ""this is your chance!""
SOMETHING GOOD: Direct from its first Broadway revival, the new stage production of THE SOUND OF MUSIC continues to break box office records across the U.S.A. and in Australia...America's Captain von Trapp, Richard Chamberlain, has just handed in his uniform after sixteen months of service that began on Broadway and continued over a 40-week national tour concluded in May; THE S OUND OF MUSIC will resume its cross-continental trek in September, with Corbin Bernsen (L.A. LAW, MAJOR LEAGUE) leading the von Trapp brood; for more, visit www.thesoundofmusic.com ... Meanwhile, the Australian production, lead by popular Aussie TV star Lisa McCune, transferred from Sydney to Melbourne in March where it continued its trend of record-breaking performances; next up is Brisbane... Tour updates can be found at www.soundofmusic.com.au.
TRAV'LING THROUGH THE COUNTRY IS SO THRILLING: The U.S. National Tour of the Tony-winning Best Musical Revival of Irving Berlin's ANNIE GET YOUR GUN kic ks off in Dallas in July; star Marilu Henner, who razzle-dazzled Broadway and national audiences in CHICAGO recently, will go from the role of one pistol-packin' mama to another... Meanwhile, the Broadway company, still headed by '99 Tony Award-winner Bernadette Peters and Tom Wopat, gallops into its second year with a new trophy added to the collection: the 2000 Grammy Award for ""Best Musical Show Album""...For more, visit www.anniegetyourgun.com.
GERMANY WELCOMES BERLIN: Hanover, Germany, is the sight of Expo 2000, now th rough October 31, with over 40 million visitors expected to attend, and a re cord 172 nations participating...A special exhibit within the American pavil ion will salute great American artists and writers, including Eugene O'Neill, Ernest Hemingway, Louis Armstrong and our own Irving Berlin, who will be represented with an archival visual and aural display... For more on Expo 2000,visit visit www.expo2000.de.
MARCHING TO A DIFFERENT DRUM: Tony Award-winning playwright David Henry Hwang (M. BUTTERFLY) has written a new adaptation of the Oscar Hammerstein II-Joseph Fields book for FLOWER DRUM SONG, which will be given its world premier e at the Center Theatre Group/Ahmanson Theatre in Los Angeles in May, 2001. Though the Hwang adaptation will mark a revision in the musical's dialogue and story, its score by Rodgers and Hammerstein will remain intact...FLOWER DRUM SONG will be directed and choreographed by Robert Longbottom... For more, visit www.taperahmanson.com.
THE NEXT TIME IT HAPPENS: PIPE DREAM fans, mark your calendar!...Rodgers & Hammerstein's rarely heard work will be the subject of a talk given by R&H P resident Ted Chapin at the 20th annual Steinbeck Festival, held August 3 to 6, 2000 at the National Steinbeck Center in Salinas, California...Since this year's Festival focuses on Steinbeck and the arts, Chapin will explore the 1955 R&H musical based on Steinbeck's novel SWEET THURSDAY...For news of the Center's permanent exhibit on PIPE DREAM, see Happy Talk, Vol. 5, No. 3 or visit www.steinbeck.org.
LET'S HEAR IT FOR THE BOYS: The Broadway company of FOOTLOOSE, now in its second year, introduced its very own boy band this spring - the self-monikered ""FOOTLOOSE Five,"" featuring a quintet culled from the hottest members of th is hot company, who recorded a brand-new cover version of the show's chart-topping title song with the intent, reported Playbill On Line, to ""lure more screaming teenage girls than usual into the Richard Rodgers Theatre""...Though the U.S. National Tour ended this spring after a year-long, cross-country hike, two more companies are hot on its heels; this summer, Big League Theatricals is presenting FOOTLOOSE for 13 weeks at the Rio Hotel in Las Vegas, while a second company plays at Harrah's Hotel & Casino in Atlantic City, followed this autumn by a 30-week national tour beginning November 17 and set t o visit Wichita, Buffalo, Syracuse, Tallahasse, Charleston, Kansas City, Spokane, and more...Visit www.footlooselive.com for further information.
IS THAT YOUR FINAL ANSWER?: In our previous issue, a quiz question regarding the 1928 silent film version of ROSE-MARIE starring Joan Crawford described James Murray as ""her Mountie""; in fact, Murray played frontier trapper Jim Kenyon...We are sure this error was obvious to most of you; special thanks t o Ethan Mordden for bringing it to our attention."
You must log in before you can post comments. You can login
here
.