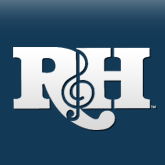 Musical Notes
"
IT'S POSSIBLE: Finally going before the cameras this summer for broadcast on ABC-TV later this year is the long-awaited remake of Rodgers & Hammerstein's Cinderella... With superstar Whitney Houston as The Fairy Godmother, and recording and TV star Brandy in the title role, Cinderella will be directed by Robert Iscove from a new teleplay by Robert L. Freedman... Craig Zadan and Neil Meron of Storyline Entertainment will serve as Executive Producers with Ms. Houston and Debra Chase for a co-production of Walt Disney Telefilms, Storyline Entertainment and Houston Productions...More news, including the rest of the cast, in our next issue.
GOLDEN HAZE IN A LONDON FOG: Fifty years ago London's West End was re-ignited after the dark years of World War II by a bright and sunny new American musical called Oklahoma! that introduced British audiences to a cast of fresh young talent from across the pond headed by Howard (then Harold) Keel, and original Guys and Dolls star Isabel Bigley, sparking a love affair with the musicals of Rodgers & Hammerstein that has continued for half a century...The premiere of Oklahoma! on April 29, 1947 launched a run of 1,548 performances - the longest in the 270-year history of the legendary Theatre Royal, Drury Lane - and ushered in an unprecedented nine-year tenancy of that house by Rodgers & Hammerstein as Oklahoma! gave way, in direct succession, to Carousel (1950-51), South Pacific (1951-53) and The King and I (1953-56)...The Oklahoma! summer of '47 also marked the start of a romance between England's Princess Elizabeth and Prince Philip of Greece; this year, as the Royal Couple celebrates their golden wedding anniversary, Halcyon Days of London will issue a music box playing the song that greeted them everywhere that summer - ""People Will Say We're In Love.""
NO-H BUSINESS LIKE SHOW BUSINESS: In her lifetime, Annie Oakley visited the Crowned Heads of Europe, but as a musical comedy heroine she's become a frequent visitor to Japan as well, ever since her debut there in 1964...The newest full-scale Japanese revival of Irving Berlin's Annie Get Your Gun opened at the Koma Theatre in Tokyo in April, starring Yumiko Takahashi as Annie and Zen Ishikawa as Frank Butler, with a summer run planned for the Chunichi Theatre in Nagoya... Shinko Music has just published a new Japanese-English songbook folio inspired by this production.
THIS WAS A REAL NICE CLAMBAKE: After travelling for fifteen months and to more than 40 cities, the U.S. National Tour of the acclaimed 1994 Tony Award-winning, Royal National Theatre production of Carousel finally came to an end in May, in the aptly New English locale of Providence, Rhode Island...Presented by Columbia Artists Management Inc., with direction by Nicholas Hytner, choreography by the late Sir Kenneth MacMillan and designed by Bob Crowley (Tony winners all), Carousel received ecstatic reviews across the country, with critics from Boston to San Francisco echoing their London and New York colleagues who cited this production as a revelatory milestone...Carousel's eight-week engagement at the Ahmanson Theatre in Los Angeles last summer was particularly triumphant, and while there the musical received 8 Drama-Logue Awards including Best Production; two Los Angeles Drama Critics' Circle Awards, for Best Musical Direction (to Kevin Farrell) and Best Choreography (MacMillan); and two Ovation Awards...The Carousel hasn't stopped turning, however; another tour goes out in the Fall.
NEWS FROM THE FLEET: The Show Boat Armada continues to sail across America, with three separate companies of the Tony-winning production presented by Livent, Inc. dropping anchor in ports from Boston to Costa Mesa, from Calgary to Houston...Heading up each tour as Cap'n Andy and Parthy respectively are: Len Cariou and Cloris Leachman, Tom Bosley and Karen Morrow, and Pat Harrington and Anita Gillette...Upcoming international ports of call for Show Boat include Australia and New Zealand in 1998...For further information visit the new Livent website at www.livent.com.
WHERE THE BOYS ARE: The Boys From Syracuse was presented in May as the fourth-season finale of New York City Center's riotously successful series, Encores! Great American Musicals in Concert, with a cast headed by Davis Gaines and Malcolm Gets as the twin Antipholi and Michael McGrath and Mario Cantone as their Dromios, with stellar support from Rebecca Luker, Debbie Gravitte, Sarah Uriarte Berry, Marian Seldes, Julie Halston and Tom Aldredge...Getting this cast to sing for their supper: Director Susan H. Schulman, Choreographer Kathleen Marshall and members of the Coffee Club Orchestra under the baton of Musical Director Rob Fisher...More on THE BOYS, including news of its recording, in our next issue.
CAREFULLY TAUGHT: Richard Rodgers and Oscar Hammerstein II are the focus of a special public service TV campaign geared to students that highlights great lives shaped by education...Created by Cecil Productions, the ""Excellence"" series brings high school students together with local news anchors to report on historical figures...The thirty-second television segment on R&H will air regionally beginning this summer.
AND ONE-TWO-THREE: Shall We Dance? is a new Japanese movie about ballroom dancing that draws its title and theme from the famed King and I showstopper...Written and directed by Masayuki Suo, the film was an enormous success in Japan last year and, after concluding this year's New Directors/New Film series in New York, was given a national release from Miramax in the spring...""Shall We Dance?"" also appeared this spring in the Robin Williams-Billy Crystal comedy Fathers' Day...What '70s disco did for Australia's hit film, Priscilla, Queen of the Desert, Rodgers & Hammerstein has been tagged to do for Welcome to Woop-Woop, director Stephan Elliott's follow-up to Priscilla that focuses on a bizarre town in the Outback where everyone shares a communal passion for the songs of R&H; Welcome to Woop-Woop premiered at the Cannes Film Festival in May and is slated for international release later this year...One sinister sequence from Roger Christian's black comedy UNDERWORLD, released by Keystone in May, finds Denis Leary, Joe Mantegna, and Annabella Sciorra holding a discourse on the merits of Rodgers & Hammerstein and Irving Berlin, with copious musical examples included...Other songs represented by Williamson Music in this summer's crop of movies include Berlin's ""Cheek to Cheek"" in the Walter Matthau-Jack Lemmon comedy Out To Sea, and UB40's cover of ""Can't Help Falling in Love"" in the Sandra Bullock-Jason Patric thriller, Speed II (the third film to feature the UB40 version of this Presley classic following Fools Rush In and Sliver).
CONCERTED EFFORTS: Effective immediately, The R&H Concert Library will be represented in key European territories by Josef Weinberger, Ltd. (already the R&H Theatre Library representative in those countries), proving that music is the international language as orchestral works by Rodgers, Berlin, Porter and others are heard in Britain, Ireland, Germany, Austria, Switzerland and Scandinavia.
YADA, YADA: The tidily encompassing phrase ""Yada yada"" - sure to rival the King of Siam's ""etcetera etcetera etcetera"" - was first coined by Dory Previn Shannon in her 1971 song ""Yada Yada La Scala,"" featured in The Dory Previn Songbook (Williamson Music), but it reached immortality one week this April as the punchline to a Dilbert comic strip, and as the catalyst to a now-legendary Seinfeld episode...Also in April, Previn Shannon was represented with former husband and collaborator Andr Previn by The Magic Number, a new work for voice and orchestra which premiered with Previn conducting the New York Philharmonic and soloist Sylvia McNair, and broadcast nationally...In the works for Previn Shannon: her first novel, a solo music-theatre work, and yada yada...
PROUD OF THE COMPANY WE KEEP: Simultaneous with The R&H Theatre Library's representation of Adam Guettel's new musical, Floyd Collins (see story, p. 7), Williamson Music is proud to now administer Guettel's catalogue, Matthew Music (ASCAP), which contains theatre works, documentary scores and individual compositions... R&H Music's Lindy Robbins will have several of her songs recorded this summer, including ""Gone as a Man Can Get"" by Lainie Kazan and ""I Don't Want To Be Away From You"" by Billy Stritch... Williamson composer Ricky Ian Gordon is collaborating with Angels in America playwright Tony Kushner on an opera, as yet untitled, to be premiered by the Seattle Opera in 2000."
You must log in before you can post comments. You can login
here
.