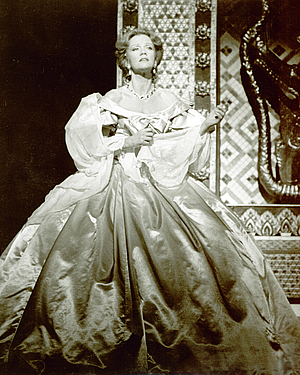 Musical Notes
"
AN OPENING FOR A PRINCESS: After 36 years - and many sleepless nights - Princess Winnifred has returned to Broadway in her musical tale ONCE UPON A MATTRESS . . . Opening at the Broadhurst Theatre in late December, the Mary Rodgers / Marshall Barer / Dean Fuller / Jay Thompson musical now stars Sarah Jessica Parker as the girl who won't take ""hey nonny nonny no"" for an answer . . . Directed by Tony-two-timer Gerald Gutierrez and produced by THE KING AND I's Dodger Productions, this MATTRESS will release its cast album on RCA Victor later this spring.
CLIMB EV'RY MOUNTAIN: Just one month before it was taken off the video sale shelves for the last time this century, THE SOUND OF MUSIC reached another awesome milestone when it clocked 300 accumulative weeks on the Billboard Top-40 sales chart - a figure that goes back to the video's original release in November of '79 . . . Billboard estimates that this 300-weeker marks THE SOUND OF MUSIC as the longest Top-40 selling video in history, with the nearest runner-up more than 100 weeks behind.
TRAVELLING BY SHOW BOAT: After more than two years on Broadway, playing to 1.5 million theatregoers and bringing in a record-breaking $103 million at the box office, the multi-award winning Livent production of SHOW BOAT closed on January 5, 1997 . . . A national tour, starring Broadway stalwarts John McMartin and Carole Shelley, began shortly thereafter and will join a fleet of Livent SHOW BOAT's already criscrossing America, including the vessel now headed by Dick Van Patten and Joyce Van Patten - which will pull up anchor in Chicago after a year-long run to begin its tour - and the flagship starring Ned Beatty and Cloris Leachman, which will resume touring in April, after its six-month winter dry-dock at Los Angeles' Ahmanson Theatre . . . With an itinerary booked into the next century, these three SHOW BOAT's are to visit such cities as Atlanta, Boston, Cleveland, Detroit, Denver and St. Louis . . . Livent's SHOW BOAT is also priming for a long sea voyage, and will give its Australian premiere in Melbourne in early 1998.
POLLYANNA LEONOWENS: Beloved international film star Hayley Mills, who charmed audiences in such Disney classics as THE PARENT TRAP and POLLYANNA, created the role of Anna Leonowens in the 1991 Australian production of THE KING AND I that eventually travelled to Broadway, where it won every top honor as the Best Musical Revival of 1996 . . . Now the Tony winner is hitting the road and its first Anna will come along, starring in the National Tour that begins in Minneapolis in April before heading to Washington DC, Baltimore, Seattle, and beyond; Hayley's King, at press time, had yet to be crowned . . . Meanwhile, the Broadway production of THE KING AND I, now heading into its second season at the Neil Simon Theatre, boasts a new Broadway cast recording from Varse Sarabande, and a special souvenir folio edition of the vocal selections from Williamson Music.
DESIGNS FOR LIVING: Legendary Broadway scenic designer Jo Mielziner (1901-76) was as innovative with a scrim or light gel as Rodgers and Hammerstein were on the written page; it is no wonder that the men were mutually-inspired collaborators. Mielziner's contributions to the original productions of such landmark musicals as CAROUSEL, SOUTH PACIFIC and THE KING AND I (not to mention PAL JOEY and ON YOUR TOES) are vividly apparent in a new exhibit on his work, SCENIC POET OF THE THEATRE, curated by Dr. Mary Henderson and on view at the Main Gallery of the New York Public Library for the Performing Arts at Lincoln Center, through April 26 . . . One of Mielziner's most breathtaking artifacts, a watercolor of ""Bali Ha'i"" from SOUTH PACIFIC, is on display at another exhibit of interest to musical lovers: RED, HOT & BLUE: A SALUTE TO THE AMERICAN MUSICAL, at the National Portrait Gallery in Washington DC through July, uses photos, design sketches, set models, rare film and audio clips, show posters and memorabilia to tell the story of the American musical over the past 100 years (see Happy Talk, Vol. 4, No. 1 for more details) . . . A final item for museum-goers: at the James A. Michener Art Museum in Doylestown, Pennsylvania, a new wing dedicated to the famed author's late wife, Mari Sabusawa Michener, pays homage to 12 great artists with strong ties to Bucks County, including longtime resident Oscar Hammerstein II . . . In this multi-media permanent exhibit, Hammerstein's life and works are conveyed through show posters, photo stills and audio clips.
OSCAR HAMMERSTEIN SAVES THE WORLD! According to Tim Burton's wacky sci-fi spree MARS ATTACKS!, only the well-timed use of a certain Hammerstein lyric is able to stop a cadre of dreaded Martian foes from destroying civilization as we know it; to be more specific might alienate us from future moviegoers . . . Other songs from Williamson Music now playing at a theatre near you: Berlin's ""Cheek to Cheek"" and Rodgers & Hart's ""Where or When"" in the haunting Ralph Fiennes film THE ENGLISH PATIENT... ""White Christmas,"" framing the Nick Nolte-Kurt Vonnegut MOTHER NIGHT . . . ""Puttin' On The Ritz"" as crooned by Walter Matthau in I'M NOT RAPPAPORT . . . ""I Didn't Know What Time It Was"" in the TERMS OF ENDEARMENT sequel EVENING STAR with Shirley MacLaine . . . Presley's ""Treat Me Nice"" in MY FELLOW AMERICANS, and ""Pocketful of Rainbows"" in the Tom Cruise smash, JERRY MAGUIRE . . . Trivia on THE SOUND OF MUSIC, along with a touching usage of ""Sixteen Going on Seventeen,"" in the independent British film, BEAUTIFUL THING . . . And a unique take on ""Shall I Tell You What I Think of You?"" in the film version of Terrence McNally's hit Broadway play LOVE! VALOUR! COMPASSION!, coming out this spring.
JINGLES ALL THE WAY: During the Superbowl, America was introduced to a new rendition of ""Some Enchanted Evening"" by the debonair duo of Bobby Short and Miss Piggy as part of a new TV ad from Frito-Lay . . . R&H Music lyricist Sheldon Harnick's classic from FIDDLER ON THE ROOF, ""If I Were a Rich Man,"" is the cornerstone of a new, year-long worldwide ad campaign from Intel, the computer conglomerate . . . And Irving Berlin's ""Cheek To Cheek"" provides the soundtrack for a series of mouth-watering ads from Philadelphia Cream Cheese.
THE MELODY LINGERS ON: Irving Berlin was the subject of this year's 5th annual ""Salon at the Taper"" gala at the Mark Taper Forum in Los Angeles on February 3, benefitting the Center Theatre Group . . . Entitled SAY IT WITH MUSIC, the evening of songs and recollections was produced by Susan Clines; scheduled to appear were Berlin's daughter Mary Ellin Barrett, longtime family friend Samuel Goldwyn Jr., and such headliners as Tyne Daly, George Gaynes, Andrea Marcovicci, Allyn Ann McLerie, and Joe Williams . . . Two new songbooks from the Irving Berlin Music Company, based on recently-released and happily-heralded recordings, are LOUISIANA PURCHASE (see Happy Talk, Vol. 4, No. 1) and UNSUNG IRVING BERLIN (Vol. 3, No. 1). The former features songs from the score of Berlin's 1940 musical comedy, and the latter offers long-overlooked gems from the master's trunk.
Encore Encores!: For the fourth season of New York City Center's popular series Encores! Great American Musicals In Concert, Rodgers and Hammerstein will both be represented - but not together. The February 13-16 entry will be Sweet Adeline, Hammerstein & Kern's first musical after Show Boat, with Rodgers & Hart's Shakespearean romp, The Boys From Syracuse from May 1-4. For further information call CityTix at (212) 581-1212."
You must log in before you can post comments. You can login
here
.