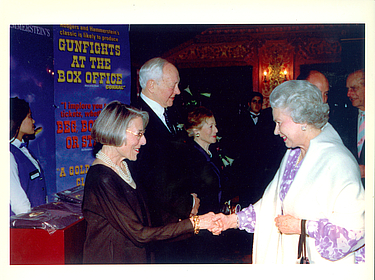 Musical Notes
"
BULLS EYE!: After more than 30 years, Irving Berlin's ANNIE GET YOUR GUN is returning to Broadway and for the first time without The Merm...This time, Bernadette Peters will star as Annie Oakley, with Tom Wopat as her gun-toting rival and love interest, Frank Butler...Produced by Barry and Fran Weissler (CHICAGO), with the Herbert and Dorothy Fields book revised by Peter Stone (TITANIC), ANNIE GET YOUR GUN will be directed and choreographed by Graciela Daniele (RAGTIME), co-choreographed by Jeff Calhoun (Encores! STRIKE UP THE BAND), orchestrated by Bruce Coughlin ('98 Drama Desk nominee for THE SOUND OF MUSIC) and designed by the Tony-winning quartet of Tony Walton (sets), William Ivey Long (costumes) and Jules Fisher and Peggy Eisenhauer (lighting)... Following an out-of-town engagement in Washington, D.C. this winter, ANNIE GET YOUR GUN will open at Broadway's Marquis Theatre in February '99.
NO TUNE UN-STONED: ANNIE GET YOUR GUN will actually be the first of two ""collaborations"" between Irving Berlin and the above-mentioned Peter Stone... Following his commitment to ANNIE, Stone will co-author, with Philip Oesterman, the book for Tommy Tune's stage adaptation of Berlin's 1948 MGM classic, EASTER PARADE...A producing consortium led by James M. Nederlander will bring EASTER PARADE to Broadway before the close of the century. Stay Tuned.
MY FAVORITE THINGS: As noted elsewhere, Rodgers & Hammerstein were recently included among Time Magazine's 20 top ""Artists & Entertainers"" of the 20th Century... Another century-closing list we were proud to make: The American Film Institute's roster of the ""100 Best American Films of All Time""...Over 400 titles were suggested by the Institute (including CARMEN JONES, TOP HAT and OKLAHOMA!), which a cross-section of 1500 prominent Americans narrowed down to an elite 100... Only a handful of musicals made the cut, and among them was THE SOUND OF MUSIC at #55 (between ALL QUIET ON THE WESTERN FRONT and M*A*S*H)...The top 100 were celebrated on a CBS special in June, and then showcased on a summer-long series on TNT...To salute the film's inclusion on the AFI list, Fox Video has temporarily suspended its self-imposed moratorium on home video sales for THE SOUND OF MUSIC, making it available until the end of the year.
THE PARENT TRAPPS: A&E's acclaimed ""Biography"" series will air an hour-long profile of the von Trapp family in early December (check local listings), following the story of Maria and Georg von Trapp and their brood... A sizable portion of the program will focus on THE SOUND OF MUSIC, including interviews with our own Anna Crouse, wife of co-author Russel Crouse, and Ted Chapin...Meanwhile, the von Trapps at Broadway's first revival of THE SOUND OF MUSIC continue to march on at the Martin Beck Theatre; plans are underway to launch a National Tour sometime next year.
BRIGHT AND BREEZY: Warner Bros. Family Entertainment and Morgan Creek Productions will release an all-new animated feature film based on THE KING AND I, due in theatres late March, 1999... Christiane Noll, currently starring on Broadway in JEKYLL & HYDE, is the singing voice of Anna and will perform ""Getting To Know You"" during Macy's Thanksgiving Day Parade on NBC this Fall...For more on THE KING AND I, stay 'tooned.
ALWAYS THE BRIDESMAID: Looking for an unusual place to pop the question? Marriage proposals during the curtain call are becoming a regular occurrence at I Love You, You're Perfect, Now Change, the hit Off-Broadway revue now in its third year... Good news for potential bridegrooms the New York producers are offering plenty of opportunities for getting down on bended knee...Last summer saw successful runs in Toronto, at Marriott's Lincolnshire Theater outside Chicago, and the American Heartland Theatre in Kansas City, with open-ended runs this Fall in Los Angeles, Detroit, and Coral Gables, Florida...Upcoming venues include Australia, England and proving that love can be hellish in any language Italy, Germany, Spain and Israel.
YOU MUSTN'T KICK IT AROUND: For reasons unfathomable to us here in the U.S.A., the CAROUSEL Act II anthem ""You'll Never Walk Alone"" has long been adopted in Great Britain as that nation's football (i.e., soccer) equivalent to ""Take Me Out to the Ball Game""... It is sung at every major soccer match in the U.K. and was even purloined by the venerable Liverpool Football Club as their official team slogan (with its Hammersteinian motto wrought in iron over the Liverpool Stadium gates)...By this summer, as World Cup '98 unfolded, the British soccer song had crossed the Channel to take hold as a pan-European rallying cry; ""You'll Never Walk Alone"" was heard at many of the World Cup matches held across France, eyewitnesses noted banners sporting the lyric along Paris' Champs Elysees and Amsterdam's Rembrandtsplein, and two nights before the penultimate showdown between France and Brazil, the Three Tenors Carreras, Domingo and Pavarotti performed the song with great gusto in a concert staged at the base of the Eiffel Tower, broadcast internationally and released as a CD single.
DEFENDING THE CAVEMAN: At a seminar last spring Stephen Sondheim was asked which new musical works he admired. As quoted in The Sondheim Review, he replied, ""One show is exceptional, extraordinary: FLOYD COLLINS, and also SATURN RETURNS, both by Adam Guettel""... FLOYD COLLINS, Guettel's award-winning musical, will be presented at San Diego's Old Globe Theatre in February and March of '99, directed by his frequent collaborator and co-writer, Tina Landau... This production of FLOYD COLLINS will then make its way to the American Music Theater Festival in Philadelphia in April, Chicago's Goodman Theatre in May, and the Brooklyn Academy of Music's Next Wave Festival next Fall...Meanwhile, songs from SATURN RETURNS, which was a critical and audience success during its world premiere at the Joseph Papp Public Theatre in New York last Spring, are being recorded by Nonesuch Records for an album release early next year under the work's original title, myths & hymns.
MONSTER HIT: Amidst its new breed of songwriters, Williamson Music is proud to include a very old breed as in pre-historic: by arrangement with Toho Music Corporation of Japan, Williamson is the worldwide administrator for all of the music from the classic GODZILLA movies (1954-95)...Newly recorded versions of music from the GODZILLA films can be heard on Varse Sarabande's MONSTER MANIA and St. Claire Entertainment Group's MUSIC FROM THE MONSTER MOVIES...GNP Crescendo Records has also just released THE BEST OF GODZILLA, a two-volume CD compilation of all Godzilla, all the time, taken directly from vintage movie soundtracks, and boasting the Big Guy's own mellifluous roars and belches.
EM-POSSIBLE: As we were going to press, the ABC/Disney remake of CINDERELLA starring Brandy and Whitney Houston had scored seven Emmy Award nominations, including kudos to director Robert Iscove, choreographer Rob Marshall and musical director Paul Bogaev; CINDERELLA itself was nominated for ""Outstanding Variety, Music or Comedy Special""...With the Buena Vista Home Video still selling well, CINDERELLA will be rebroadcast on ABC's ""The Wonderful World of Disney"" on Valentine's Night, 1999.
WITH A SONG IN MY HEART: WNET and BBC are co-producing a one-hour documentary profile of Rodgers & Hart slated for a U.K. broadcast on BBC-2 at Christmas, to be followed by an airing in the U.S. on ""Great Performances"" early next year (check local listings)... Produced, written and directed by David Thompson, it will feature archival footage of the writers along with rare glimpses, captured on film, of their shows in original performances, plus contemporary interviews...Filmed in London and New York (with visits to the duo's childhood haunts in upper Manhattan), the program will be interspersed throughout with re-creations of Rodgers & Hart songs as originally performed and orchestrated... Rob Fisher is Musical Director.
I COULD WRITE A BOOK: As reported in our last issue, William Hyland's new biography, RICHARD RODGERS, was published by Yale University Press earlier this Spring, while two more biographies of Rodgers are on the way, from Amy Asch and Jeffrey Lunden (Schirmer, Fall '99) and Meryle Secrest (Knopf, early next century)...The first of two new Irving Berlin biographies will be published in November; Philip Furia's IRVING BERLIN: A LIFE IN SONG (Schirmer Books) promises ""new documentary information from the Berlin estate, rare photographs and a complete songography,"" while Edward Jablonski's IRVING BERLIN: AMERICAN TROUBADOUR is due out from Henry Holt next Spring... THE BROADWAY SOUND, an autobiography (plus selected essays) by Robert Russell Bennett, Rodgers' and Berlin's longtime orchestrator, has been edited by George J. Ferencz for publication by the University of Rochester Press later this Fall.
IT HAPPENED ON BROADWAY (Harcourt Brace, November), by Myrna and Harvey Frommer, is an oral history of The Great White Way; Rodgers, Hammerstein and Berlin are profiled in their own chapter, and among the more than 100 figures interviewed for the book are our own Mary Rodgers, Jamie Hammerstein, Mary Ellin Barrett and Ted Chapin, along with such R&H veterans as Celeste Holm, John Raitt, Elaine Steinbeck, Philip Langner and Theodore Bikel.
A combination songbook and lavishly illustrated text book, RODGERS & HAMMERSTEIN: THE ILLUSTRATED SONGBOOK will be published by Hal Leonard and Universe/Rizzoli this Fall; with over 30 songs, the book also features show-by-show commentary from Didier Deutsch, an introduction by Ted Chapin, and a Foreword by Lord Andrew Lloyd-Webber... In Spring '99, Back Stage Books will publish OVERTURE & FINALE: RODGERS & HAMMERSTEIN AND THE CREATION OF THEIR TWO GREATEST HITS, in which veteran author Max Wilk chronicles the genesis and success of OKLAHOMA! and THE SOUND OF MUSIC.
"
You must log in before you can post comments. You can login
here
.