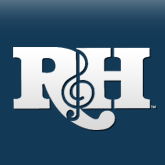 Musical Notes
LIFE UPON THE WICKED STAGE: Tony winner Donna Murphy will be Anna Leonowens in the new Broadway production of THE KING AND I, produced by Dodger Productions with The John F. Kennedy Center for the Performing Arts, directed by Christopher Renshaw, with Jerome Robbins' original choreography, additional choreography and musical staging by Lar Lubovitch, scenic design by Brian Thomson, costumes by Roger Kirk and lighting by Nigel Levings. Following an out-of-town engagement at The Kennedy Center in Washington, D.C. from December 27 through February 4, THE KING AND I is scheduled to open at Broadway's Neil Simon Theatre next spring...
Having played London and New York, The Royal National Theatre production of CAROUSEL is now touring Japan (with its two alternating companies each recording their own Japanese-langague cast albums, released in July by Toshiba/EMI). Across the globe, the U.S. national tour of CAROUSEL is scheduled to begin in Houston in January '96...
Rodgers & Hammerstein's CINDERELLA made her professional New York stage debut at the New York City Opera two seasons ago, and will return there November 9 to the 19th, directed and choreographed by Robert Johanson, with musical direction by Rob Fisher...
Making the transition from screen to stage, The Theatre Guild's production of STATE FAIR began its U.S. national tour in Des Moines in August, during the Iowa State Fair. More on STATE FAIR in our next issue.
QUEENIE'S BALLYHOO: Gretha Boston, Queenie in the current Broadway production of SHOW BOAT, took home this season's Tony for Best Featured Actress in a Musical and a Theatre World Award, just two of the sixteen trophies collected by SHOW BOAT this spring as the most honored show of the season. Other SHOW BOAT medals include 1995 Tony Awards for Best Direction of a Musical (Harold Prince), Best Choreography (Susan Stroman), Best Costumes (Florence Klotz) and Best Musical Revival - the second Hammerstein musical in as many years to receive that top prize (CAROUSEL took top honors in '94).
The Livent production of SHOW BOAT also received five Drama Desk Awards, including Outstanding Musical Production (where it beat out, among other worthy contenders, SUNSET BOULEVARD), four Outer Critics' Circle Awards including Outstanding Musical Revival, and an Astaire Award for Stroman's choreography. Carole Shelley has recently arrived at SHOW BOAT, taking on the role of Parthy; Marilyn McCoo is the new Julie, and Beth Leavel is the new Ellie...In August, Hal Leonard Publishing released a special souvenir folio edition of the SHOW BOAT vocal selections...And in May, Mic Bell sang "You'll Never Walk Alone" at the 10th Annual AIDS Walk New York before a record crowd of 31,000 on Central Park's Great Lawn.
The Toronto company of SHOW BOAT, having spent the summer on the banks of the Mississippi at the Ordway Theatre in St. Paul, Minnesota, is now sailing back up into Canada for an open-ended engagement as the inaugural production of the Ford Centre for the Performing Arts in Vancouver, starting in late November. The first U.S. national tour of SHOW BOAT will open in Chicago next April.
A HUNDRED MILLION MIRACLES: Celebrations for a hundred years of Hammerstein continue. Among the upcoming highlights: Repeat broadcasts of the PBS/Great Performances concert special SOME ENCHANTED EVENING, starring Julie Andrews, Bernadette Peters, Mandy Patinkin, Dawn Upshaw, Willie Nelson, Keith Carradine and others, which first aired last March, will be shown again locally throughout the fall (check local listings), with a special national rebroadcast on October 25...
Getting to Know Him, Hugh Fordin's definitive Hammerstein biography, out-of-print for nearly twenty years, will be re-published in late September by Da Capo Press...Also in the early fall, Fireside Theatre Book Club will offer Hammerstein's compendium, Lyrics, based on the 1985 edition revised and updated by William Hammerstein with an introduction by Stephen Sondheim, and containing Hammerstein's insightful 45-page essay, "Notes on Lyrics."
During selected dates this fall, Phillip Officer will perform his all-Hammerstein cabaret evening in Philadelphia and New York; the album, Many A New Day, will be released in November...In December, The Smithsonian Institution plans to hold a day-long Hammerstein symposium in Washington, D.C. with screenings, panel discussions and live performance...
In San Francisco, 42nd Street Moon has devoted its '95 season of "Lost Musicals" to Oscar Hammerstein and Lorenz Hart (see Hart story, p. 7), with staged concert readings of Rodgers & Hammerstein's PIPE DREAM in July, Hammerstein & Kern's VERY WARM FOR MAY (September 21-October 8), and the U.S. premiere of Hammerstein & Kern's London musical THREE SISTERS (November 9-26). A designated "Oscar Hammerstein Weekend" of November 3-5 will be marked with a Hammerstein cabaret. For further information call (415) 861-8972.
Finally, to close out the year Williamson Music will publish a new all-Hammerstein songbook: The Oscar Hammerstein II Collection will feature an introduction from his son William, and more than 60 songs covering Hammerstein's career with such composers as Richard Rodgers, Jerome Kern, Rudolf Friml, Sigmund Romberg and Georges Bizet.
FOR THE RECORD: Mandy Patinkin's new album, OSCAR & STEVE (Nonesuch Records) honors both the mentor (Hammerstein) and his protege (Sondheim), with numbers from the latter's PASSION, FOLLIES, ANYONE CAN WHISTLE, PACIFIC OVERTURES, A LITTLE NIGHT MUSIC, MERRILY WE ROLL ALONG and INTO THE WOODS juxtaposed with such Hammerstein songs as "I Have The Room Above Her," "You Are Beautiful," "When I Grow Too Old To Dream," "If I Loved You," and "Honeybun." OSCAR & STEVE is due out in late October...
DRG Records has recorded PAL JOEY with the same cast that gave four electrifying, SRO concert performances last spring as the second season finale to New York City Center's Encores! series (see HAPPY TALK, Vol. 2, No. 3). Patti LuPone (Vera), Peter Gallagher (Joey), and Bebe Neuwirth (Melba) star on the album, which is produced by Hugh Fordin with Rob Fisher conducting. In addition to all of the numbers performed during the May '95 concerts, the DRG recording will include a song not heard there - "Talking to My Pal," sung by Gallagher and recorded for the first time with its original orchestrations. PAL JOEY, due in stores in mid-November, is Fordin's second album from the Encores! series, following his release last spring of Irving Berlin's CALL ME MADAM starring Tyne Daly. Up next for Fordin and Encores! - Cole Porter's OUT OF THIS WORLD starring Andrea Martin.
Also coming out this fall: UNSUNG IRVING BERLIN, from Varse Sarabande, featuring the talents of Harry Groener, Crista Moore, Liz Callaway, Laurie Beechman, Jason Graae, Mary Ellin Lerner (the songwriter's grand-daughter) and others in premiere recordings of unknown songs by one of America's best-known songwriters (see p. 6)...
Original CAROUSEL star John Raitt made his Broadway debut with that show in 1945, so '95 is a Golden Anniversary year for him too, and he is celebrating with a brand new album recorded with daughter Bonnie Raitt. Released by Angel Records in September, JOHN RAITT: THE BROADWAY LEGEND contains several father/daughter duets including "They Say It's Wonderful" and "Anything You Can Do," along with Raitt's renditions of such standards as "If I Loved You" and "Some Enchanted Evening."
I COULD WRITE A BOOK: Books about Richard Rodgers, Oscar Hammerstein II and Lorenz Hart are out on the circuit this fall thanks to Da Capo Press, which published trade paperback editions of Rodgers' autobiography, Musical Stages in May (with a new introduction from daughter Mary Rodgers), now joined by Hugh Fordin's Hammerstein biography, Getting to Know Him, and a revised, expanded edition of The Complete Lyrics of Lorenz Hart, edited by Dorothy Hart and Robert Kimball (see story, page 7), both in stores by early October...Mary Ellin Barrett's profile of her father, Irving Berlin: A Daughter's Memoir, now in its third printing, is currently available in hardback from Simon & Schuster, and will be published in paperback by Limelight Press next spring."
You must log in before you can post comments. You can login
here
.