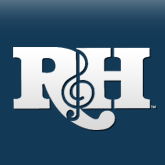 Musical Notes
OUR STATE FAIR: Casting is complete for The Theatre Guild's new stage production of Rodgers & Hammerstein's only musical written originally for the big screen: STATE FAIR, which starts its national tour in August, will star John Davidson and Kathryn Crosby as the parents of the Frake family; Andrea McArdle as daughter Margy, and Scott Wise as the worldly-wise ace reporter who falls for her; Ben Wright as son Wayne and Donna McKechnie as the band singer who steals his heart. R&H Theatre Library director Tom Briggs has co-written the book with Louis Mattioli, based on the Hammerstein screenplay and the original Philip Stong novel. James Hammerstein will co-direct with Randy Skinner, who is also the musical's choreographer. Making its debut in Des Moines (alongside the annual state fair, of course), STATE FAIR is scheduled to play Chicago, Detroit, San Francisco, Vancouver, Boston, Baltimore and Philadelphia, among other cities.
BUSTIN' OUT ALL OVER: The Cameron Mackintosh/Royal National Theatre production of CAROUSEL opens at Tokyo's Imperial Theatre in late June. Performed in Japanese, it will feature the Olivier and Tony winning Nicholas Hytner direction, Sir Kenneth MacMillan choreography and Bob Crowley designs...Negotiations are nearly completed for a U.S. national tour of the Royal National Theatre's production of CAROUSEL, produced by Columbia Artists Management, Inc., in association with Cameron Mackintosh; the tour is slated to open in Houston in January.
AND I'LL SING ONCE MORE: As CNN reported in March, the world's on-going love affair with THE SOUND OF MUSIC is as strong as ever, 35 years after the musical premiered on Broadway and 30 years after the release of the movie version, now firmly established as the most successful movie musical ever. To celebrate the film's anniversary, Fox LaserDisc released a special edition last December (see HAPPY TALK, Vol. II, No. 2)...NBC aired a special four-hour primetime broadcast on Sunday April 9, showing the film in its entirety for the first time in 16 years, highlighting select musical sequences in the screen-accurate "letter box" format, and hosted by Julie Andrews...RCA Records reissued the movie soundtrack in a newly-mastered, correctly-sequenced version with new liner notes and packaging; currently available in CD and cassette formats, THE SOUND OF MUSIC soundtrack will soon also be available in a 24K gold CD edition featuring bonus tracks, and a limited edition, vintage replica vinyl LP...and finally, Barbie has joined in the festivities as Mattel announced a "Barbie as Maria" doll, due in stores in September.
SOMETHING WONDERFUL: As part of London's Covent Garden Festival, a special presentation of THE KING AND I was held in the sumptuous Grand Temple of Freemason's Hall for four performances in late May, starring the Royal Ballet's Irek Mukhamedov as The King, Liz Robertson as Anna (a role she last played opposite another great ballet star, Rudolf Nureyev in 1989), and a cast of more than 100 singers and dancers backed by a full symphony orchestra...THE KING AND I is also returning to Broadway next season, opening at the Kennedy Center's Opera House in December '95, and arriving in New York in early '96. Casting is still underway for this KING AND I, which will be presented by Dodger Productions, based on the acclaimed Gordon/Frost Organisation's 1991 Australian revival, with that production's director Christopher Renshaw and designer Brian Thomson re-creating their work here...The Academy Award winning film version of THE KING AND I celebrates its 40th Anniversary in 1996, a fact Fox LaserDisc plans to commemorate with a special laser disc edition early next year.
OKLAHOMA!, O.K.: The Fox LaserDisc summer '95 re-release of OKLAHOMA! in its Todd-AO widescreen THX version has received raves from the press and fans alike and, at the VSDA Conference in Dallas in May, won the 1995 Consumer Laser Disc Award as Best Widescreen Edition of the Year.
WEILL AWAY: Kurt Weill's ONE TOUCH OF VENUS and STREET SCENE, both represented by The R&H Theatre Library, received high-profile, and highly significant, European premieres this year. ONE TOUCH OF VENUS, Weill's 1943 musical comedy written with Ogden Nash and S.J. Perelman, had its Swedish-language premiere in Malmo in October, translated by Sven-Hugo Persson and directed by Lars Rudolfsson, head of the Malmo Music Theatre...STREET SCENE, first presented in New York in 1947, was not given its German premiere until this year when the Houston Grand Opera brought over their 1994 production, presenting it to great acclaim in Ludwigshafen and Berlin as a co-production of Berlin's Theater des Westens, Theater im Pfalzbau, and the HGO. This long-awaited STREET SCENE was subsequently taped for video distribution.
FOR THE RECORD: At last! In May DRG Records released "the premiere cast recording of the complete Irving Berlin score" for his 1950 musical CALL ME MADAM featuring Tyne Daly and her fellow cast members from the February '95 concert version presented by City Center's Encores! Great American Musicals in Concert series (see story, p 6)...Several CALL ME MADAM numbers can also be heard performed by the irrepressible Patti LuPone on Philips Classic's new album, HEATWAVE: PATTI LuPONE SINGS IRVING BERLIN, with John Mauceri leading the Hollywood Bowl Orchestra in an all-Berlin fest that includes "Always," "Let Yourself Go," "The Hostess with the Mostes'," and a rousing, newly created "Patriotic Overture" (available for performance through The R&H Concert Library)...Varse Sarabande has just released THIS FUNNY WORLD: MARY CLEERE HARAN SINGS LYRICS BY HART based on Haran's Hart tribute at Rainbow & Stars (see story page 5), and producer Bruce Kimmel and musical director/arranger Lanny Meyers are currently recording UNSUNG BERLIN, a two-volume set of heretofore never recorded Irving Berlin songs, to be released later this year...Andrea Marcovicci has a new album, NEW WORDS, that features talented new writers including R&H Music's Lindy Robbins ("Strangers Once Again") and Williamson Music's Ricky Ian Gordon ("A Horse With Wings")...Two more songs by Robbins will appear on Billy Stritch's new album - "Come Hither" (music by Stritch), and "What Am I To Do?" (music by John Bucchino)...WINGS, the Jeffrey Lunden/ Arthur Pearlman musical represented by The R&H Theater Library, was recorded in April with original star Linda Stephens, produced by Thomas Z. Shepard and scheduled for release by RCA Victor later this year...In the works: an all-Hammerstein album from Phillip Officer, and, from Elektra Nonesuch, a new album of Rodgers & Hart from Dawn Upshaw and an album devoted to Oscar Hammerstein II and his protege Stephen Sondheim from Mandy Patinkin; more on these in our next issue.
I COULD WRITE A BOOK: Mary Ellin Barrett's new book about her father, IRVING BERLIN: A DAUGHTER'S MEMOIR, (see HAPPY TALK, Vol. II, No. 1) is currently in bookstores nationwide while Mary Rodgers' memories of her father, Richard Rodgers, can be found in her introduction to the new trade paperback edition of Rodgers' autobiography, MUSICAL STAGES, now available from Da Capo Press...Da Capo will reissue Hugh Fordin's definitive Hammerstein biography, GETTING TO KNOW HIM, in September, along with a revised edition of THE COMPLETE LYRICS OF LORENZ HART edited by Dorothy Hart and Robert Kimball, featuring more than 40 lyrics that have come to light since the book was first published in 1986.
You must log in before you can post comments. You can login
here
.