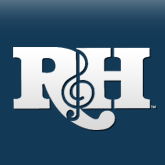 Musical Notes
WE ALL HAD A REAL GOOD TIME: The new Broadway production of CAROUSEL triumphed at the 1994 Tony Awards in June, winning every award it was nominated for. Its five Tonys - the most for any show this season - went to Nicholas Hytner for Director of a Musical, Sir Kenneth MacMillan for Choreography, Audra Ann McDonald (as Carrie Pipperidge) for Featured Actress in a Musical, Bob Crowley for Scenic Design, and the production itself as Best Musical Revival. The legendary 107 - year - old George Abbott presented that top award to Lincoln Center Theater's Bernard Gersten, Andr Bishop and our own Mary Rodgers.
Also this summer, Angel Records released the 1994 Broadway cast recording of CAROUSEL, and Williamson Music published a special souvenir folio edition of the vocal selections commemorating this production; the songbook, which features 14 pages of full color production photos, retails for $15.95 and is distributed by Hal Leonard Publishing.
In May, Shirley Verrett, joined by members of the cast, sang "You'll Never Walk Alone" at the opening ceremonies for AIDS Walk New York '94 before a crowd of 30,000 on Central Park's Great Lawn. "You'll Never Walk Alone" has been sung at AIDS Walks across the country since 1990.
THE "GRAND" TOUR: A GRAND NIGHT FOR SINGING, Broadway's first Rodgers & Hammerstein revue, will soon hit the road. As The R&H Theatre Library lines up engagements of GRAND NIGHT around the country, Pace Theatrical Group Inc. will launch the first regional production, playing a seven - week stand in Florida and Baltimore later this fall. Creator (and Tony nominee) Walter Bobbie will direct.
As a 1994 Tony nominee for Best Musical, the GRAND NIGHT cast performed an excerpt on the live Tony Awards telecast on June 12 - and the morning after reported to Clinton Studios in Manhattan for a marathon two - day recording session of the cast album, produced by Bruce Kimmel for Varse Sarabande. The album, released in September, features original cast members Victoria Clark, Jason Graae, Alyson Reed and Lynne Wintersteller, joined by Gregg Edelman, replacing an ailing Martin Vidnovic.
OKLAHOMA U.K.! In July, a new production of OKLAHOMA! began a year - long tour of the British Isles. Produced by Apollo Leisure Group and Barry Clayman Concerts Ltd., this OKLAHOMA! is directed by Christopher Renshaw (whose other R&H credits include Australian productions of THE KING AND I - headed to Broadway next year - and SOUTH PACIFIC), choreographed by Lar Lubovitch (whose RED SHOES ballet for Broadway last autumn resurfaced as the surprise hit of American Ballet Theater's spring season), and designed by Richard Hudson (LA BETE on Broadway, INTO THE WOODS in London). Discussions are underway to bring this OKLAHOMA! into London later next year.
MUSIC IN THE AIR: Songs from the catalogues represented by Williamson Music (ASCAP) and R&H Music (BMI) are proliferating the airwaves: Rodgers & Hammerstein's "Oh, What a Beautiful Mornin'" continues as the theme for CBS THIS MORNING; "Getting to Know You" has just been renewed by Chevrolet Geo for a fifth year of commercial broadcasts; Mitsubishi Galant is scoring great success with its "My Favorite Things" campaign; and "Happy Talk" has been picked up by British Telecomm for a U.K. national jingle.
"Blue Skies" is the name of a (fictional) mail - order boutique featured in the ABC fall sit - com of the same title so naturally, Irving Berlin's "Blue Skies" is the show's theme song. And Nat King Cole's classic rendition of Berlin's "Let's Face the Music and Dance" is currently featured as the soundtrack for an Allied Dunbar TV ad campaign in Great Britain.
At the movies: FORREST GUMP (featuring Elvis Presley's "Hound Dog"; soundtrack on Epic), IT COULD HAPPEN TO YOU (Berlin's "Always" and "Now It Can Be Told," sung by Tony Bennett; soundtrack on Columbia), BABY'S DAY OUT (Berlin's "This Is the Army, Mr. Jones"), NORTH ("If I Were a Rich Man" with lyrics by Sheldon Harnick; soundtrack on Epic), Woody Allen's BULLETS OVER BROADWAY (Rodgers & Hart's "Thou Swell" and "You Took Advantage of Me"), PONTIAC MOON (Berlin's "Cheek to Cheek"), ONLY YOU (featuring broadcast footage of "Some Enchanted Evening" performed by Mary Martin and Ezio Pinza; soundtrack on Columbia), and RADIOLAND MURDERS (featuring more of Tony Bennett and Irving Berlin: "Let's Face the Music and Dance," and "What'll I Do.")
FOR THE RECORD: Julie Andrews' new album, THE MUSIC OF RICHARD RODGERS, will be released by Philips Classics in October and features 21 songs spanning Rodgers' entire career.
Featured in the first of what promises to be several volumes of LOST IN BOSTON (Varse Sarabande), comprised of songs cut from well - known shows prior to Broadway, are "Take It In Your Stride" from Berlin's ANNIE GET YOUR GUN, "Waiting," from Rodgers & Hammerstein's THE KING AND I, plus "Dear, Sweet Sewing Machine" from FIDDLER ON THE ROOF and "Where Do I Go From Here?" from FIORELLO!, both with lyrics by Sheldon Harnick. New from Varse this fall: A BROADWAY CHRISTMAS, featuring world premiere recordings of "Christmas Eve," cut from SHE LOVES ME; "Christmas Gifts," from A WONDERFUL LIFE (the Harnick & Raposo musical represented by The R&H Theatre Library); and "The Happy New Year Blues" written for, but never used in, Irving Berlin's MUSIC BOX REVUE OF 1924.
In addition to their CD reissue of the 1980 London production of OKLAHOMA! recorded live, TER has just reissued the 1983 Broadway cast recording of ON YOUR TOES, the 1985 studio cast recording of I REMEMBER MAMA, and RICHARD RODGERS: THREE BALLETS (1983), featuring orchestral performances of Rodgers' ballets "Ghost Town," "La Princess Zenobia" and "Slaughter on Tenth Avenue" under the direction of John Mauceri.
New from Harmonia Mundi: THE AIDS QUILT SONGBOOK featuring Ricky Ian Gordon's "I Never Knew," performed by baritone Kurt Ollman.
New covers include: "My Favorite Things" from Dave Valentin (MCA/GRP), and as a duet from Al Jarreau and Kathleen Battle (Warner Bros.), Van Morrison's "My Funny Valentine" and "Ain't That Loving You Baby?" (Polydor), Roberta Flack's "My Romance" (Atlantic), Kenny Roger's "Where or When," "My Romance" and "My Funny Valentine" (Atlantic), Chick Corea's "This Nearly Was Mine" (MCA/GRC), Peter Delano's "The Sweetest Sounds" (Verve), and "White Christmas" from John Tesh (GTS) and Billy Dean (Liberty).
MUSIC BOX: Williamson Music has issued nine of its Rodgers & Hammerstein vocal selections in a special boxed set designed and distributed by Hal Leonard Publishing. Retailing for $59.95, The Rodgers & Hammerstein Collection features vocal selections from OKLAHOMA!, CAROUSEL, STATE FAIR, SOUTH PACIFIC, THE KING AND I, CINDERELLA, FLOWER DRUM SONG, THE SOUND OF MUSIC, and an anthology of R&H rarities, RODGERS & HAMMERSTEIN REDISCOVERED.
PARKER PIECE: Williamson Music composer Ricky Ian Gordon's music theater piece, AUTUMN VALENTINE: A GENERAL REVIEW OF THE SEX SITUATION, based on texts by Dorothy Parker, will be presented by Prima Artists New York for a limited run at the Variety Arts Theatre, October 19 through November 2. For further information call Tele - Charge at 212/239 - 6200.
SING FOR YOUR SUPPER: Song stylist Weslia Whitfield has created a new act featuring the songs of Rodgers, Hart and Hammerstein, which she will bring to the Oak Room at New York's Algonquin Hotel for ten weeks this fall. I HAVE DREAMED: THE SONGS OF RODGERS & HART & HAMMERSTEIN, featuring Michael Moore on bass and Mike Greensill as arranger and accompanist, will play from October 18 through New Year's Eve...Andrea Marcovicci's newest album, ALWAYS, IRVING BERLIN, recorded live at the Oak Room last spring, will be released by Cabaret Records in late September; in November, Marcovicci will make her British debut with a run of ALWAYS, IRVING BERLIN at Pizza on the Park in London. Prior to that, in New York on October 21, she will join Mary Ellin Barrett as co - host for SAY IT WITH MUSIC, an evening of Irving Berlin presented by Donald Smith and The Mabel Mercer Foundation as part of the fifth annual Cabaret Convention at Town Hall...R&H Music writer Lindy Robbins is also having her songs heard on the New York cabaret circuit: Philip Officer included "Just Another Face" (music by John Bucchino) in his recent stint at the Ballroom, and Ann Hampton Callaway featured a new song she wrote with Robbins, "Mood Swing" in her September show at Rainbow & Stars.
You must log in before you can post comments. You can login
here
.