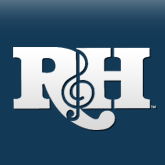 Musical Media
"
Fate is a powerful force in the plot of Michael John LaChiusa's haunting new musical MARIE CHRISTINE. Fate played a vital role in the story behind MARIE CHRISTINE too, starting this musical on its journey from the seed of an idea to a fully realized production. Five years in the making, MARIE CHRISTINE was given its world premiere by Lincoln Center Theater in December 1999. Today, it is a proud new acquisition of The R&H Theatre Library. Recognized as one of ""the new breed"" of rising musical theatre writers, Michael John LaChiusa opened two new musicals on Broadway last season, earning four Tony Award nominations between them -- as author and composer of MARIE CHRISTINE, and as co-author and composer of THE WILD PARTY (also represented by R&H). His earlier New York credits include CHRONICLE OF A DEATH FORETOLD on Broadway, and several works Off-Broadway, among them THE PETRIFIED PRINCE and FIRST LADY SUITE.
In 1994 LaChiusa was preparing a new musical for Lincoln Center Theater called HELLO AGAIN, based on Arthur Schnitzler's play cycle, LA RONDE. It was directed and choreographed by Graciela Daniele, and marked the beginning of a fruitful collaboration between these two artists. In an early conversation, LaChiusa and Daniele discovered that they shared a passion and fascination for Euripides' tragedy, MEDEA. ""It was something to which we both had an immediate and vivid reaction,"" said LaChiusa in a Playbill interview. The idea of MEDEA stayed in the back of his mind.
Among those auditioning for HELLO AGAIN was a young student from the Juilliard School. ""She sang for us,"" recalled LaChiusa, ""and right then and there, I thought, ""I'm going to have to write this woman a musical.'"" The young woman ended up being cast in another Lincoln Center Theater musical in the auditorium upstairs. Her name was Audra McDonald, and the Tony she won that spring for her portrayal of Carrie in CAROUSEL was the first of three Tonys she would win in the next four years.
Around that time, LaChiusa's brother moved to New Orleans. Intrigued by the local culture, and knowing his brother would be fascinated too, the LaChiusa frere sent Michael some books about Creole folklore and customs. One particular story told of Marie Laveau, a 19th century voudon (or ""voodoo"") queen. ""The same day that I got my brother's package,"" LaChiusa told Newsday, ""I found this book of voodoo folktales and oral history from a bookseller on the street."" That book also talked about Marie Laveau, and mentioned that she had a daughter who fled to the North with a white lover.
""I remembered, instantly, Medea running away with a man of another race,"" said LaChiusa. ""Then I thought of Audra...The most passionate actress-singer we have right now, she brought it all together for me...I started writing. I came up with a couple of songs, played them for Graci, and we were on our way."" In Opera News he explained, ""I decided to write a story about a young Creole woman at the turn of the last century, a woman from the upper class and well versed in the arts of voudon, who falls in love with a white man. He betrays her, threatens to take away her children, and she exacts a terrible revenge. Just your typical Broadway fare,"" he added.
It is a familiar technique of musical theatre to reset a classic story in a different time and place, but such transfers are never easy, and the pitfalls are vast: the new version must preserve the spirit of the original even as it illuminates that work under a fresh light. For LaChiusa, however, this variation on MEDEA worked, and worked beautifully. Setting the Greek tragedy in late 19th century Creole society brought out the play's fundamental themes of high stakes and violent revenge. The supernatural forces of fate and the gods woven into the ancient original were replicated here by the mystical power of voudon and ritual. The structural tensions inherent in Euripides resurfaced in LaChiusa's version as a society ruptured by the discord of race, class and sex, shredding its veneer of Victorian civility.
Above all, the Creole setting provided LaChiusa with his musical's voice. In Opera News he said, ""The port city of New Orleans was a wellspring of musical possibilities at the turn of the century. The convergence of West African-Caribbean rhythm, European salon music, Spanish Sephardic, Scottish and Irish folk songs -- all these musical languages combined and consumed each other, creating ragtime, early blues and gospel, even prototypical rock and roll. For the score of MARIE CHRISTINE, I've had the opportunity to experiment with the rhythms of West African drums, as well as the chance to write a pastiche of French opera comique -- quite popular among genteel Creoles of that day. The second act takes place in Chicago and includes marches, a big political-huckster kind of rally song, a vaudeville song and a tinge of Chicago blues.""
By 1996, LaChiusa had completed a first act. He also had a leading lady; Audra McDonald liked what she heard, and signed on to play the title role. A second act, a workshop (mounted by director Daniele and her husband, producer Jules Fisher), and three years later, MARIE CHRISTINE premiered at Lincoln Center Theater as the final Broadway musical of the 20th century. ""A brilliant reworking of MEDEA,"" said the Daily News, ""that manages at once to make it fresh and to retain its gut-wrenching compulsion."" In Theatre called it ""daringly original, haunting and beautiful,"" and the San Francisco Examiner hailed it as ""a major work by one of the most highly regarded new serious songwriters for the stage."" During its limited engagement, the Original Cast Album was recorded by RCA Victor and by season's end, MARIE CHRISTINE had garnered five Tony Award nominations, including kudos for LaChiusa's book and score.
In the New York Times, LaChiusa described his musical as ""a love story, one that goes terribly wrong because of one woman's inability to control her passions and one man's arrogance. It's about bigotry. It's about misogyny. It's about voudon...It's about the great power of love and its potential to destroy.""
""I think that men can understand this piece,"" Graciela Daniele told Playbill. ""I think that women should feel it.""
MARIE CHRISTINE is currently available for both professional and amateur productions...For perusal material and further information, please contact The R&H Theatre Library, 229 West 28 Street, 11th floor, New York, NY 10001...Tel: 212-564-4000; Fax: 212-268-1245; e-mail: [email protected] Applications and perusal requests may also be accessed on-line at www.rnh.com...The original Broadway cast album of MARIE CHRISTINE is now available from RCA Victor.
"
You must log in before you can post comments. You can login
here
.