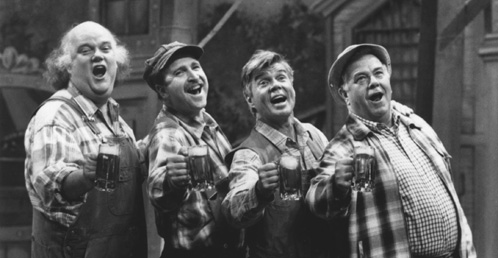 Maybe It's More Than The Moon: State Fair Dazzles In America's Heartland
"
Though its Broadway run last season was overshadowed by Tony Award controversies and the cutting-edge sensibilities of Rent and Bring in 'da Noise/Bring in 'da Funk, the past year has indisputably proven that, for State Fair, there is life after Broadway.
Rodgers & Hammerstein's ""newest"" musical, with a book by Tom Briggs and Louis Mattioli, and a score that supplemented songs from the R&H 1945 movie musical with rarities from their other shows, premiered in Des Moines, Iowa during the 1995 State Fair (see Happy Talk, Vol. 3, No. 2), and came to Broadway after an eight-month tour, where it racked up more than 100 performances.
In early June, shortly before the show closed, DRG released the original Broadway cast album of State Fair - billed as Rodgers & Hammerstein's first in 36 years. Produced for records by Hugh Fordin, it has proven to be a welcome souvenir for fans of the show, and a consolation prize for those who didn't catch its Broadway incarnation.
""The cast recording is a melodic delight,"" reported Show Music. ""The cast sparkles [and] the chorus is exemplary, bringing even more zest to the proceedings via Kay Cameron's vocal arrangements. Bruce Pomahac's vivid orchestrations make Rodgers' melodies sound new, but stay true to their intent. It adds up to a State Fair that makes return visits a joy."" Billboard cheered, ""This State Fair is a great State Fair...It all fits beautifully."" In his original stage review, Ken Mandelbaum of TheatreWeek predicted that State Fair ""would make a delightful cast album,"" and in his follow-up review for the album, confirmed it: ""State Fair makes an expectedly smooth translation to disc...It makes for pleasant listening, and it's one that should stick around, as this stage version of State Fair...becomes, as it is bound to, a stock and community theater staple.""
Since the Des Moines premiere, The R&H Theatre Library has been receiving requests for performance rights to State Fair from across the country, and applications are now being accepted for productions opening in 1998. In State Fair's bright and immediate future, however, is a new national tour headed by original Broadway star John Davidson, opening this September in Wallingford, Connecticut. Presented by PACE Theatricals and NETworks, the new production will be directed by Richard Sabellico with choreography by Michael Lichtefeld and musical direction by John Mezzio.
Meanwhile, the first post-Broadway production has already earned its blue ribbon. With a $1 million advance, State Fair has proven to be the biggest success in the 30-year history of the Chanhassen Dinner Theatres, just outside the Twin Cities in Minnesota. Originally scheduled for an eight-month run, State Fair opened in January of this year to rave reviews, quickly filling to capacity crowds during its eight weekly performances, and has extended the run into next year. ""We're thrilled with State Fair, but its success does not surprise me,"" said Director Michael Brindisi. ""Our audiences have proven that it clearly has something for everyone, and most of all it has heart.""
""A delightful winner,"" reported Drama-Logue, while Mike Steele in the Minneapolis Star Tribune cheered, ""Hallelujah, and kudos all around!... State Fair is a warm, outgoing, unapologetically old-fashioned musical...As they say, they don't write 'em like this anymore and you don't often see shows this quietly persuasive or gently human.""
""Directed with soaring spirits and deft imagination,"" wrote Jayne M. Blanchard in the St. Paul Pioneer Press, ""State Fair is exuberant and romantic...100 percent condescenion-free."" Blanchard concluded her review with prose suitable for stitching on a prize-winning sampler: ""There's a State Fair in everyone, a summer place in your soul where the sun touches the backs of your legs and a lit-up roller coaster standing in the moonlight promises not just a two-bit thrill, but the ride of your life!""
The post-Broadway premiere of State Fair is now playing at the Chanhassen Dinner Theatres, Chanhassen, Minnesota. For tickets and information call 612-934-1525 or toll-free at 1-800-362-3515, or visit their website at www.chanhassentheatres.com. The original Broadway cast recording of State Fair starring John Davidson, Kathryn Crosby, Andrea McArdle, Donna McKechnie and Tony-nominee Scott Wise, is now available on CD and cassette from DRG Records at all major record stores, or order by phone at 1-800-588-4374. For information on the upcoming National Tour of State Fair starring John Davidson, call 212-869-9280."
You must log in before you can post comments. You can login
here
.