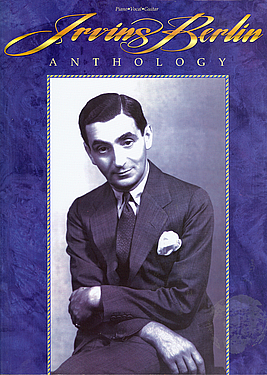 Mary Ellin Barrett's Irving Berlin: A Daughter's Memoir To Be Published This Fall
From the opening paragraph of Mary Ellin Barrett's memoir, as she describes her father's long - abandoned bachelor apartment shortly after his death, the reader realizes this is an adventure story. "It was so cinematic," recalls Barrett. "I knew what the meaning of the word 'haunted' was. I just couldn't stay there very long the first time, the presence was so strong. But as I stood in that spooky apartment, it seemed so close that I knew I was going to be able to write about it. And start at the beginning - not of my father's life, but our family - when he met my mother."
As chronicled in the book, the tumultuous courtship of Irving Berlin and Ellin Mackay was pure melodrama, the stuff of romance novels and newsreel headlines. Ultimately the two were married in a civil ceremony on January 4, 1926, and their marriage lasted 62 years, until Ellin's death in 1988. "It's very touching, from start to finish, even at the end, there they were taking care of each other," observes Barrett. "Having been a great love story, they set an example to their children as to how to lead a marriage, in a time when broken families were the rule. Their relationship could be very stormy at times, but always behind closed doors."
In keeping with her determination to write a "family chronicle," Barrett carefully weaves in the activities of her sisters Linda and Elizabeth ("the children," as she referred to them when she had reached the mature age of 14) and her active, influential mother, a best - selling author herself. Still, while Barrett reserves her greatest moments for recollections of her famous father, she does not neglect his prolific career in Tin Pan Alley, Broadway and Hollywood. "First and foremost, it's a daughter's memoir," states Barrett. "But because his songs and music are such a part of my growing up, I also tried to give a history of those songs in the years that I'm writing about: How they were written, what their effect was to somebody in the family, how they fit in with the popular music of the day. And what it was like to have your very own father writing the songs that became 'your songs.' That's a strange and marvelous feeling, but it's a double image."
Of course, there were times in Barrett's youth when her own affairs seemed much more important than her father's, as she candidly admits, and that perception was reinforced when she scoured her teenage diaries for further background material. ""I was hoping to find some real literary gems," she laughs. "No gems whatsoever, but very good accounts of everything I did. A few jottings, not a lot, about my parents. I was a normal teenager."
Normal? By the age of eight she'd been dining in the commissary of 20th Century - Fox, meeting Alice Faye, Tyrone Power and Shirley Temple. Her best friend in Hollywood was a boy her age named Sam Goldwyn, Jr.. As she grew older, she remained enchanted with the many Hollywood denizens who became her father's friends. "I was like any little American girl. I wanted to meet movie stars. To meet Charlie Chaplin, that was a big thrill for me. Or Somerset Maugham, I'd read every book he'd ever written."
Barrett's book bursts with memories of the many celebrities her father worked and socialized with: Fred Astaire, Harpo Marx, Harold Arlen, Anita Loos, Charlie Chaplin, George Gershwin, Oscar Levant. At first, she was reluctant to pack her book with so much name - dropping, as that was a habit her parents always discouraged. "If celebrities were friends, you didn't mention it," she remembers. And Berlin expected his family to exhibit the same modesty with which he approached his own fame. "We were brought up not to trade on our father's name. To be very, very proud of who he was, which we were anyhow, but not to boast."
"My father was very private. He gave interviews when he was publicizing a show or a movie, but kept a big veil in front of the family. There were very strict rules in terms of personal publicity, or publicity for his wife and children. So I think that this book is going to portray the man I knew at home, and that his friends knew, in a way that may surprise people. There have been previous books about him that didn't quite get it right. I don't think people are going to expect such a genial fellow." Though the creation of A Daughter's Memoir didn't take shape until after Berlin's death in 1989, it's genesis began in 1958, with a lengthy letter written to the songwriter by Barrett on the occasion of his 70th birthday. "When I cool," he told her then, "you can publish this." Lightly edited, and amended with an introduction, the document appeared as a feature story in Lear's magazine, June, 1990. This in turn prompted interest in a complete book. "It's the book that, all my life, people said I would do", says Barrett. "And since I knew my father would not want any book about him done until after he died, I didn't think about a project that would happen after that sad event."
Research for the book began in the summer of 1990 with a trip to Italy, a vacation that quickly turned into a pilgrimage for data concerning Berlin's World War II soldier show THIS IS THE ARMY. Barrett lavishes special attention on this time in her father's career, during which the show's worldwide tour of duty sent him to the edge of the Italian fighting front for several months. "After THIS IS THE ARMY left New York [in 1942], I didn't pay much attention to it. I was involved in my own life, and only listened to the stories with half an ear. So for the book I was really starting from scratch in terms of learning about that period in my father's life. It was so important to my father, and it was the dividing line in his life, in a sense. He would say he felt it was the most valuable, important and exciting thing he'd done in his life."
Returning from Italy, Barrett spent the next several months filling notebooks with her recollections. "Every afternoon I made notes, writing down everything that I remembered, chronologically. Everything that I knew from my mother's memories, I wrote it all down so that I wouldn't lose anything." That fall, she traveled to California. "The Hollywood part of my father's life was extremely important, and I loved the time I spent there. So I talked to a lot of people, and I revisited places I'd been to as a child, places I barely remember from when I was a very little girl." Then that winter, she began to write.
To supplement her memory and her notes, Barrett conducted interviews with her father's friends and peers. "As I progressed chronologically, I would consult with people like Kitty Carlisle Hart or [Russel Crouse's wife] Anna Crouse or [conductor] Jay Blackton. I spent a whole afternoon with Jay, who gave me his views on ANNIE GET YOUR GUN and what made that score so great."
"When I first sat down to work on this book, I had a feeling of great affection for my father," Barrett concludes with a smile. "Writing it did nothing but enhance that."
You must log in before you can post comments. You can login
here
.