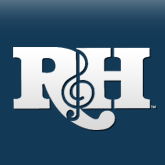 Louisiana Purchase-- A Lost Show From A Lost Era
Less than a month after the concert performances at Weill Recital Hall, LOUISIANA PURCHASE musical director Rob Fisher and his talented cast - including stars Judy Blazer, Taina Elg, Debbie Gravitte, George S. Irving and Michael McGrath - regrouped in a Manhattan recording studio to make the first album of the show's complete score, working from vintage Robert Russell Bennett orchestrations and including songs cut from the production in '40 and not heard in the concert. (For more information on the album, which was produced by Hugh Fordin for DRG Records, and is scheduled for a November release, contact DRG Records at 1 - 800 - 588 - 4374.)
The booklet accompanying the cast recording will include a show synopsis and several background articles; among them is this excerpted introductory essay from Theodore S. Chapin:
LOUISIANA PURCHASE is a discovery. This is because it hasn't been performed in years.
It's also because the orchestrations and vocal arrangements haven't been heard since the original production. And it's because the score is filled with unfamiliar and good Irving Berlin songs.
It's also because the show comes from a lost period in the history of the musical theater. Once OKLAHOMA! opened in 1943 the rules of Broadway musicals changed forever, but LOUISIANA PURCHASE opened in the spring of 1940 when things were in a state of transition. Some innovative shows were around, LADY IN THE DARK and PAL JOEY prominent among them, but, as Gerald Bordman said in his chronicle American Musical Theater: "It would be years later, looking back, that they would be recognized as isolated beacons in an otherwise dark period illuminating ways to the future." Most musicals from that dark period have slipped into obscurity. Among them is LOUISIANA PURCHASE.
The show received good reviews, a good run, and was even made into a successful film with Bob Hope joining members of the original cast.
But afterward the show remained overlooked by virutally everyone. Even his daughter Mary Ellin Barrett noted in Irving Berlin: A Daughter's Memoir that "in the broad sweep of Irving Berlin's life it is easy to leap from 'God Bless America' to THIS IS THE ARMY, to skip right over 1940 and 1941."
But LOUISIANA PURCHASE deserves attention. Irving Berlin was a great songwriter and he loved the theater. But who knew he had the musical guts to write a score like this? Here was an opportunity to bridge the gap between the '30's and the '40's. There are operetta - sounding refrains, plot - advancing choruses, and even a dream ballet. (There's also a rhyme which Oscar Hammerstein II borrowed a few years later.) One of the songs, "It's A Lovely Day Tomorrow," became an anthem of sorts for the war - wary public.
The songs covered most of the popular styles of the day - spiritual, Latin, big band, tight harmony, dance band, and, of course, the ballad. There are echoes of other Berlin scores, with even a few startling familiar musical references. The lyrics are witty and always in character - even risque.
And LOUISIANA PURCHASE has always been in the best of hands. In 1940 Berlin asked the often - stately Robert Russell Bennett to provide orchestrations, prompting some amazingly swinging charts. Bennett was assisted by N. Lang Van Cleve who brought a Hollywood feel to some of the up - tempo numbers. And vocal arrangements were provided by the eloquent Hugh Martin, grand daddy of the tight harmony sound.
Today there is a new - found interest in experiencing shows from the past. Concert presentations are providing the most accessible forum. Ranging from Ian Marshall Fisher's Lost Musicals in London to San Francisco's 42nd Street Moon, from New York's Carnegie Recital (Weill) Hall across the street to City Center's Encores!, the current crop of musicals in concert is allowing audiences to experience the music, lyrics, dialogue - and in some cases the orchestrations - of shows that haven't been performed or thought of in years. It's a living history lesson if there ever was one.
"Louisiana Purchase," sings the catchy title refrain, "I'll tell you what it means." One of the things it means is that a musical long overlooked is overlooked no longer.
You must log in before you can post comments. You can login
here
.