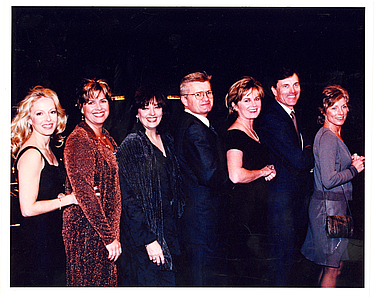 Liesl Goes To The Movies
"
The phenomenon of SING-A-LONG SOUND OF MUSIC has been reported in these pages before; one of its most ardent cheerleaders is Charmian Carr, the film's ""Liesl."" Carr has been a guest of honor at many of the SING-A-LONG U.S. premieres over this past year, taking questions from the audience and doing a little public singing-a-long herself.
Last year Carr wrote a memoir, Forever Liesl, that became a national bestseller (currently available from Penguin Paperback.) In her new book, Letters to Liesl (Arete Publishing), Carr describes the first performance she attended of SING-A-LONG SOUND OF MUSIC, an AIDS benefit in Austin, Texas:
I never anticipated how much the event would affect me. At the reception before the show, hundreds of costumed fans gathered around to tell me how much joy the film had given them throughout their lives. Their costumes were incredible, everything from men dressed as nuns to a woman who was a wild goose with a moon on her Wings to a man dressed as a needle pulling a giant spool of thread.
Inside the theater, I couldn't get over the size of the crowd. Thirteen hundred people crammed into the Paramount Theatre in Austin that night, spilling out of the seats and into the aisles. When the lights dimmed, the audience roared with excitement, and from the moment the opening scenes of the Austrian countryside appeared on that screen, I was caught up in the joy and enthusiasm that filled the theater. When Maria forgets her wimple on the hillside, someone in the audience shouted, ""Maria! Your hat! Don't forget your hat!,"" and everyone started calling to her, ""Your hat! Your hat!"" until Maria remembered and raced back up the hill to retrieve it amid the cheers.
Such antics went on throughout the film, with people booing the Nazis and cheering Maria, eating Captain Crunch cereal when Chris Plummer said, ""You may call me Captain,"" hissing at the Baroness and barking at Rolf (""Rolf! Rolf! Rolf!""). I'd never seen anything like it and I've never had so much fun.
If you had told me a quarter century ago that people would be dressing up in costumes in the year 2000 to come see The Sound of Music and sing lustily along with the songs on the screen, virtually participating with the characters, waving Edelweiss and shooting off poppers when the Captain kisses Maria, I would have said you were crazy. But SING-A-LONG isn't crazy at all. It's a wonderfully delicious event, born of infectious fun.
I believe SING-A-LONG fulfills a basic human need. We humans need to congregate, to join together, to sing and to laugh out loud together. Opportunities to do that are sorely missing from our high-tech, insulated lives. The silliness of SING-A-LONG might not be considered chic, but it's good for the soul, opening the door for grown-ups and children alike to play, to be gazebo dancers, if only for a few hours...
Until SING-A-LONG SOUND OF MUSIC, I had only seen the complete film nine times. Even when my co-author and editor on Forever Liesl tried to cajole me into watching it with them while the book was in production, I declined. But in just three months this past year, I saw The Sound of Music three times while attending SING-A-LONG performances in Austin, New York, and London, and I'll be the first in line to see it again....Some people say it's sacrilegious. But what I've experienced has been the opposite of that. The passion and love the audience members bring to the theater is infectious. I hope that, like The Sound of Music itself, SING-A-LONG is around for a very long time.
Excerpted from Letters to Liesl, by Charmian Carr and Jean Strauss. Arete Publishing, 2001. Reprinted by permission...For more information on SING-A-LONG SOUND OF MUSIC screenings worldwide, visit www.singalonga.com ...Letters to Liesl is available through Arete Publishing at www.arete-usa.com or www.charmiancarr.com.
"
You must log in before you can post comments. You can login
here
.